Creamy Matcha Coconut Popsicles are fast becoming a favorite frozen treat. This easy matcha popsicle recipes brings together the summertime flavors of matcha green tea and coconut.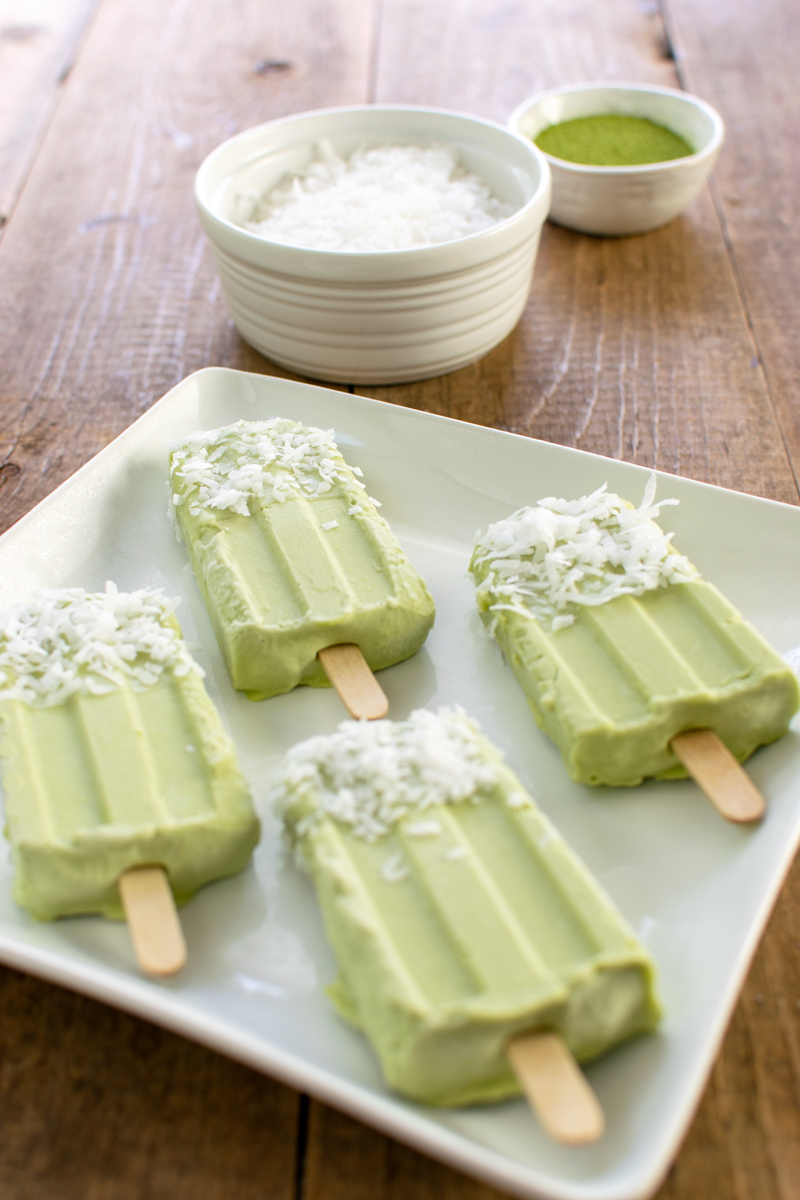 What I love most about this recipe for Creamy Matcha Coconut Popsicles, besides being absolutely yummy, is that these coconut and green tea popsicles have a nice summer vibe.
Is it just me, or does coconut make you feel like you're on a tropical beach vacation?
In addition to being really simple to make, these matcha and coconut popsicles can be made into gourmet popsicles with dips, drizzles and toppings.
For instance, I like to dip each popsicle into coconut simple syrup and roll them in sweetened coconut flakes. I'll show you how in the recipe below.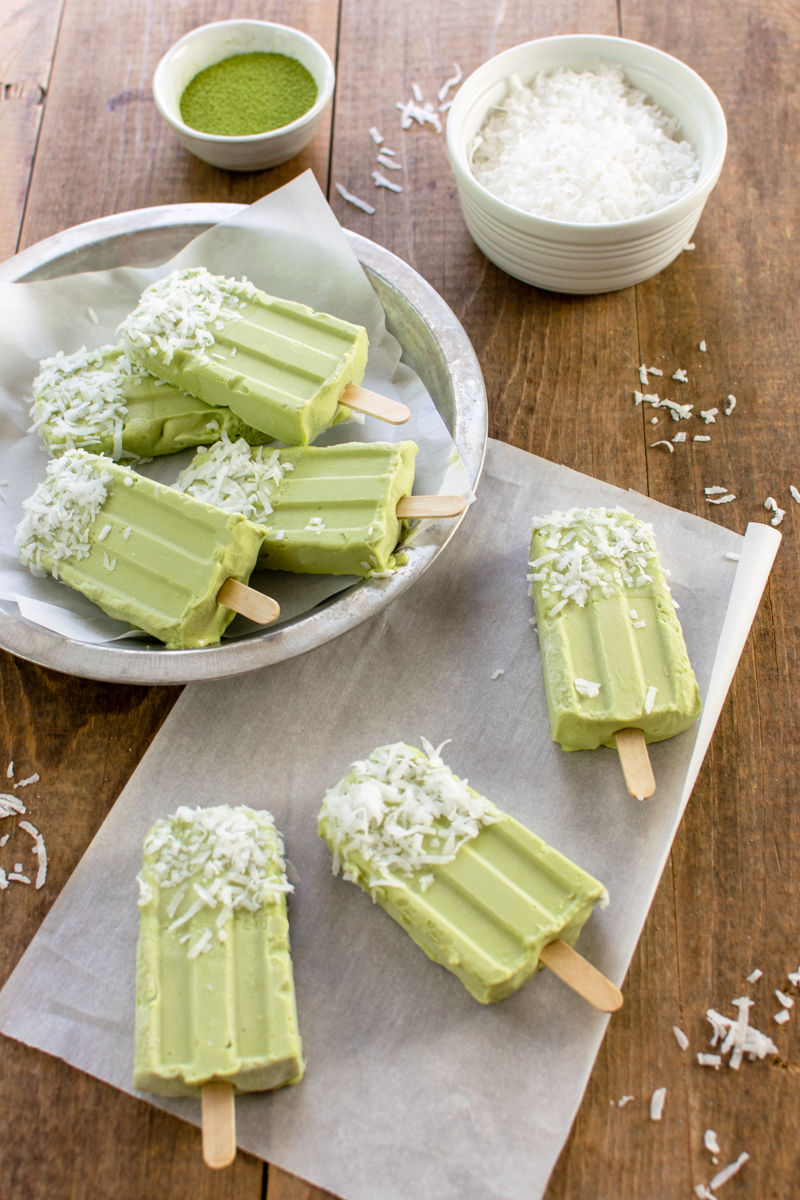 How to Make Homemade Popsicles that are Creamy
The key to making these coconut matcha popsicles come out so creamy is sugar. Yes, sugar!
Oftentimes, sugar is the difference between a rock-hard, icy popsicle and one that is creamy in texture.
Like most recipes, it really all comes down to science. And in this case, sugar interferes with crystal formation.
As you may already know, there are four different kinds of sugar:
Sucrose (white sugar from sugar cane plant)
Fructose (sugar from fruit)
Glucose (sugar from carbohydrates)
Lactose (sugar from milk)
Sugar in all its forms helps to reduce iciness in homemade popsicles and make them creamier.
Use Karo Syrup
In particular, Karo Syrup, which is 100% glucose, is highly effective at preventing the formation of ice crystals.
In addition to Karo Syrup, this Coconut Matcha Popsicle recipe includes sugar from other ingredients like granulated sugar, coconut milk, heavy cream and sweetened matcha powder.
Use an Emulsifier
Keep in mind, it's difficult to mimic store-bought popsicles since they are frozen more quickly in freezers much colder than typical home freezers.
So one thing I like to do is an add an emulsifier like xanthan gum to this coconut matcha popsicle recipe.
In fact, xanthan gum is my secret ingredient for making creamy homemade frappuccinos like a Starbucks Chai Frappuccino and Strawberry Frappuccino.
In short, emulsifiers keep ingredients blended together. In other words, xanthan gum keeps the popsicle ingredients from separating before they're completely frozen.
This is important since it prevents the ingredients from separating and forming ice crystals.
Photo Credit: www.amazon.com
8 oz. resealable package. Non-GMO, Keto Friendly.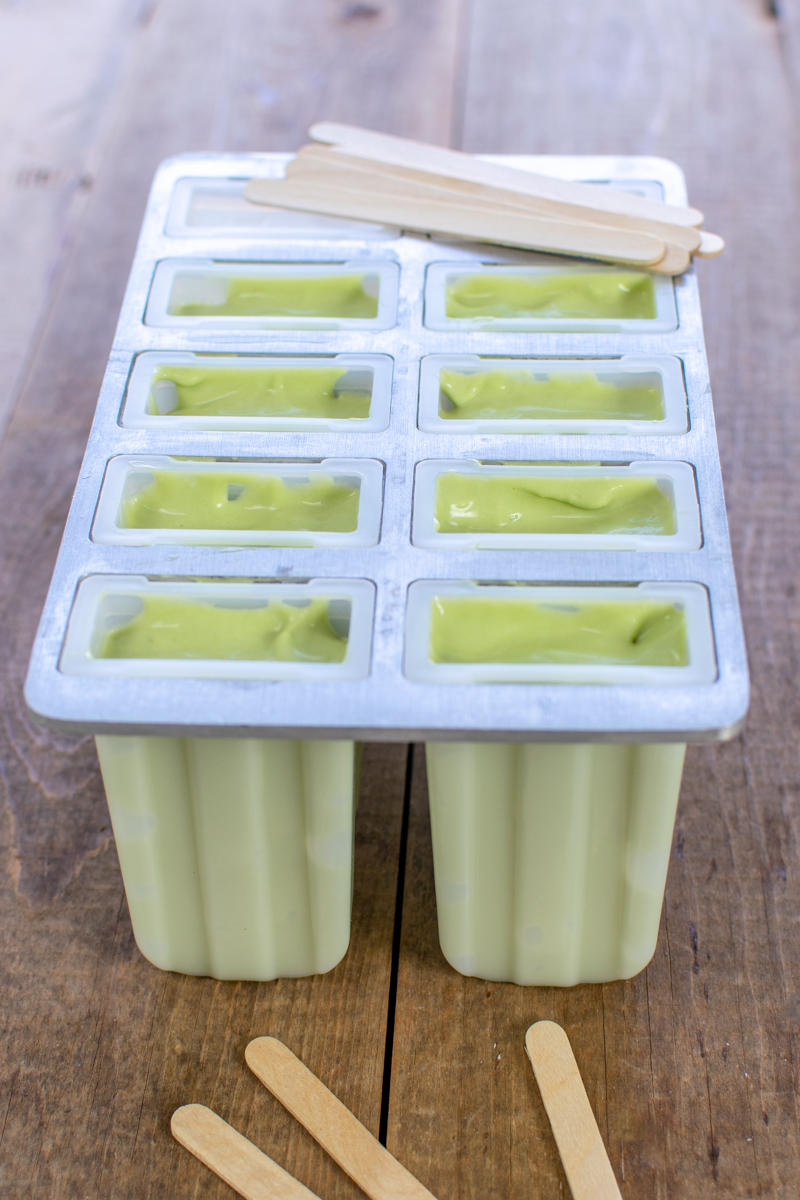 Things You Need to Make Matcha Coconut Popsicles
Popsicles are so easy to make, especially with flavors like coconut and matcha.
In order to make them, you need a popsicle mold like the one pictured below.
Personally, I love the classic shape of this one . Plus, it's really easy to work with and includes a generous 50 wooden popsicle sticks.
Photo Credit: amazon.com
Makes 10 popsicles. Includes 50 wooden freezer pop sticks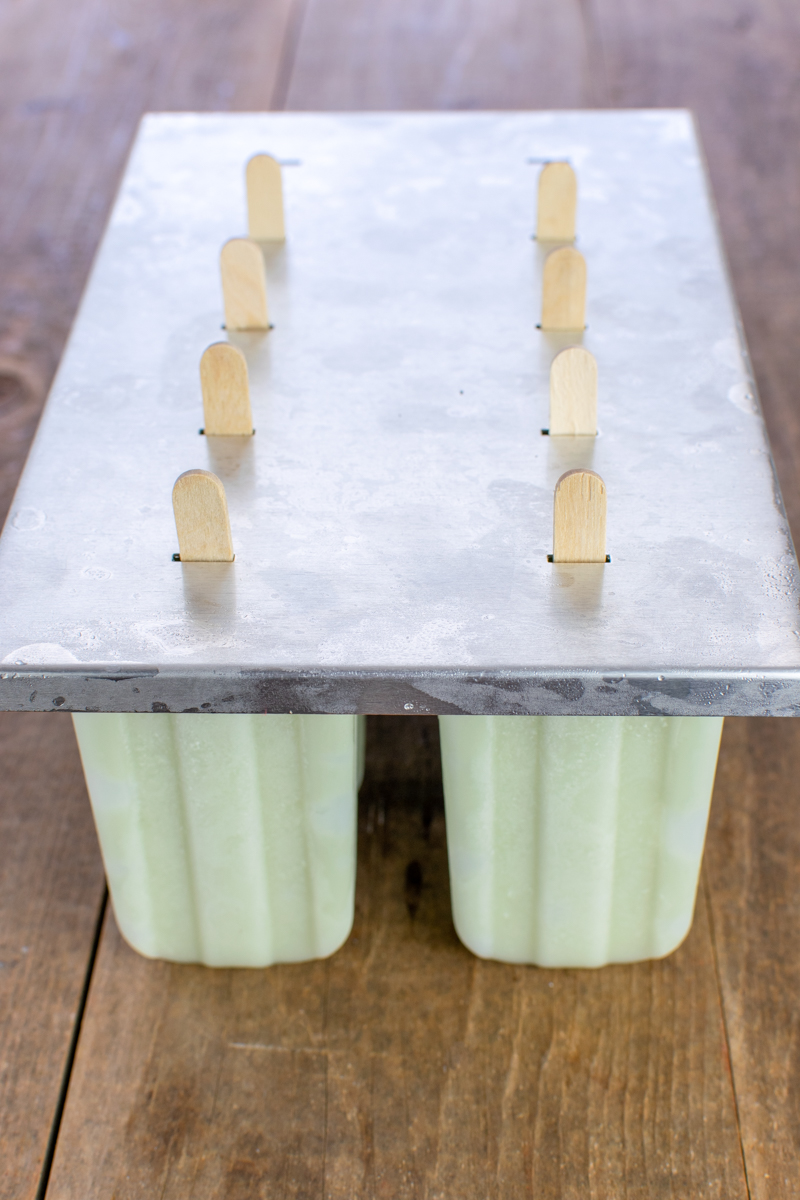 You also need sweetened matcha powder. Matcha Love Barista Blend is my go-to brand.
As a bonus, Matcha Love is what I use for all my copycat Starbucks recipes like a Matcha Green Tea Frappuccino or an Iced Matcha Latte.
Photo Credit: www.amazon.com
This sweetened matcha powder is the one I use for my Iced Matcha Latte Starbucks copycat recipe.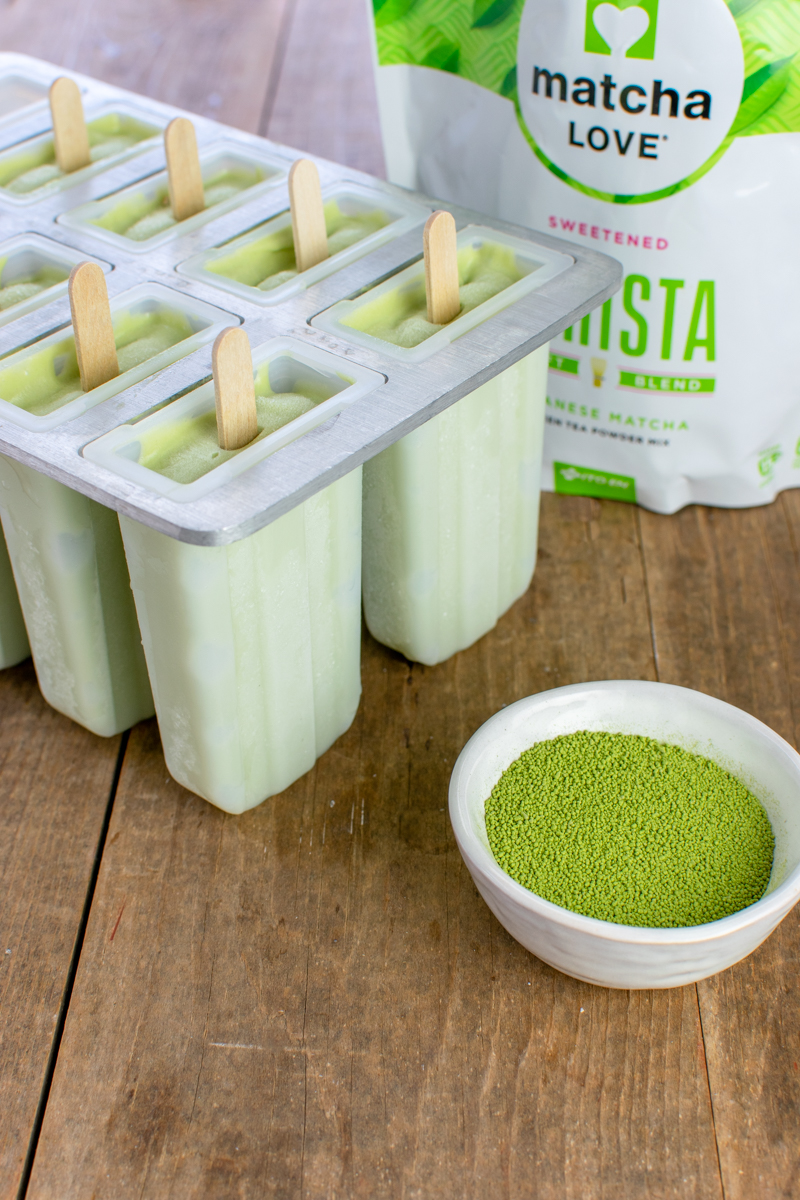 How to Make Matcha Coconut Popsicles
Now that you have everything you need to make homemade popsicles, let's get started.
Step 1: Blend Matcha Coconut Popsicle Ingredients
Put coconut milk, matcha powder and all the popsicle ingredients in a blender. (Do not add coconut simple syrup of topping ingredients, however.)
Blend well for 1-2 minutes, making sure and to turn the blender off and scrape the sides if the matcha is stuck.
Step 2: Pour Popsicle Mixture into Popsicle Mold.
Carefully fill the popsicle mold with the coconut matcha popsicle mix.
I like to pour small amounts in a small measuring cup that has a spout and fill the mold that way.
Importantly, do not fill each mold all the way to the top. A little room needs to be left since the popsicle may expand as it freezes.
Additionally, this recipe is quite creamy so you may want to stir each popsicle with an extra wooden stick to remove any air pockets.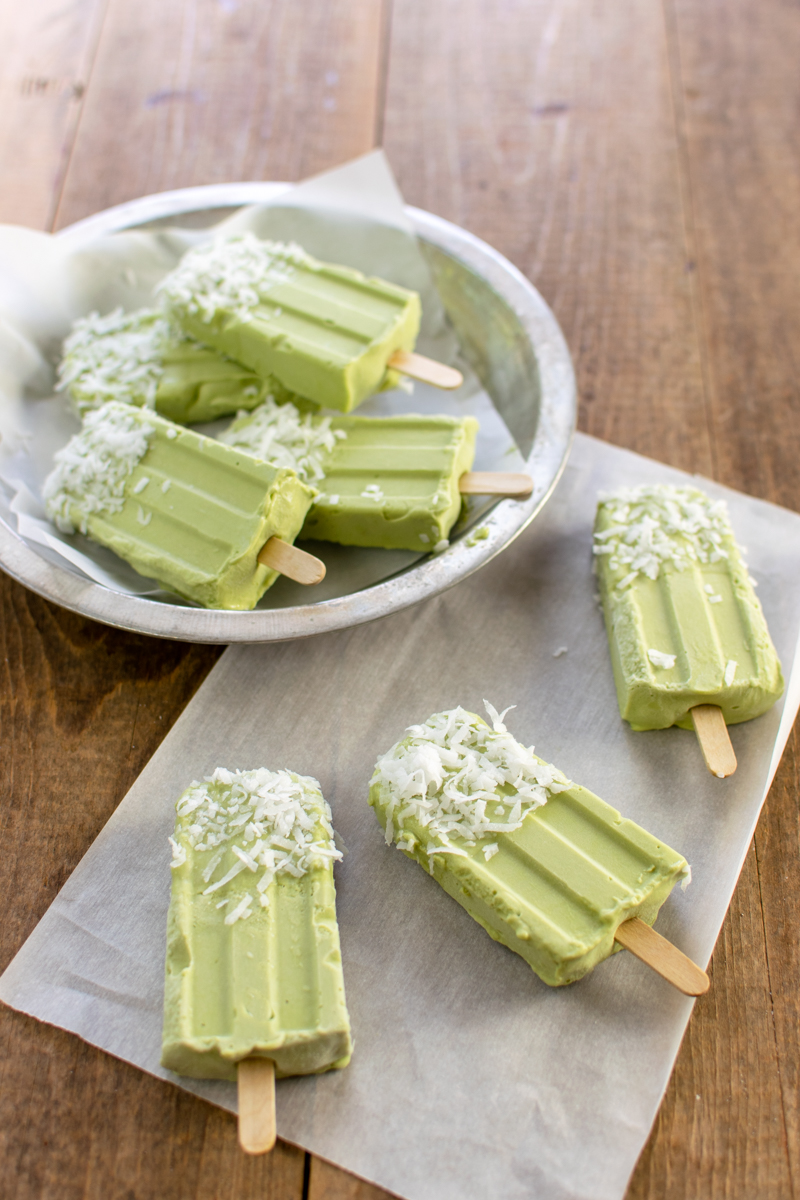 Step 3: Freeze the Popsicles
Freeze the popsicles for about 30 minutes before adding the sticks so it's easier to get the sticks to stand up straight.
I like to set a timer so I don't forget about them.
After the sticks are inserted into each slot, freeze the popsicles for about 4 hours.
Step 4: Remove the Popsicles from the Mold
The easiest way to remove these creamy popsicles from the mold is to run warm water over the outside of the mold.
Then give each popsicle a wiggle and lift it straight up.
Step 5: Add Sweetened Coconut Flakes
This step is optional but it sure makes these matcha popsicles pretty.
To get the sweetened coconut flakes to stick to each popsicle, I make a little bit of coconut simple syrup. It's best to make the syrup while the popsicles are freezing, and put the syrup in the refrigerator so it's nice and cold.
Next, all you have to do is dip each popsicle into the coconut syrup and press on the coconut flakes.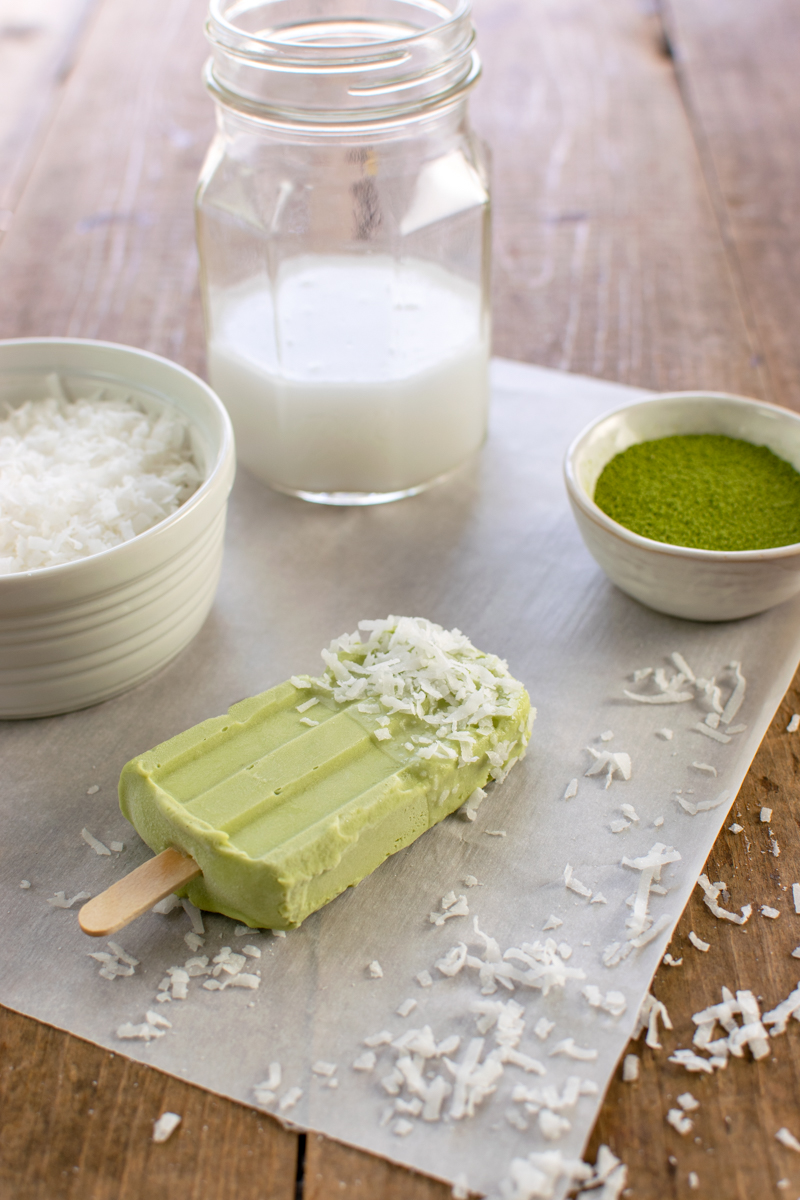 Creamy Matcha Coconut Popsicle Recipe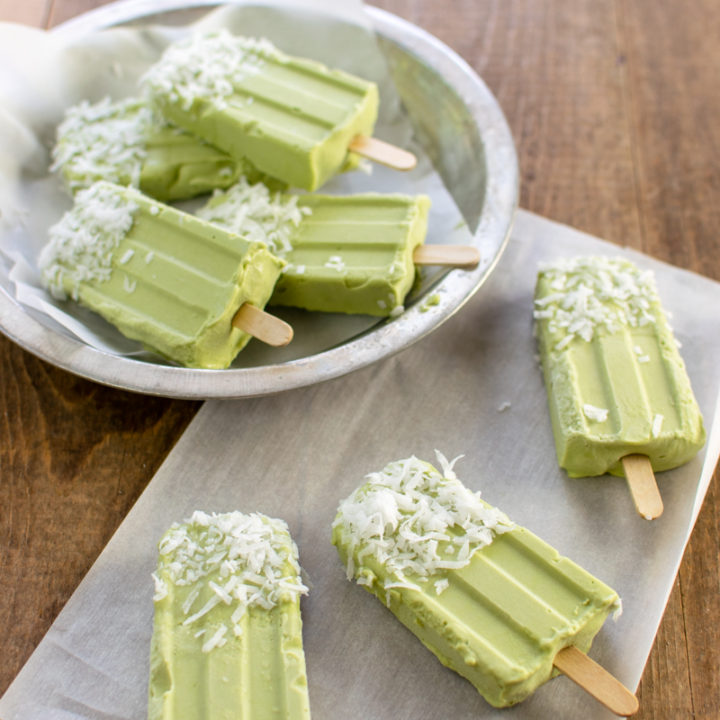 Creamy Matcha Coconut Popsicles
Yield:
8 Matcha Popsicles
Total Time:
4 hours
10 minutes
This easy homemade popsicle recipe for Creamy Matcha Coconut Popsicles is extra delicious dipped in coconut simple syrup and sweetened coconut flakes.
Ingredients
Coconut Matcha Popsicles
13.5 ounces canned coconut milk
1/4 cup heavy cream
3 tablespoons sweet matcha powder
2 tablespoons Karo Syrup
1 tablespoon sugar
1/4 teaspoon xanthan gum
pinch of kosher salt
Coconut Simple Syrup (optional)
1 1/2 cups water
1 tablespoon sugar
3/4 cup sweetened coconut flakes
Popsicle Toppings (optional)
1/2 cup sweetened coconut flakes
Instructions
Make the Coconut Matcha Popsicles.

This coconut and matcha popsicle mixture is so quick and easy to make. All the time it to takes to make them is mostly freezing them.
Put all the coconut matcha popsicle ingredients into a blender and blend well, scraping sides as necessary.
Let the mixture sit in the blender for about 2 minutes and then blend it again for a few seconds, (This is so the xanthan gum, which is an emulsifier, has a chance to expand).
Fill popsicle molds with the mixture, being sure to leave a little space at the top.
Freeze the popsicles for about 30 minutes and then add the popsicle sticks.
Let the popsicles freeze additionally for at least 4 hours.
If you want to dip the finished popsicles in coconut, then make coconut simple syrup while the popsicles are freezing and store it in the refrigerator until ready to use.


Make the Coconut Simple Syrup

I like to dip each finished popsicle in a little bit of coconut simple syrup in order to stick some sweetened coconut flakes to each popsicle. This is purely optional, but it does make them pretty.
Bring water and sugar to a boil.
Stir in sweetened coconut flakes and remove from heat.
Let the mixture sit for at least 30 minutes and then strain the coconut out of the syrup.
Bring the remaining syrup to a boil for a few minutes to reduce the syrup a bit.

Top Creamy Coconut Matcha Popsicles with Coconut Flakes (optional)

To turn these popsicles into gourmet popsicles, add sweetened coconut flakes.
Make sure the simple syrup is in a tall container (like a cup) that the popsicles fit into.
Dip the top 1/3 of each popsicle into the cold coconut simple syrup.
Sprinkle coconut flakes onto the portion of the popsicle coated in the syrup.
Store the finished popsicles in the freezer.
Recommended Products
As an Amazon Associate and member of other affiliate programs, I earn from qualifying purchases.