Starbucks Sunset Drink is a popular TikTok secret menu drink that has colorful layers. Here's a look at what's in the iced tea lemonade version of the Sunset Drink and how to order it from Starbucks.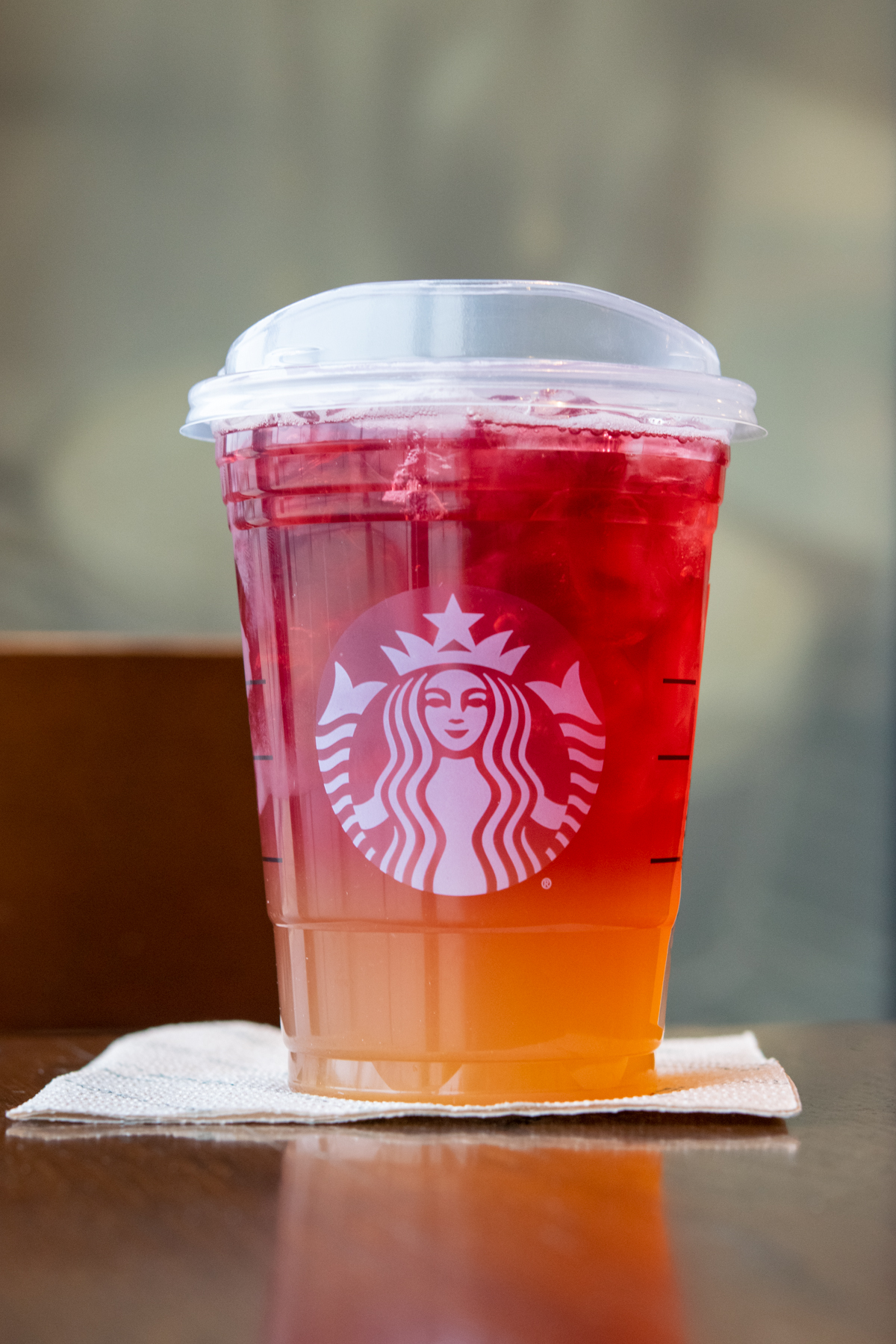 Starbucks Sunset Drink (Iced Tea & Lemonade Version)
A Starbucks Sunset Drink is a super refreshing secret menu drink that cleverly combines two types of iced tea, lemonade and rapsberry syrup to create a striking color-blocked beverage.
It's bright hues and distinct layers slowly fade into each other like the setting sun making it easy to see why the Sunset Drink is perfectly instagrammable.
Did you know there are actually two versions of the secret menu Sunset Drink?
One version of the Sunset Drink is made with iced tea and lemonade.
The second version of this popular TikTok drink begins with a Starbucks Mango Dragonfruit Lemonade Refreshers Beverage.
Both drinks are colorful like the sunset.
However, a grande Sunset Drink made with iced tea lemonade has at least 60 fewer calories than the Refreshers version.
The iced tea version also has about half the caffeine content.
RELATED:
– Best Iced Tea at Starbucks: A Barista's Guide
– Best Starbucks Refreshers: Drinks, Caffeine & More
What's in the Sunset Iced Tea Drink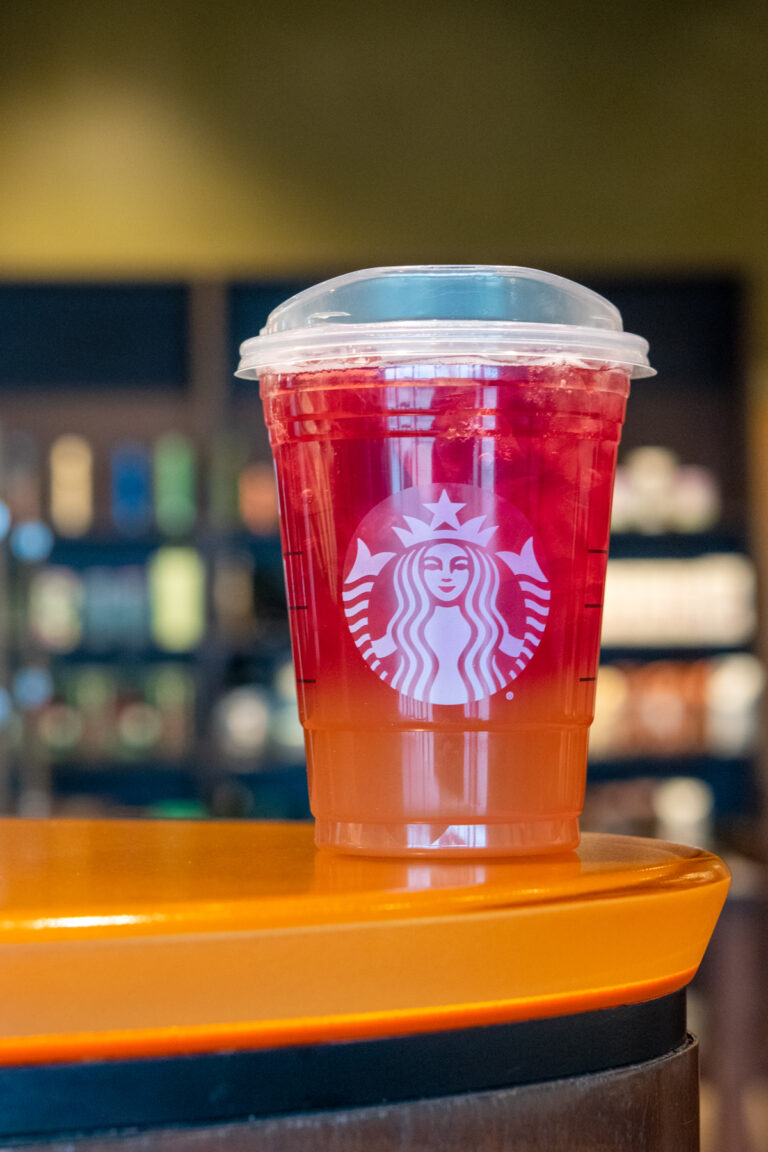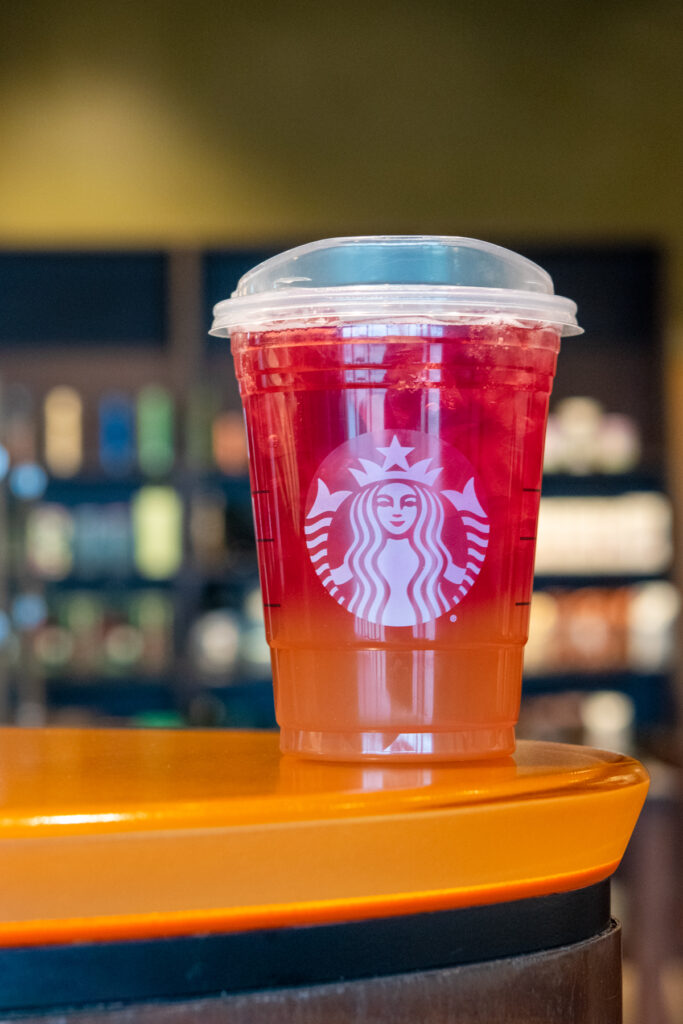 To make this Sunset Drink, the barista shakes together iced green tea, peach juice, lemonade, raspberry syrup and ice. A little space is left in the cup to pour the pink-colored passion tango tea on top.
If the barista pours slowly, it creates a nice separation between the two layers.
Here's a quick look at each ingredient.
1. Iced Green Tea
Starbucks iced green tea beverages are made with Teavana Jade Citrus Mint tea bags. This minty green tea blend contains caffeine.
One thing I love is, this exact tea is sold in stores so you can easily make copycat drinks like this recipe for Starbucks Peach Green Tea Lemonade.
2. Lemonade
Starbucks lemonade adds a little zing and sweetness to the green tea. In addition to iced tea lemonade, Starbucks lemonade drinks include its popular line-up of lemonade Refreshers.
3. Peach Juice
A generous splash of peach juice is shaken together with the green tea and lemonade. It provides sweetness and a nice fruity flavor.
4. Raspberry Syrup
For the Sunset Drink, add in some raspberry syrup. If you want this to be a low calorie tea, you can skip the syrup if desired since the peach juice and lemonade are already sweetened.
5. Iced Passion Tango Tea
Passion tango tea is an unsweetened, hibiscus flavored herbal Starbucks tea.
Passion Tango Tea Lemonade is actually one of my favorite drinks to order on a summer afternoon since it's calorie-free and a non-caffeinated Starbucks drink.
How it Tastes
This delightful mix of flavors and teas creates a drink that's fruity with a slight taste of mint.
It's seriously refreshing and is a great iced tea option for a hot summer day. I'd definitely say this thirst-quencher is as delicious as it looks.
How to Order this Drink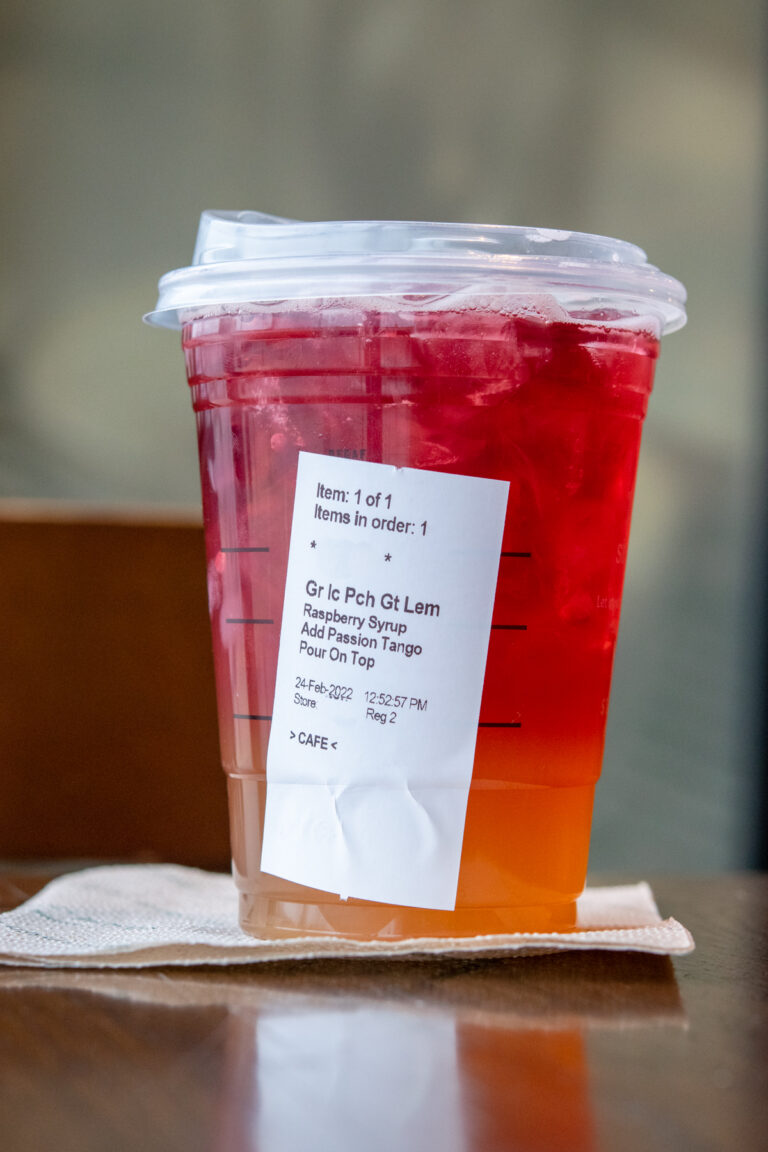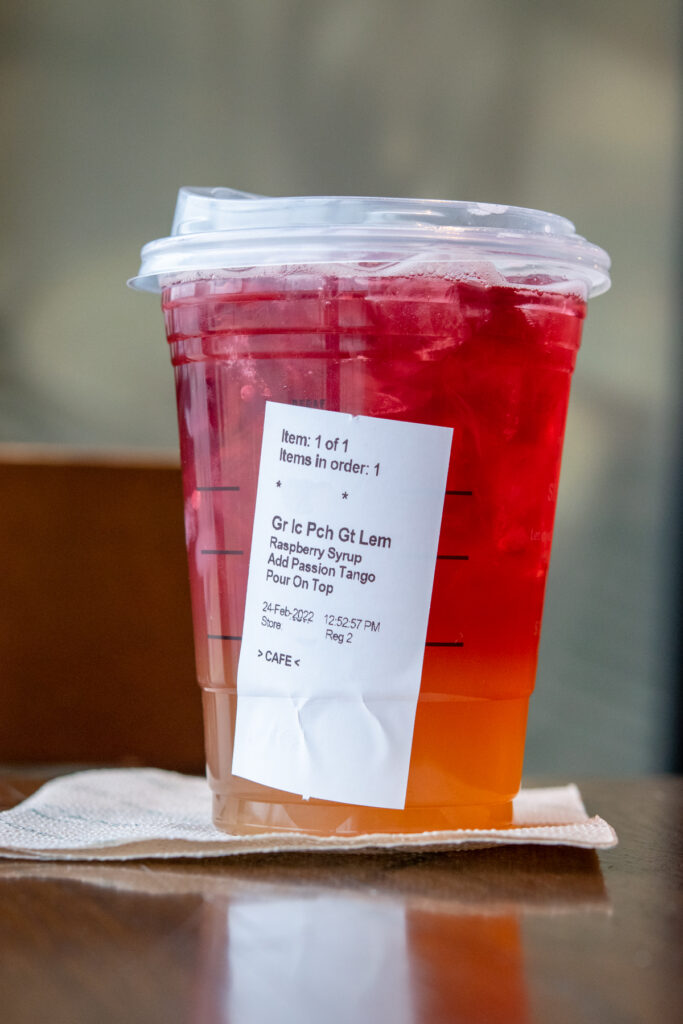 The Starbucks Sunset Drink made with iced tea, is a customized Iced Peach Green Tea lemonade popularized on TikTok because of its colorful layers.
It's simply an Iced Peach Green Tea Lemonade shaken with raspberry syrup and layered with Passion Tango tea.
Since this drink is not on the official Starbucks menu, you need to tell the barista exactly what drink you want and specifically how you want it customized.
Here's exactly how to order a Sunset Iced Tea Drink
Foundation Drink: Order an iced peach green tea lemonade. It's available in tall, grande, venti and trenta sizes.
Customizations: First, add-in raspberry syrup to the peach green tea lemonade. Next, ask for Passion Tango tea poured on top.
Ordering with the Starbucks App:
On the app, there's not a way to ask for one kind of tea to be poured on top of another so you have to order this drink in-person.
How to Order from the Barista:
"Can I please have a (tall, grande, venti or trenta) Iced Peach Green Tea Lemonade with raspberry syrup and a splash of Passion Tango tea poured on top?"
For this drink, there's no need to specify the number of pumps of raspberry syrup you want added. The barista adds the standard amount according to the size drink you order.
Cost to Customize this Drink: Both customizations for this drink should be free. There is not an up-charge for adding a flavored syrup to iced tea nor is there a charge for combining two teas.
Questions You May Have
Does a Starbucks Sunset Drink have caffeine?
The iced tea lemonade version of a Starbucks Sunset Drink is made with peach green tea lemonade which contains caffeine. Specifically, a 16-ounce, grande Sunset Drink made with only iced tea (not the Refreshers version) contains 25-30mg of caffeine.
Does Starbucks have raspberry iced tea?
The Starbucks menu does not have raspberry iced tea listed on it. However they do have raspberry syrup which is perfect for flavoring their black, green or passion tango iced teas.
Related