This homemade chai tea latte recipe could not be easier to put together. Made with black tea bags full of warming chai spices, this latte is the perfect creamy blend of sweet and spice.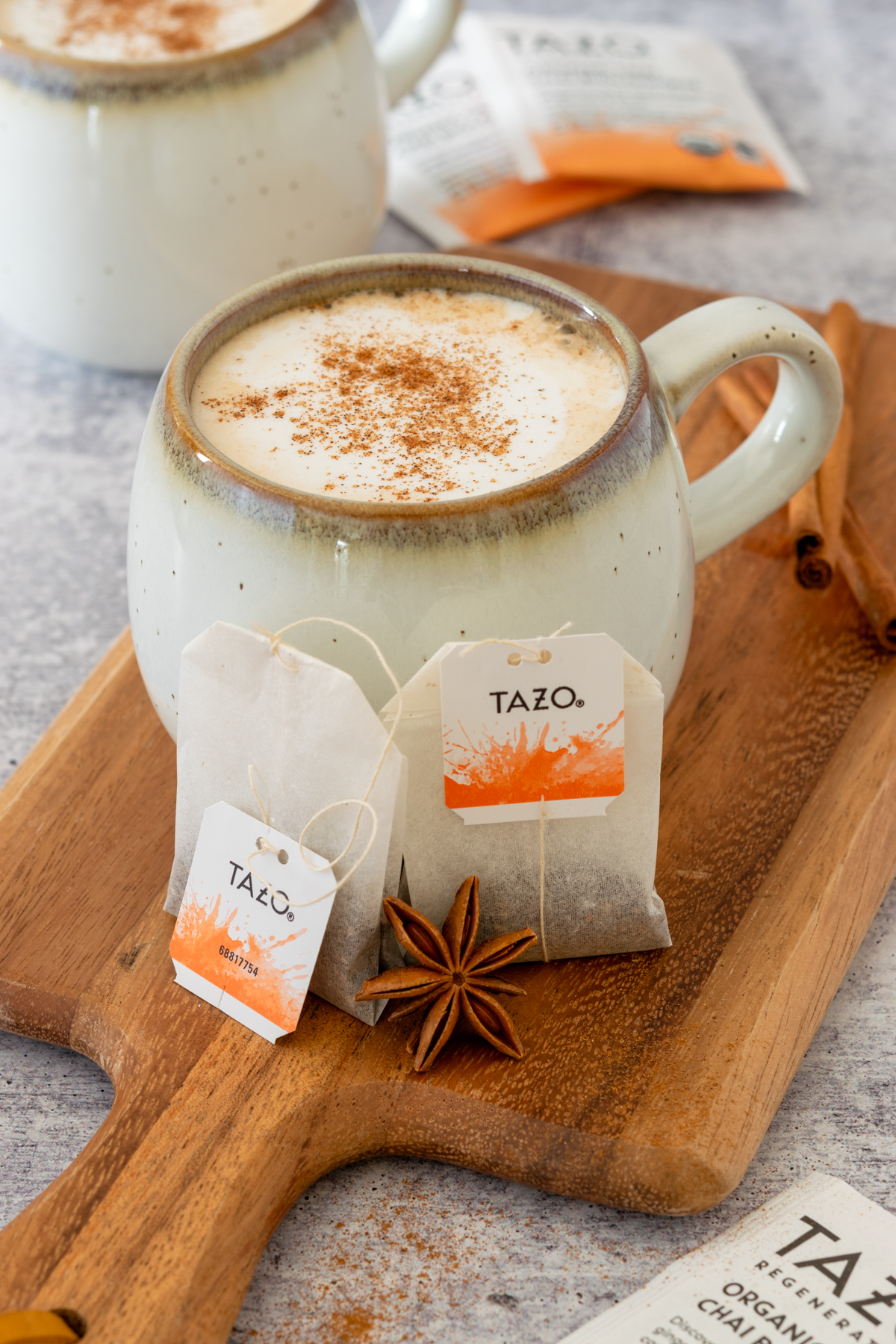 The Easiest Chai Tea Latte Recipe
This incredibly easy chai tea latte recipe shows you how to make a quick chai latte using tea bags—bursting with all the cozy chai flavors we love.
A chai tea latte is a tasty combination of creamy, steamed milk and black tea infused with warming spices, like cinnamon, ginger, nutmeg and clove. For sweetness, sugar or honey is added to this delightful spiced tea drink.
The mingling of sugar and spice are what give a chai latte its distinct flavor.
And the black tea is what provides caffeine.
With so much going on in a chai tea latte, you might think it's difficult to make. But making a chai latte is actually quite simple, especially when beginning with chai tea bags.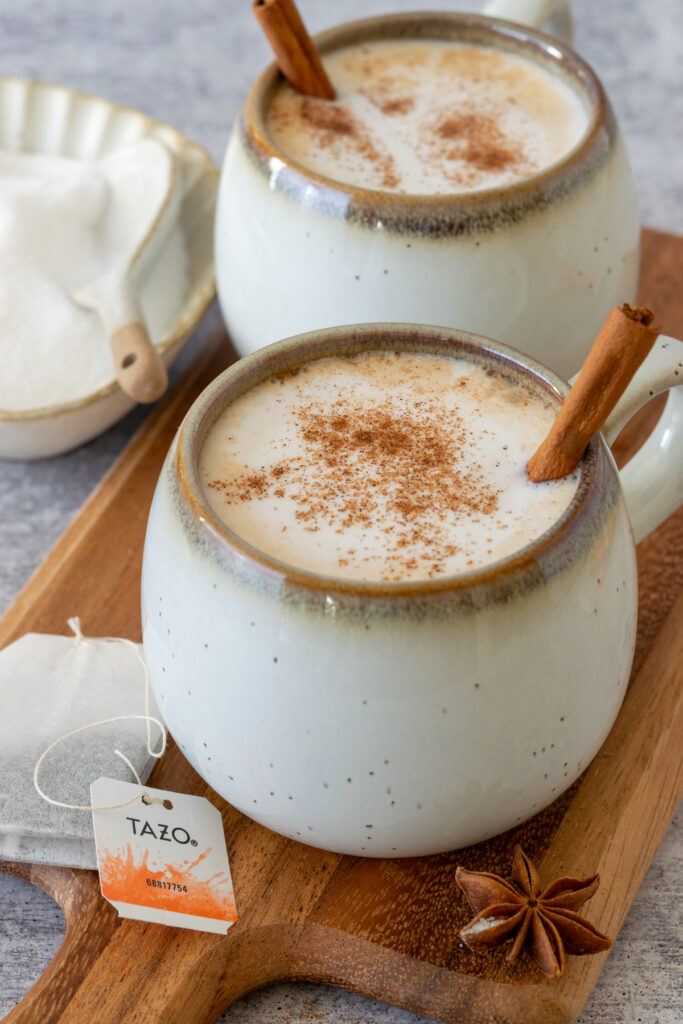 Why You'll Love Making a Chai Latte with Tea Bags
Quick & Easy: Making a Chai Tea Latte at home only takes minutes to steep and is simple to do with just three ingredients: chai tea bags, steamed milk and sweetener.
Fewer Calories: Chai tea bags are calorie-free, which means you have total control over how much sweetener you add to the latte. Compared to a chai latte made with ready-made chai black tea concentrate, this may be a real calorie saver.
Inexpensive: Making a latte with tea bags is cheap compared to coffee shop prices. For instance, you can buy an entire package of chai infused black tea bags for about the same price as a single Starbucks chai drink.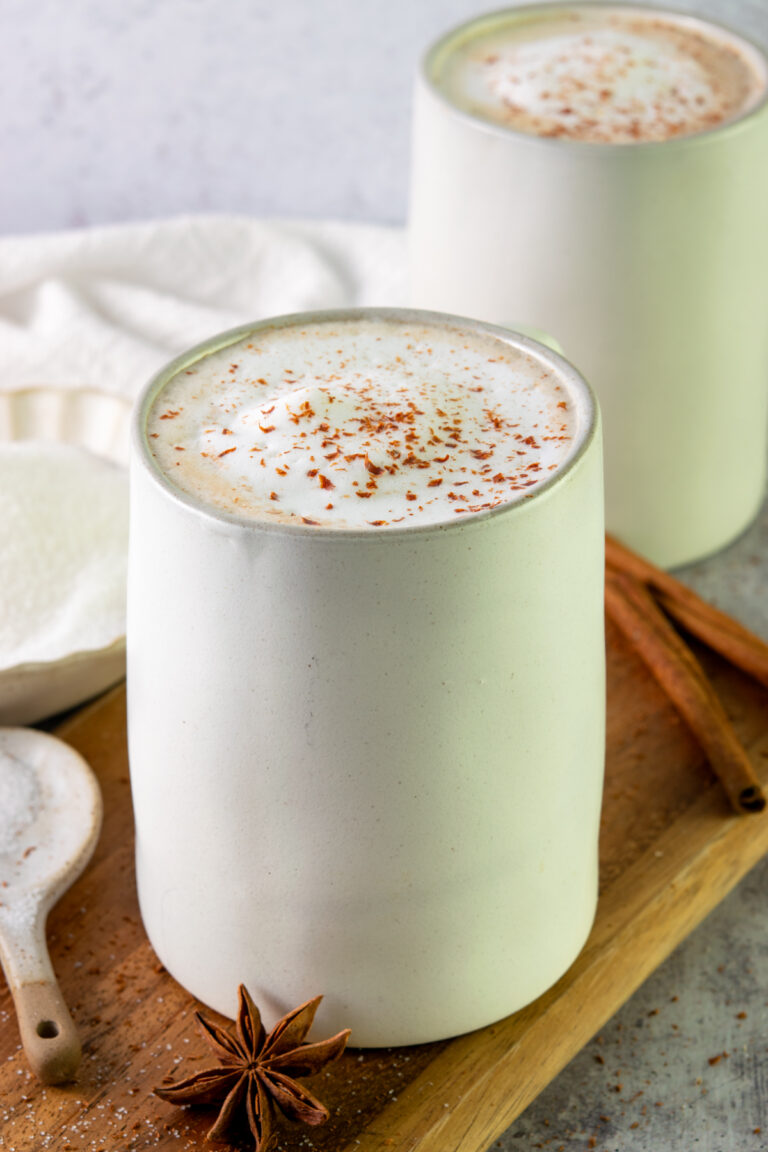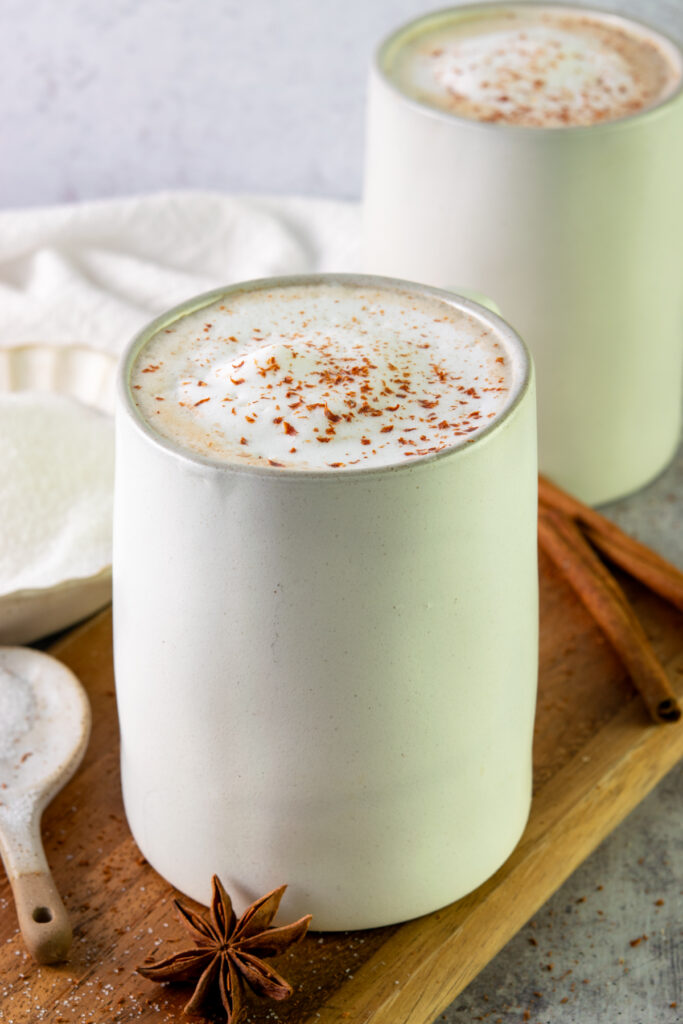 Ingredients
Chai Tea Bags
Hot Water
Milk
Sugar or Other Sweetener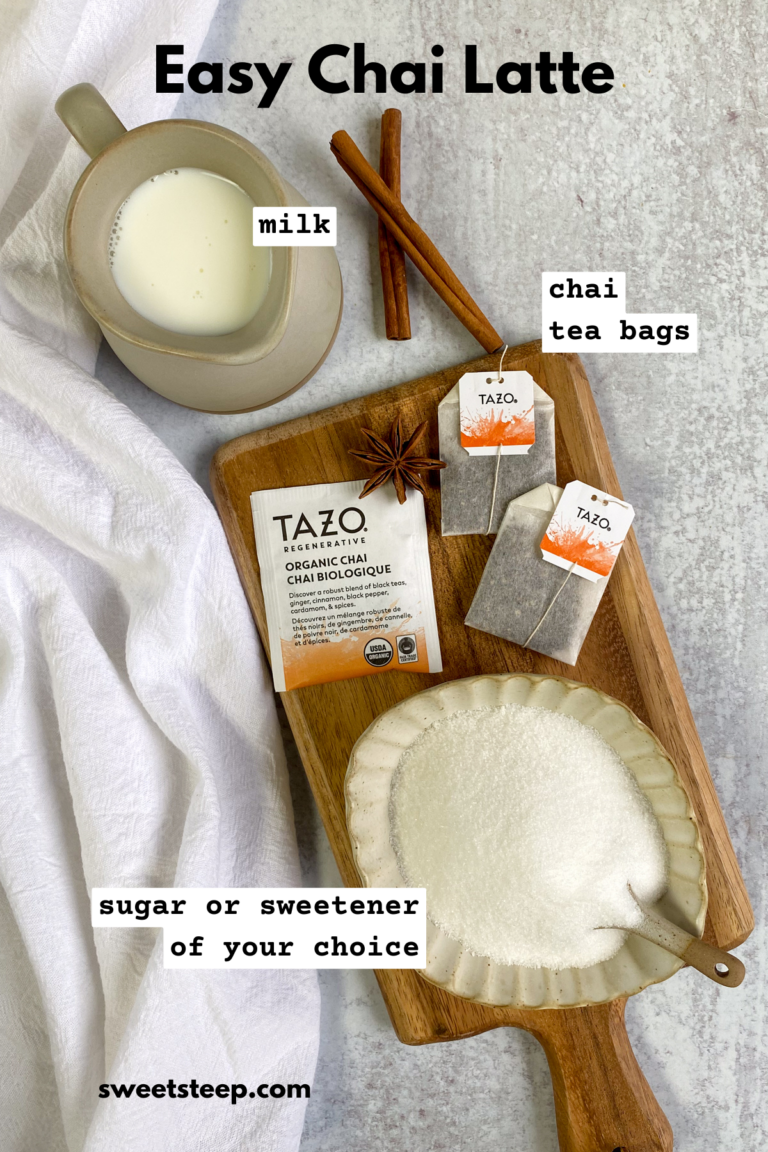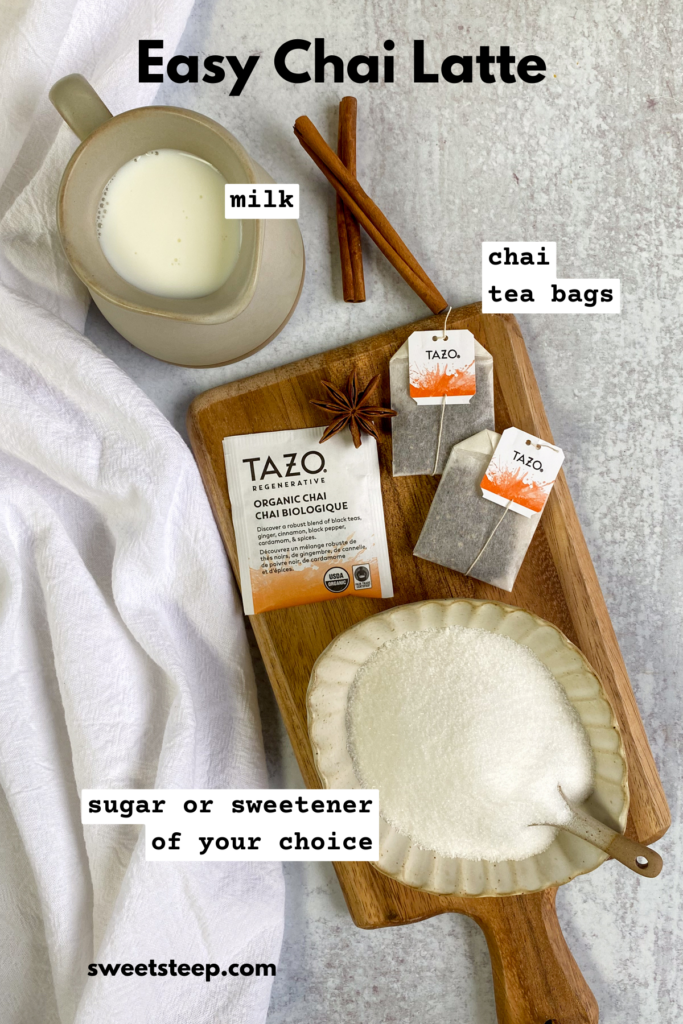 Chai Tea Bags: The chai tea bag you pick is what will make or break the taste of this homemade latte. Different brands infuse the tea with different spices and flavors, so take a look at the ingredients.
One of my favorites is Harney & Sons chai sachets, which are pyramid shaped tea bags filled with loose tea. This particular blend contains black tea from India, cardamom seeds, cinnamon, nutmeg, cloves, and natural cardamom and vanilla flavors.
It also comes in less expensive tea bags.
Hot Water: For the best tasting tea, steep the tea bags in filtered water that's been brought to a boil.
If you make a lot of tea and coffee at home, a Brita water filter pitcher is worth getting.
Steamed Milk: Pick a milk that steams into a creamy consistency. I always use 2% or whole milk for lattes.
The fat is what creates the silky microfoam texture.
If you choose a plant-based milk, get the barista-edition. They're designed to foam up for lattes and other hot beverages.
Sweetener: Use a sweetener of your choice to balance the spicy chai.
Sugar, honey or maple syrup are often used in chai, but you can also use an artificial sweetener, if desired.
How to Make a Chai Tea Latte
The first step to making a chai latte is to make a quick chai concentrate by steeping the tea bags in boiling water. To make double-strength tea for a latte, use 2 tea bags per cup of water. Use the recommended steep time on the tea bag package.
Next, add sugar to the hot tea. Stir in sugar, honey, maple syrup or a sweetener of your choice into the hot tea until fully dissolved.
Lastly, froth the milk and pour it into the tea. Steam milk to around 160 °F and pour the milk and foam into the tea. Dust the chai latte with cinnamon or nutmeg, if desired.
That's all there is to it. I told you this was the easiest chai latte recipe!
Detailed recipe and instructions are in recipe card at bottom of post.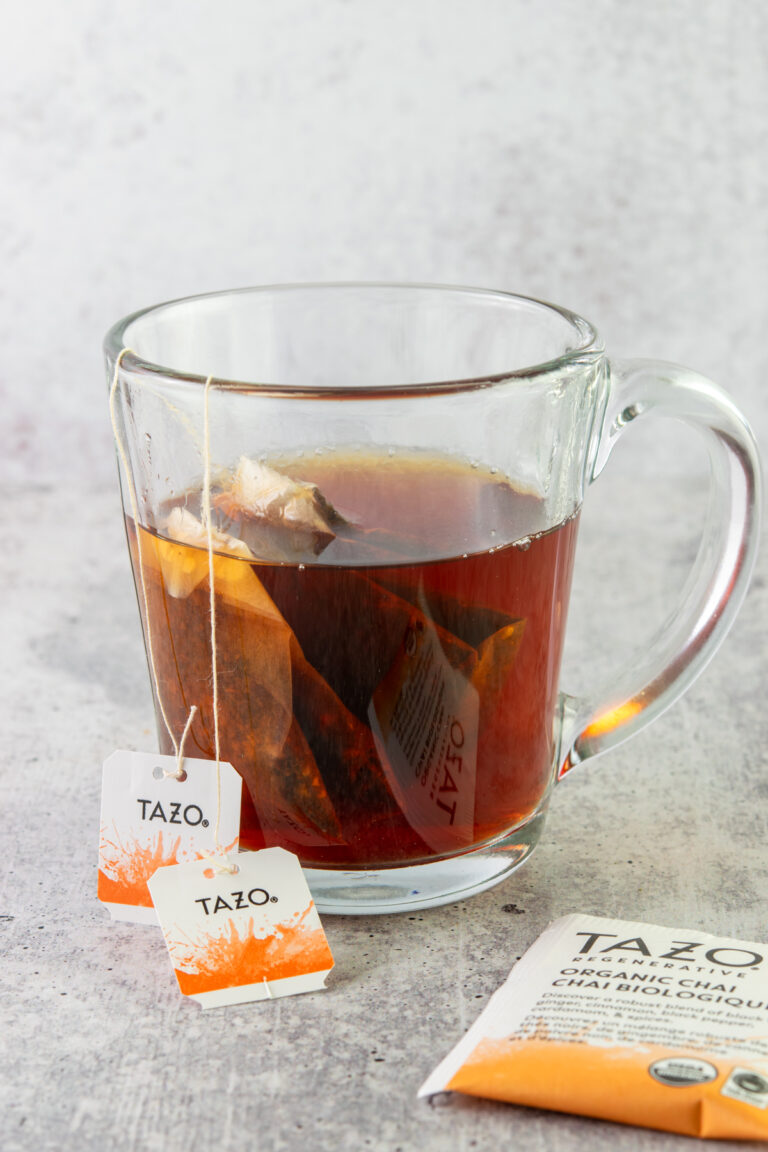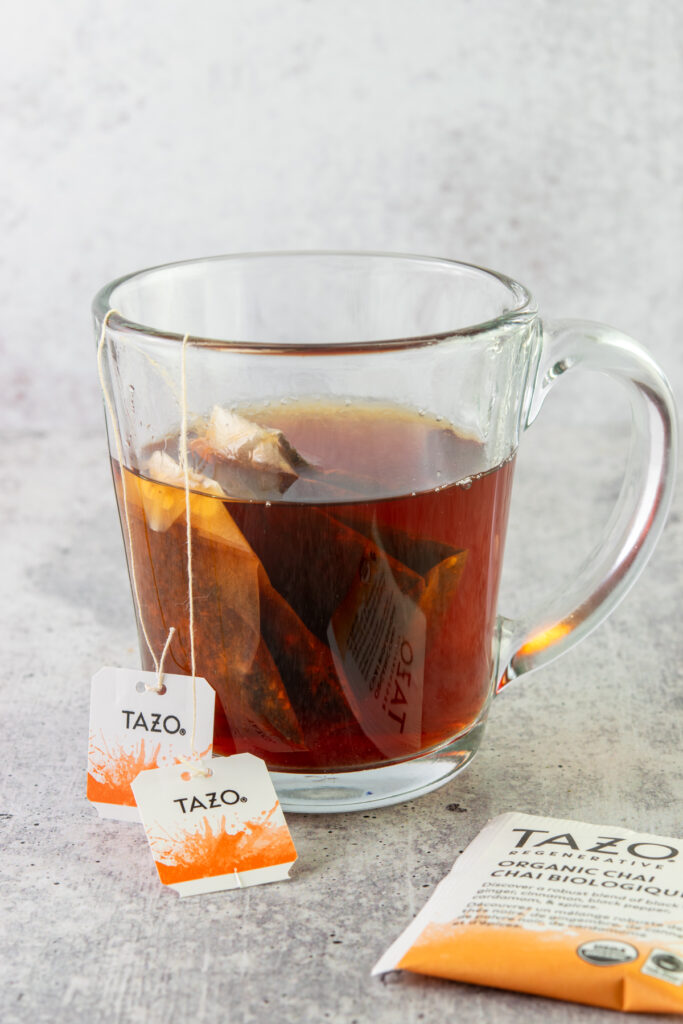 How Long to Steep Chai Tea Bags
Steep time matters when it comes to black tea.
Steep too long and the tea becomes bitter; steep too little and the tea won't have a robust flavor.
The best rule of thumb to make black tea properly is to steep the tea bags for 3-5 minutes using boiling water.
Read your tea bag package for specific recommendations.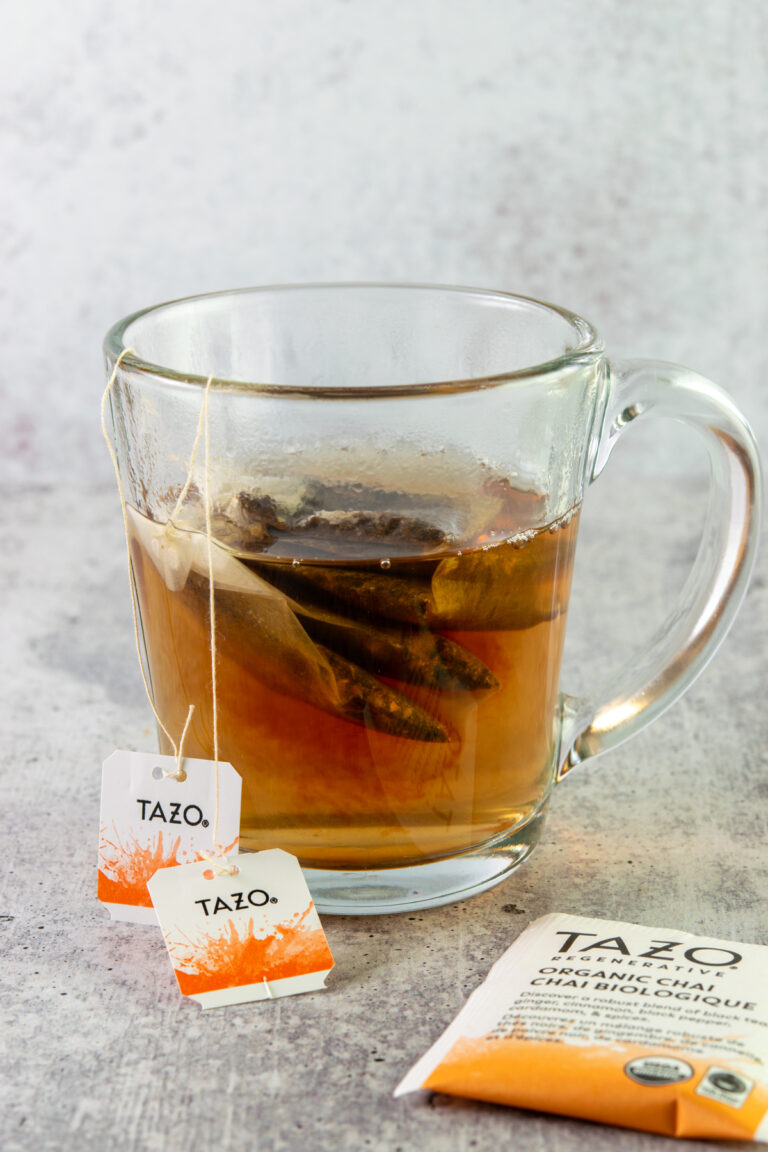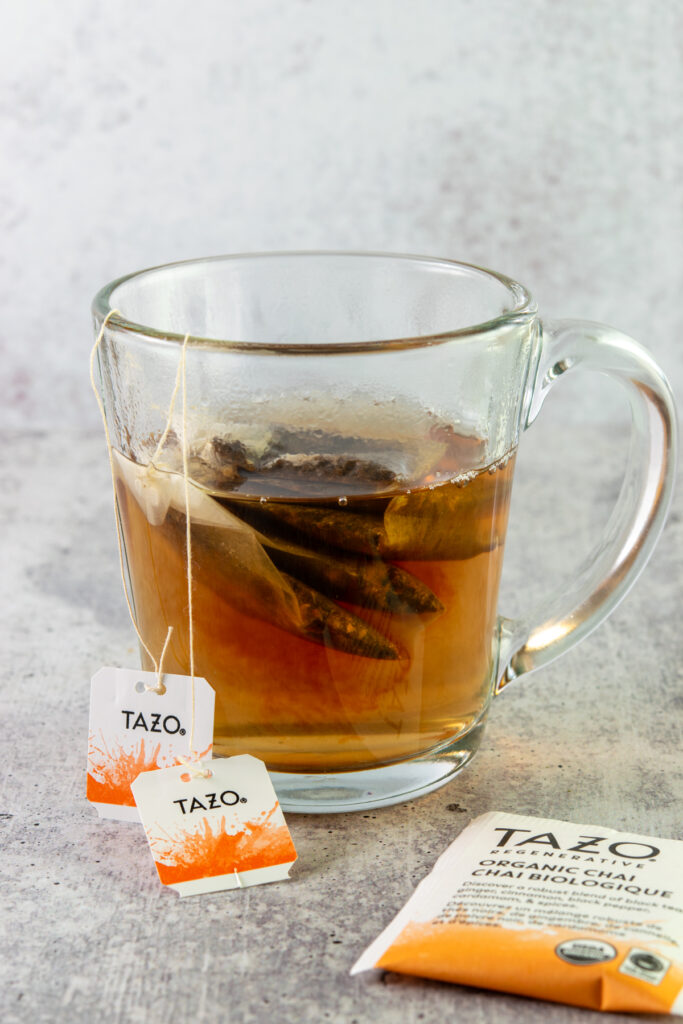 How to Froth Milk for a Tea Latte
Steaming milk for a latte to 160 °F brings out the natural sweetness in dairy milk.
In addition, the steaming process creates a layer of frothy microfoam. This is what gives a latte its creamy texture.
There are three basic ways to steam milk for a latte.
Steam wand on an espresso machine. This is my favorite method. First, air is injected into the milk, creating a silky froth. Then the milk is steamed to temperature.
Electric milk frother. The best electric milk frothers for lattes, have an adjustable temperature setting and hold enough milk for a latte. The Breville Cafe Milk Frother has both these features. It also has a separate latte disc for creating the best texturized milk.
Heat milk on stove and whisk. You can create decent steamed milk for a latte with just a stove and whisk. Monitor the milk's temperature with an inexpensive milk thermometer and use a whisk to aerate. A handheld milk frother is another option. Just be careful because the milk is hot.
My Pick for Milk Frother
This electric milk frother is perfect for making lattes. It has a 3-cup capacity, adjustable temperature setting, and a special latte disc.
Recipe Notes
Steep tea bags in filtered water. For the best-tasting chai latte, steep the tea bags in filtered water, free of impurities.
Don't oversteep the chai tea bags. Steeping black tea beyond 5 minutes brings out the tannins along with a bitter taste. For stronger flavor, use more tea bags, not more steeping time!
For the sweetest milk, steam it to 160 °F. Steam milk to its sweet spot, but don't exceed it or the milk becomes scalded.
Add a splash of vanilla for an easy vanilla chai latte. A vanilla chai latte is a popular Starbucks chai customization. To make one, just add a little vanilla extract to this recipe or use vanilla syrup as your sweetener.
Brew extra chai concentrate to make iced chai lattes later. To make an iced chai tea latte in an instant, brew a large batch of chai tea concentrate with tea bags and refrigerate it.
More Quick Ways to Make a Chai Latte
One of my absolute favorite tea drinks is this homemade masala chai recipe.
It's made from scratch using toasted whole spices, loose black tea and lots of milk. However, it takes a few extra minutes to brew up.
If you're looking for a fast way to make a chai latte beyond tea bags, then use chai black tea concentrate.
Readymade chai black tea concentrate like Tazo, is packed with intense chai flavor. You can also make homemade chai concentrate.
To make a quick latte with a sweetened chai concentrate, just warm up the chai and combine it with steamed milk.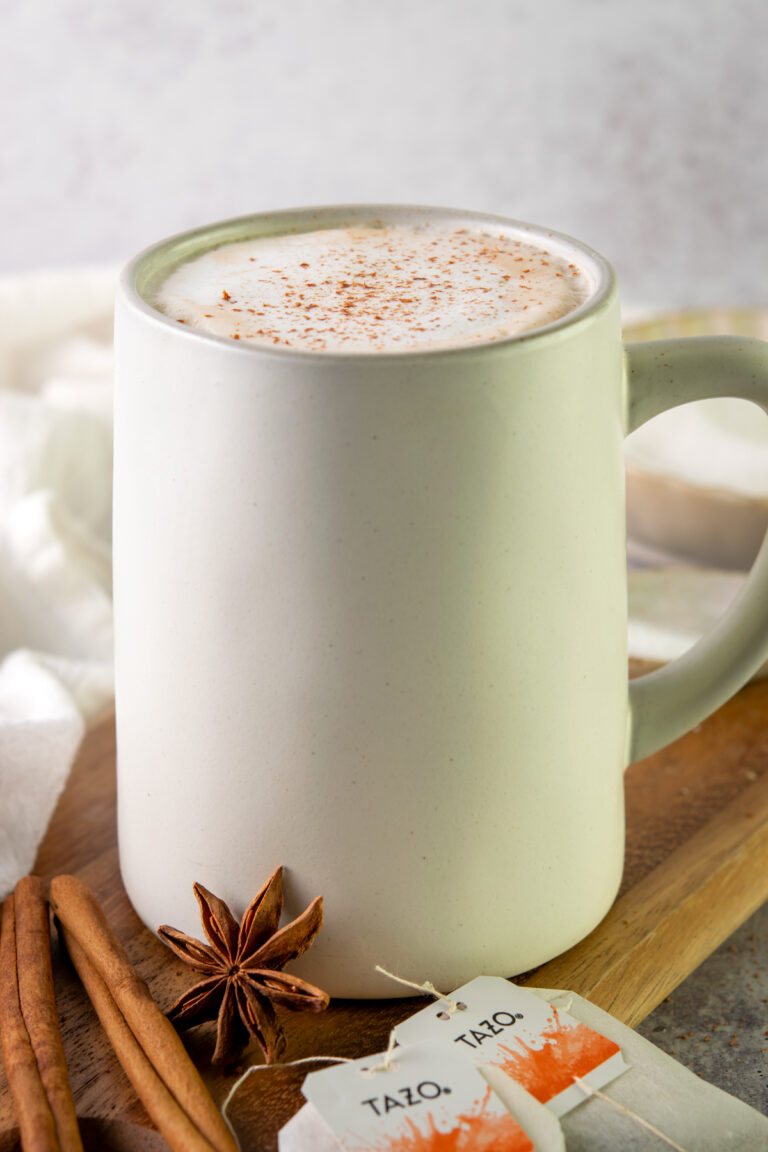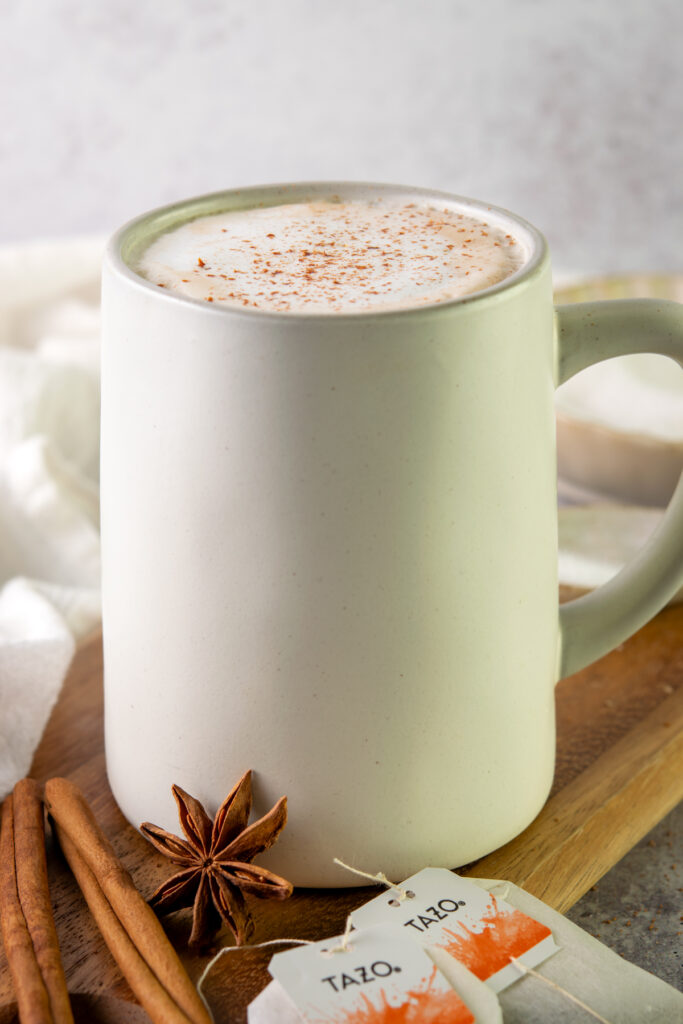 Getting a Starbucks Chai Latte with Tea Bags
Starbucks chai tea drinks are made with already-brewed, pre-sweetened chai concentrate.
If you want to order a chai latte made with tea bags (and fewer calories), you're in luck.
Starbucks has chai tea bags. Here's a look at every Starbucks tea sachet offered, including the chai blend.
Just like a Starbucks London Fog tea latte made with earl grey tea bags, it will take a few minutes to brew a tea bag chai tea latte—but it's entirely possible to get!
More Delicious Chai Recipes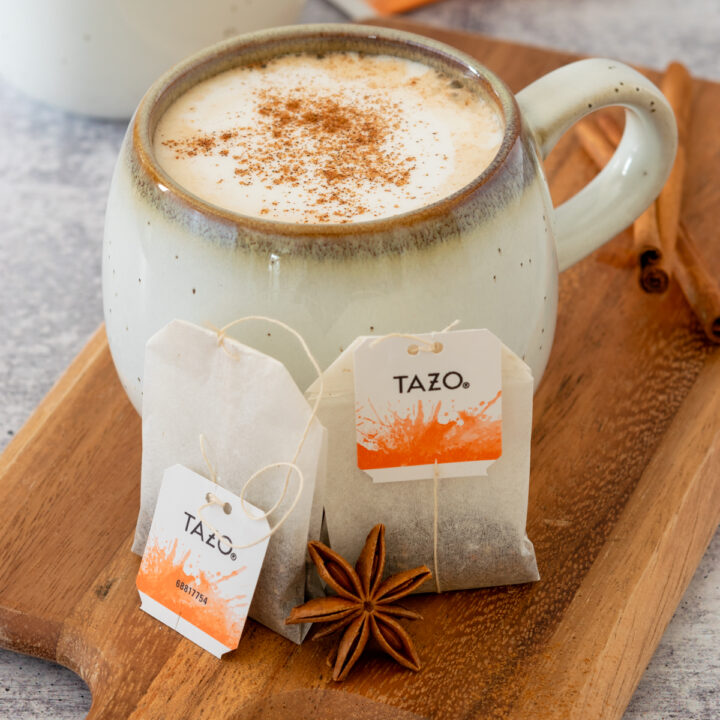 Easy Chai Tea Latte (with tea bags)
Make a quick chai tea latte with tea bags in minutes with this easy homemade chai latte recipe. Simply brew a mug of strong tea using your favorite chai infused black tea bags and combine with frothy milk. Here's everything you need to know to make a perfectly sweet and spicy chai latte.
Ingredients
2 chai tea bags
1 cup water
3/4 cup milk
1-2 teaspoons sugar, or sweeten as desired
ground cinnamon, to garnish
Instructions
Place both tea bags in a single mug. Pour boiling water over the chai tea bags and steep for 3-5 minutes.
While the tea is brewing, steam the milk to a creamy consistency.
When the tea is finished steeping, remove and discard the tea bags. Stir the sugar or preferred sweetener into the tea until dissolved.
Combine the steamed milk and foam with the chai tea. To complete the latte, sprinkle ground cinnamon or nutmeg on top, if desired.
Recommended Products
As an Amazon Associate and member of other affiliate programs, I earn from qualifying purchases.