Absolutely delicious cinnamon ice cream recipe flavored with Harney and Sons Tea hot cinnamon sunset tea bags.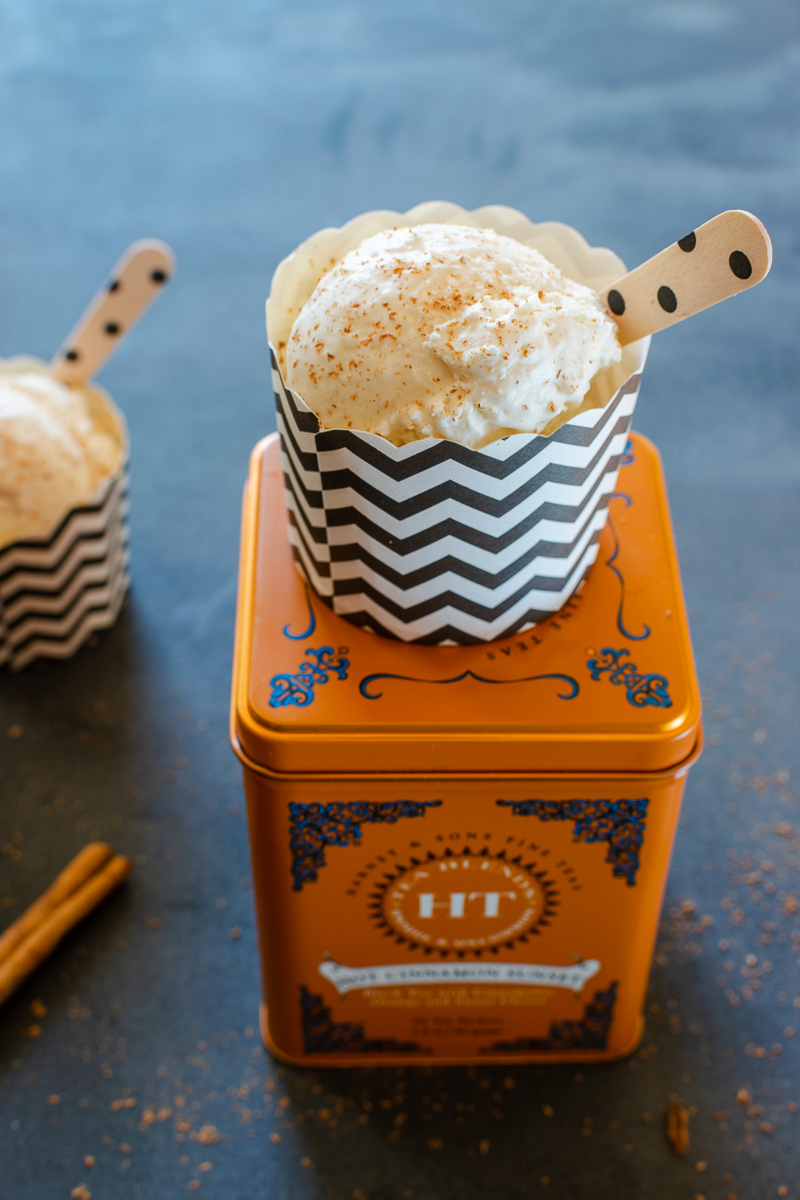 Cinnamon Ice Cream Made with Hot Cinnamon Sunset Tea
Move over earl grey ice cream, there's a new kid in town – hot cinnamon tea ice cream. And let me tell you, not only is this homemade cinnamon ice cream absolutely delicious, but it's a cinch to make. A scoop in a cone or bowl is beyond yummy any time of the year; a scoop of hot cinnamon ice cream on a slice of apple, pumpkin or pecan pie will have your Thanksgiving guests reaching for seconds. Now that I think about it, you probably will want to make a double batch.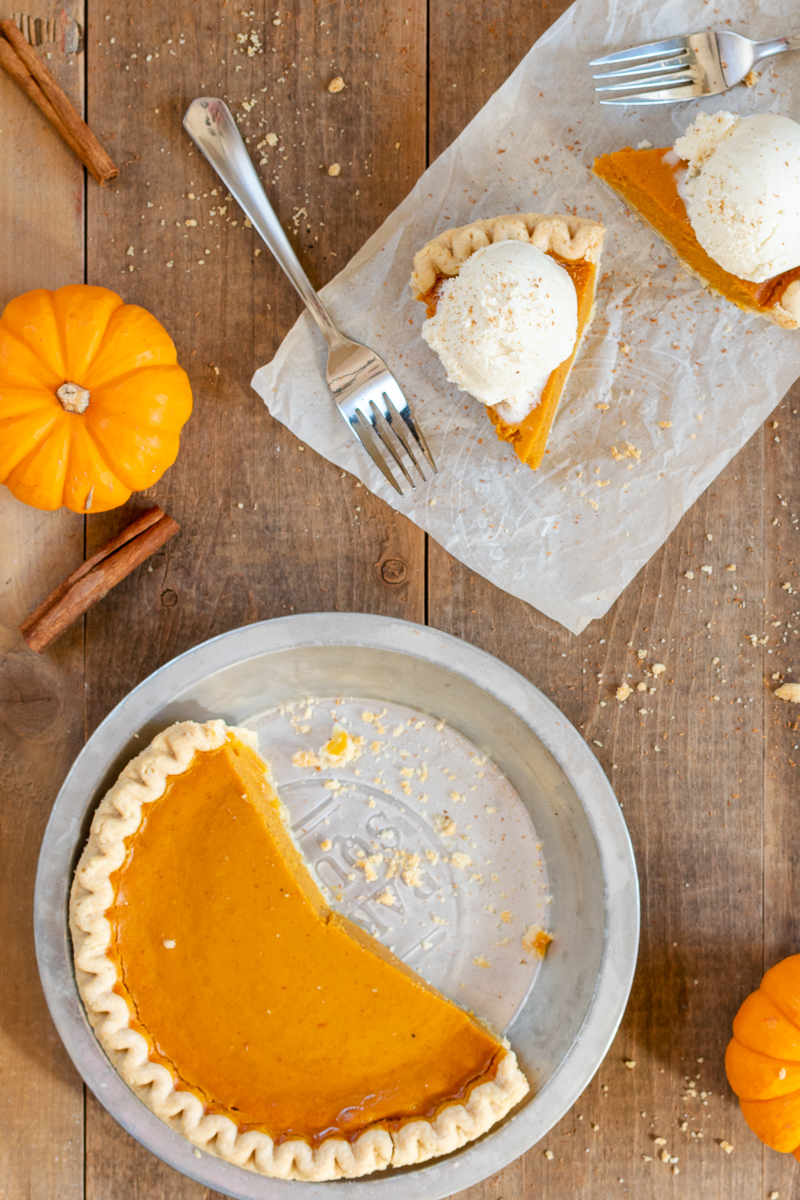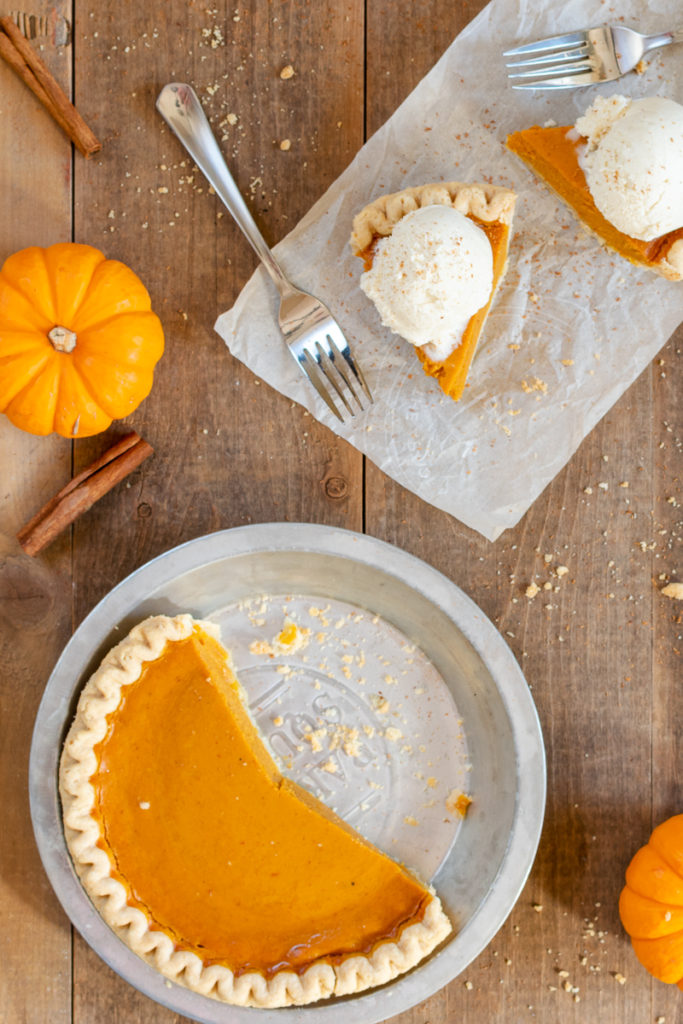 So you might be wondering, how on earth do you infuse the flavor of cinnamon tea into ice cream. Most plain old cinnamon ice cream recipes simply add cinnamon spice to vanilla ice cream. And most tea ice cream recipes require steeping the tea on a hot stove.
But my method, that quite literally came to me in the middle of the night (don't you love when that happens), involves neither. In fact, I came up with what I think is a really ingenious method to make tea ice cream using my David's Tea iced tea press (but a strainer will do) and the flavor payoff is huge. Before I show you how to make this hot cinnamon tea ice cream jam packed with flavor, here's everything you need:
Hot Cinnamon Tea Ingredients
Harney & Sons Hot Cinnamon Sunset Tea
Heavy Cream
Milk
Sugar
Pure Vanilla Extract
Kitchen Tools to Make Homemade Tea Ice Cream
David's Iced Tea Press or Strainer
Cuisineart Ice Cream Maker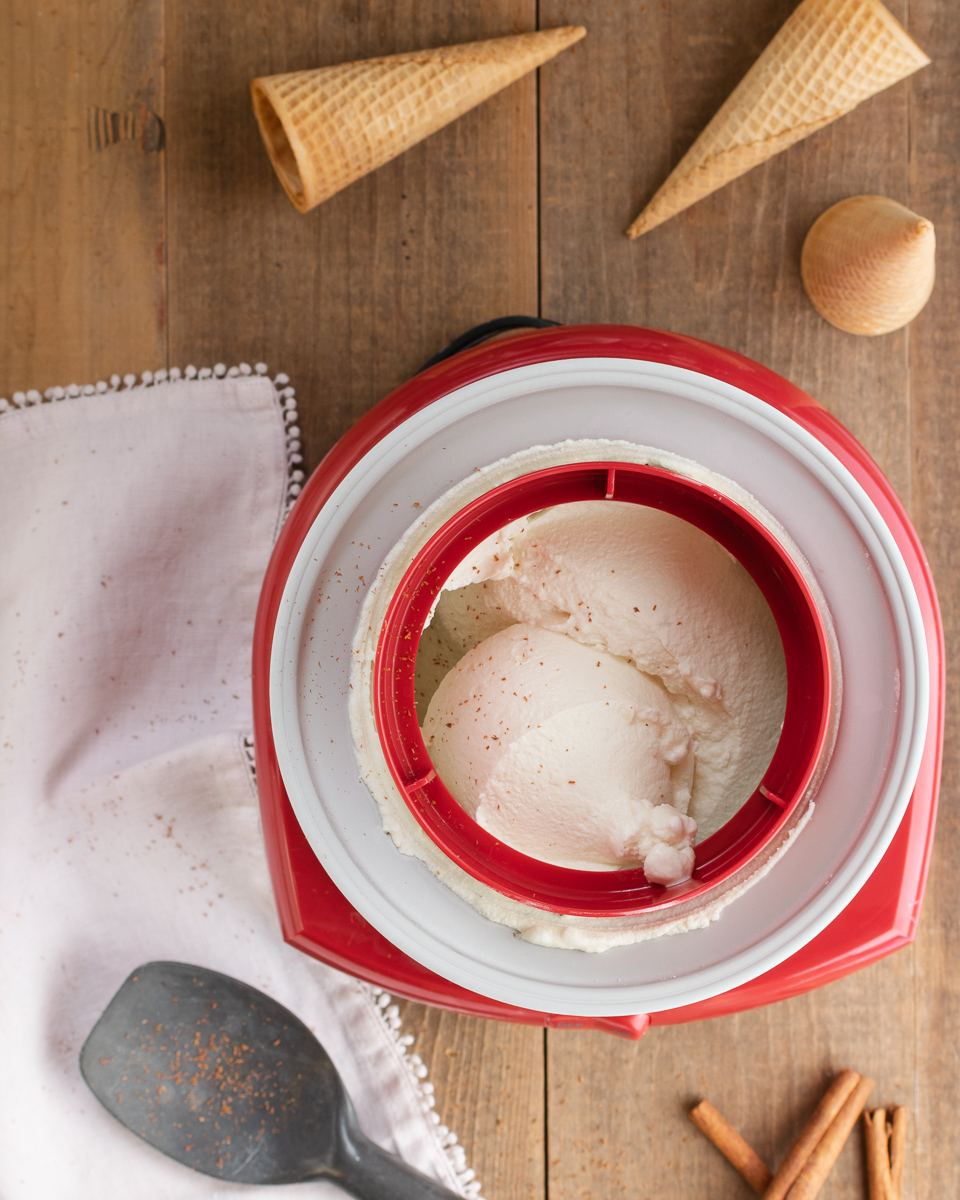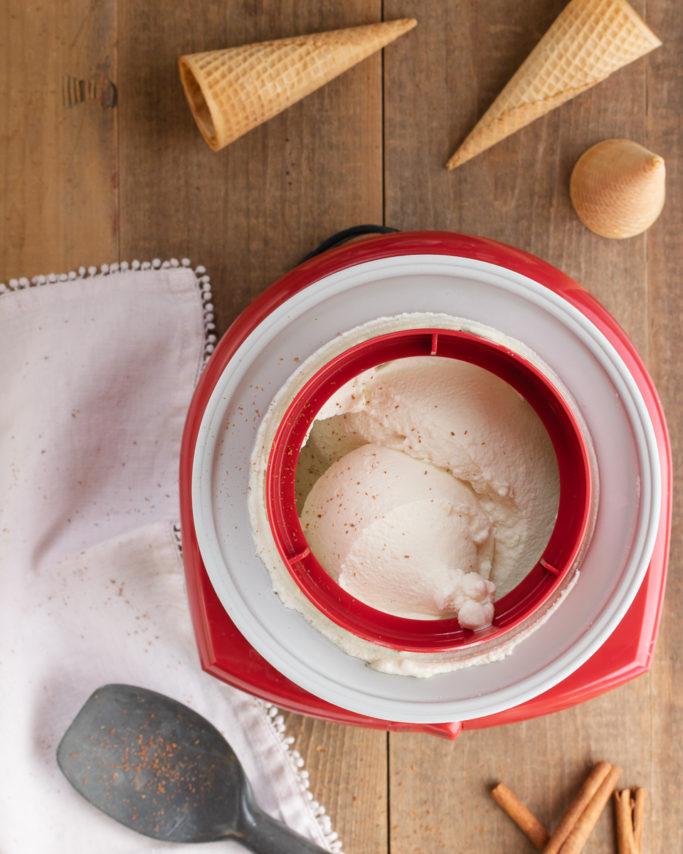 My method for infusing tea into ice cream: cold brew
The secret to infusing the spicy cinnamon goodness from Harney and Son's Hot Cinnamon Sunset tea into ice cream is to cold brew the tea into the cream. All the other tea ice cream recipes I can find call for steeping the tea into the cream on a stove, being careful not to boil the mixture. Then the entire mixture needs to be cooled down.
So I got to thinking (which can sometimes be dangerous), why not cold brew the tea and cream. Afterall, cold brewed iced tea is simple to make, and produces lots of tea flavor without the risk of bitter tannins being released. I could see no reason why the cold brew method wouldn't work for cream too. And let me tell you, it worked perfectly; the robust cinnamon flavors with a hint of spiciness, combined with the cool cream are the perfect pairing.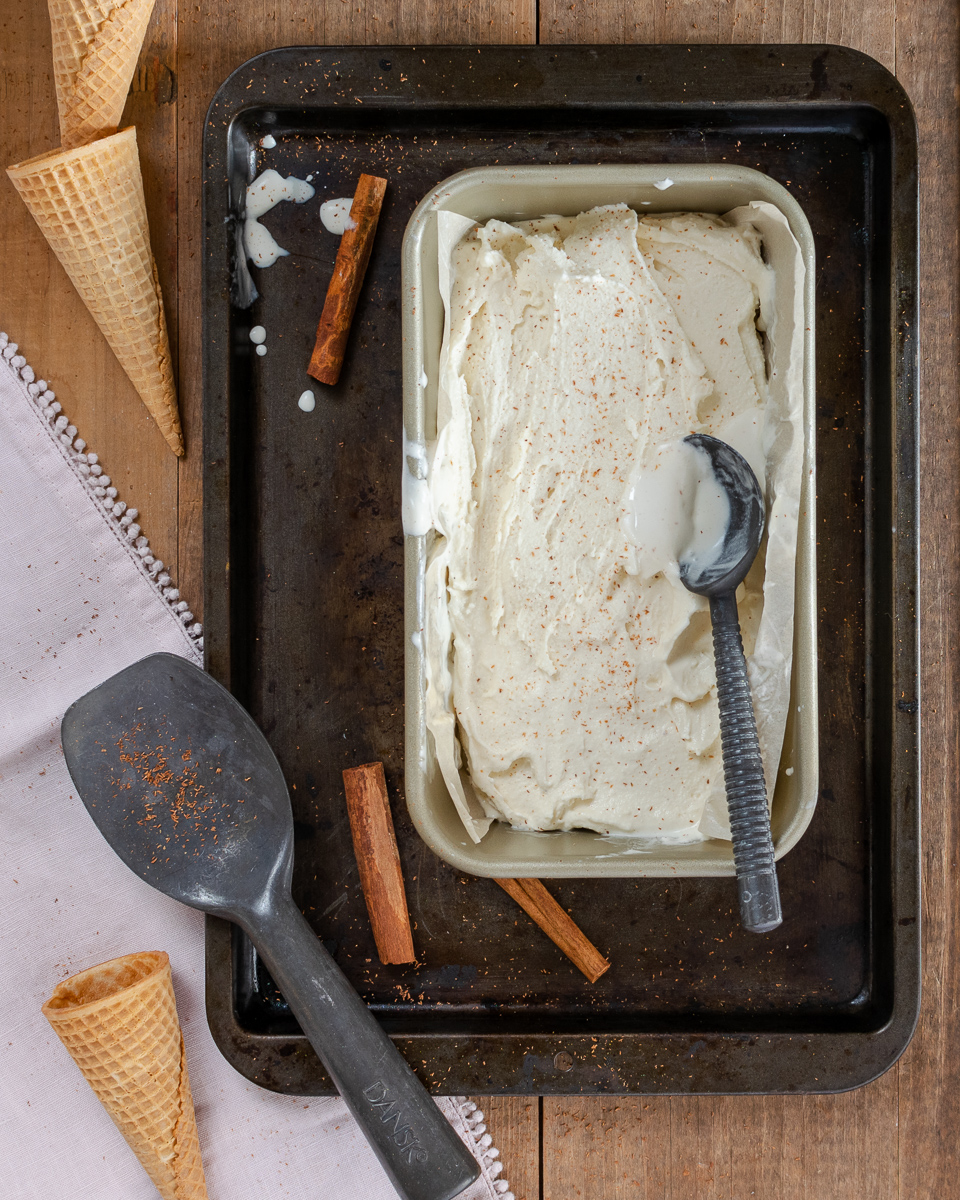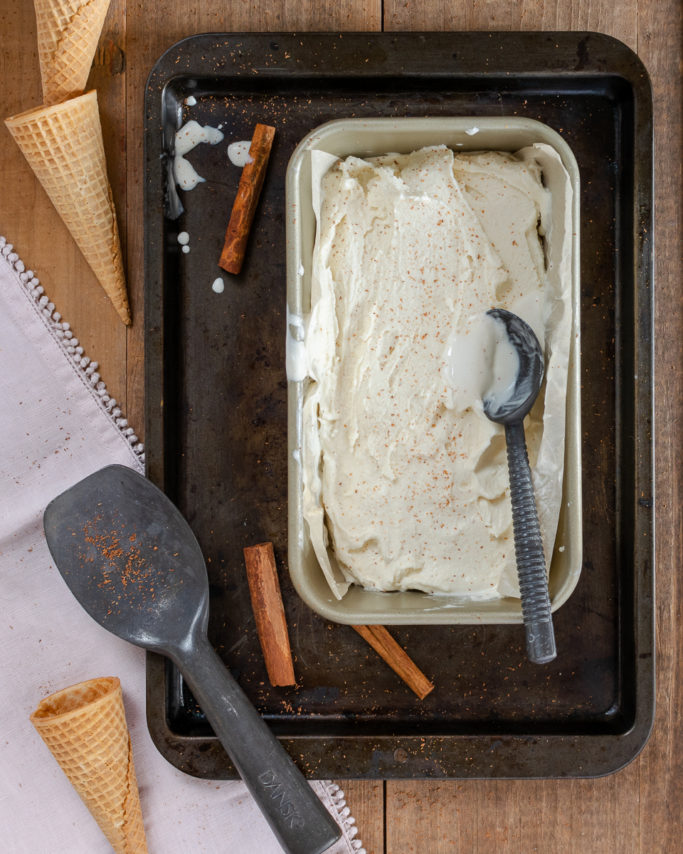 How to cold brew tea and cream
To infuse the tea into the cream I used my David's iced tea press. But don't worry, if you don't have one, you can use a strainer. I just thought it was cool (no pun intended) to find a whole new use for my tea press.
On a side note, what I love about this method is that it couldn't be simpler. Here's what you need to do:
Pour 2 cups of heavy cream into the base of a tea press, cup, bowl or glass measuring cup.
Cut open 4 Harney & Sons Hot Cinnamon Sunset tea bag sachets and combine the loose tea and heavy cream.
Next, pour 1 cup of milk into another tea press or container.
Cut open 2 more tea bags and combine them with the milk.
Cover both tea presses or containers (the heavy cream and milk) and put in the refrigerator for 24 hours.
When you're ready to make the ice cream, simply press the tea press to strain the cream or milk from the tea. The David's tea press worked great because it has such a fine mesh. If you didn't use a tea press, then just pour the mixture through a fine mesh strainer to separate the loose tea from the liquid.
I can't even begin to explain how easy this is to do and how wonderful the cinnamon tea infused cream smells. I really hope you give it a try. See below for the complete ice cream recipe.
Cinnamon Tea Ice Cream Serving Suggestions
Scoop of Ice Cream: This homemade cinnamon ice cream is so yummy, that a plain scoop in a bowl or ice cream cone is a satisfying treat. Or if you want to be a little fancier, dip the cones in a little bit of melted chocolate with a bit of ground cinnamon sprinkled on top.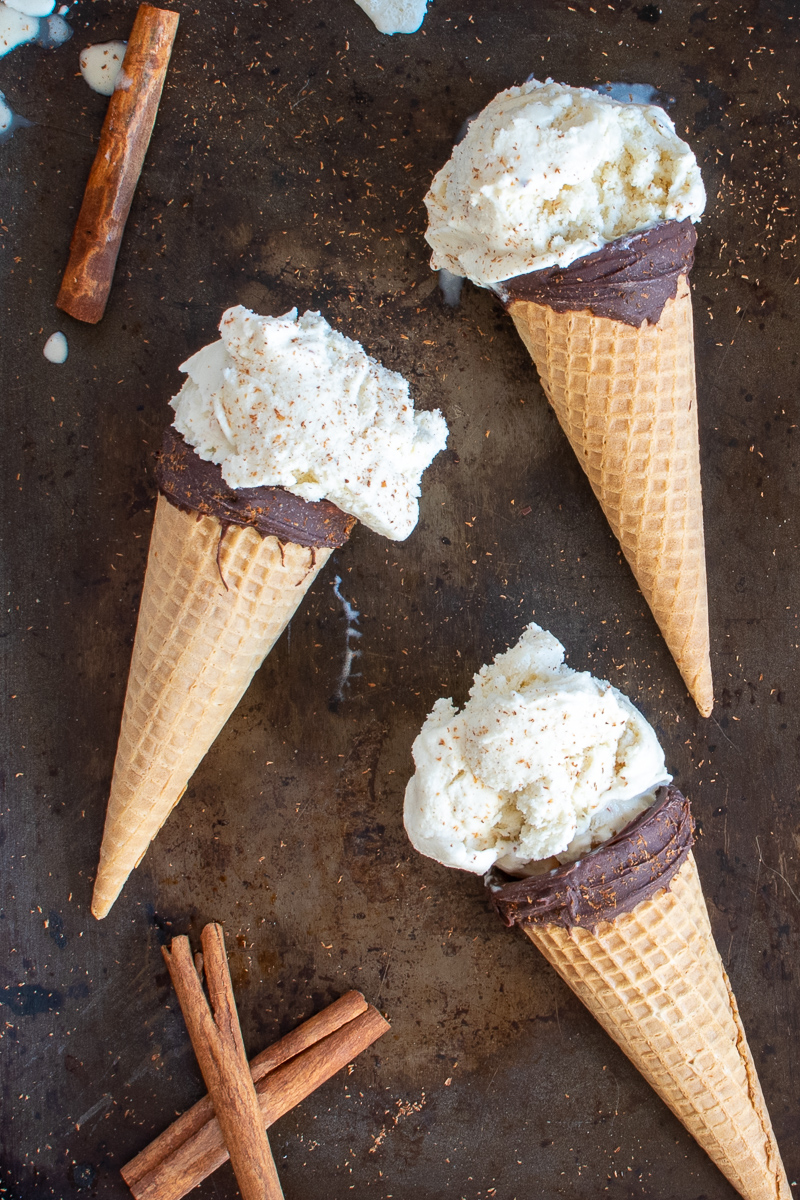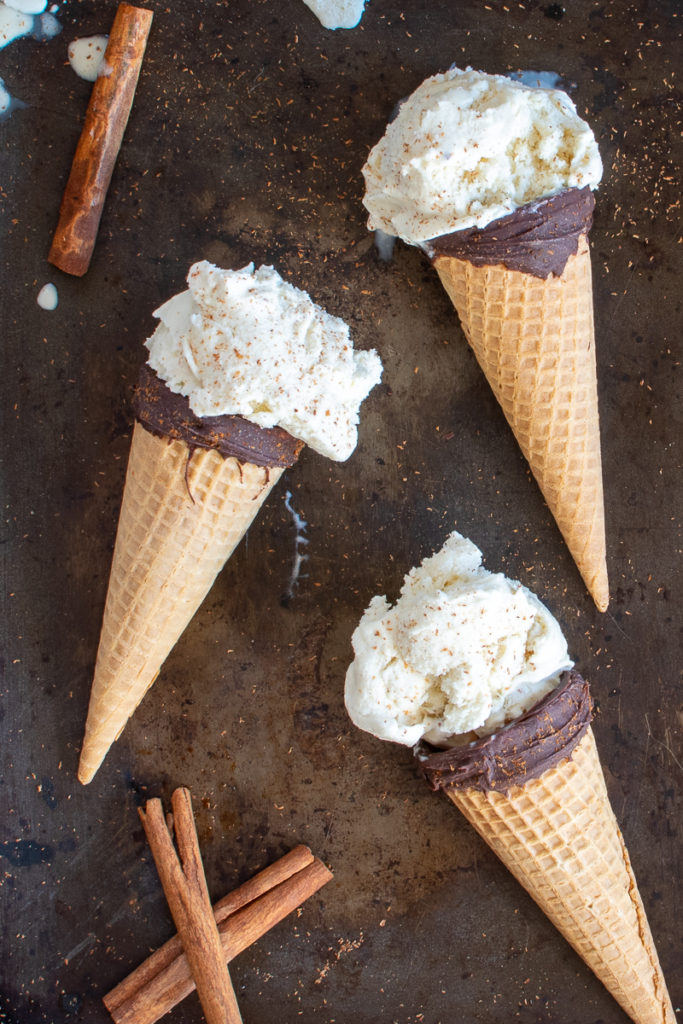 Pie a la mode: Who doesn't love a slice of warm apple pie with a rounded scoop of ice cream slowly melting on top. Or pumpkin pie or pecan pie with a generous dollop of whipped cream or ice cream? Now imagine these pies with homemade cinnamon ice cream a la mode. The spicy cinnamon goodness perfectly complements these warm pie flavors.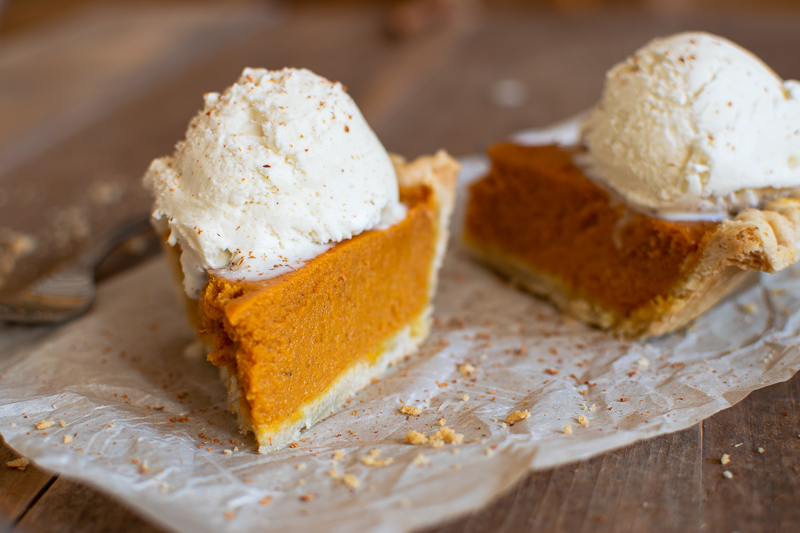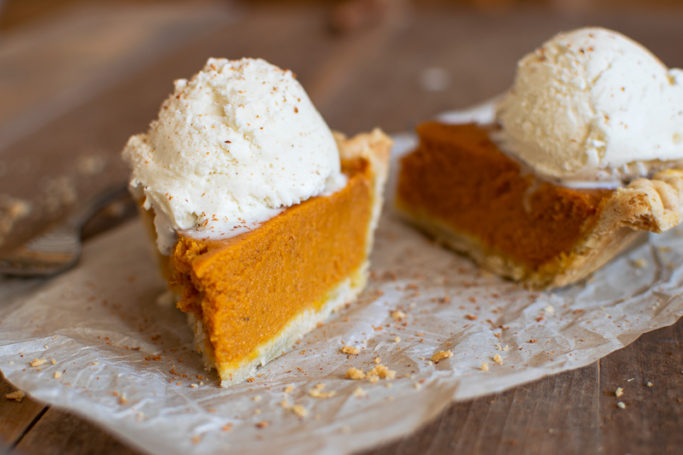 Added to hot tea or coffee: If you like milk tea like me or add cream and sugar to your coffee, try a little bit of cinnamon tea ice cream instead. Recently, I've been enjoying a new tea, pecan pie pu-erh to be exact. And let me tell you, a little bit of cinnamon ice cream on top is amazing. I'm sure it's not the traditional way to drink pu-erh, but hey, if it tastes good, why not? Just think of it as an ice cream latte.
I really hope you get the chance to make this homemade ice cream. It's really fun to make and so simple to do using my cold brew/iced tea press method.
Until next time, happy tea drinking eating!
Cinnamon Ice Cream Recipe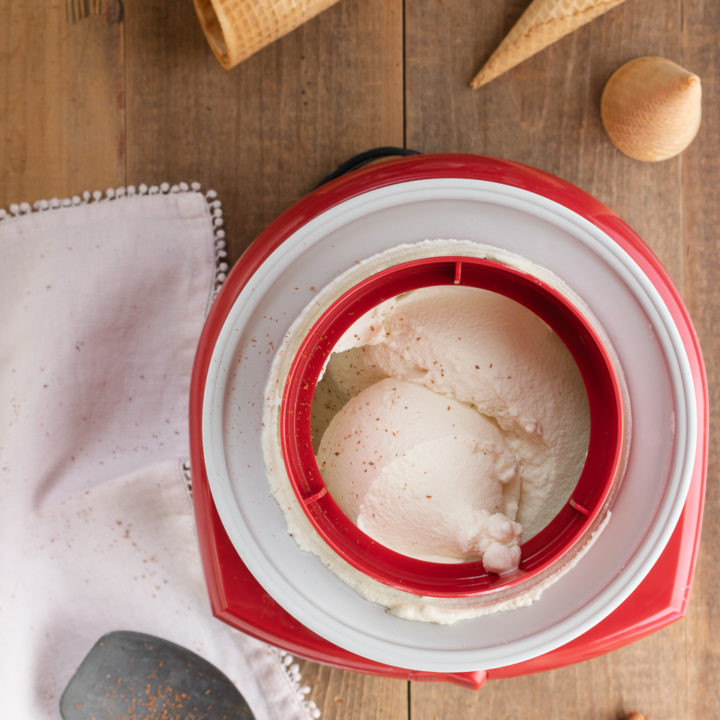 Hot Cinnamon Tea Ice Cream
Additional Time:
20 minutes
Total Time:
14 hours
20 minutes
Infuse cream and milk with Harney and Sons Hot Cinnamon Sunset tea to make this delicious homemade ice cream
Ingredients
1 cup whole milk
3/4 cup granulated sugar
pinch salt
2 cups heavy cream
1/2 Tbs pure vanilla extract
6 teas sachets Use Harney and Sons Hot Cinnamon Sunset flavor cut tea bags open and use loose tea
Freshly ground cinnamon optional
Instructions
Infuse the tea into the cream and milk
In a tea press, tea maker, or other container, add the whole milk and loose tea from 2 tea sachets. Cold brew covered in refrigerator for 12-24 hours.
In a tea press, tea maker, or other container, add the heavy cream and loose tea from 4 tea sachets. Cold brew covered in refrigerator for 12-24 hours.
After 12-24 hours, press down on the tea press or tea maker (or use a strainer) to strain the tea-infused heavy cream and milk.
Make the Ice Cream
In a medium bowl, use a whisk to combine the milk, sugar and salt. Whisk until the sugar is dissolved. Stir in the heavy cream and vanilla. Cover and refrigerate 1 to 2 hours, or overnight.
Turn on the Cuisinart ice cream maker; pour the mixture into the frozen freezer bowl and let mix until thickened, about 15 to 20 minutes.
Serve with freshly ground cinnamon on top if desired.
Notes
This ice cream is soft and creamy. To make it firmer, transfer the ice cream to a container (like a plastic container with a lid) and place it in the freezer for at least 2 hours. Take it out of the freezer about 15 minutes before serving.
It's best to use cold containers and tools. I like to put the mixing bowl, whisk and storage container in the freezer an hour before I use them.