A tea review of Old Barrel Tea Company Pecan Pie Pu Erh made with New Mexican pecans. Hint: it's nutty and delicious!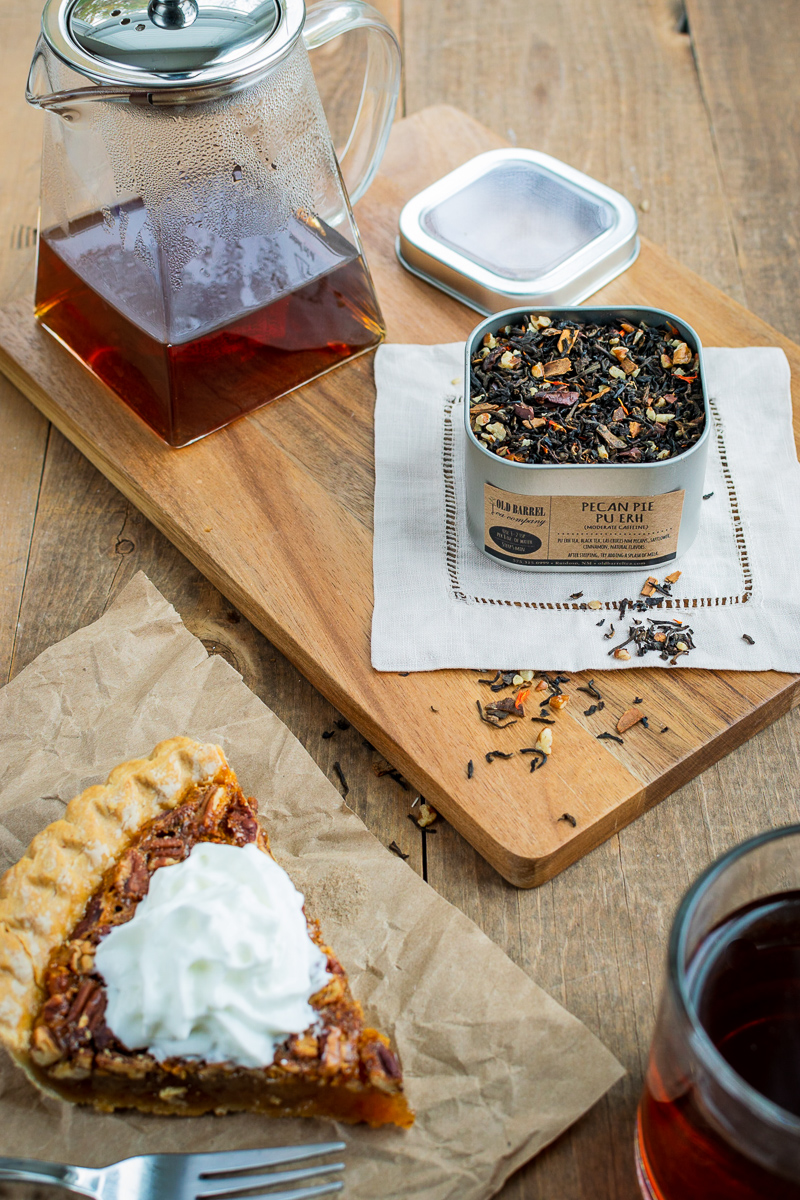 Old Barrel Tea Company Pecan Pie Tea
Today I had a cuppa the most lovely tea, Old Barrel Tea Company's Pecan Pie Pu-ehr. As you can imagine just from its name, this tea would certainly be a welcome addition to any Thanksgiving gathering. With bits of New Mexico pecans, this nutty pu-erh is a flavorful dessert tea. Additionally, it would pair nicely with a warm slice of banana bread at breakfast time. I can't wait to serve it to my visiting family during the holidays.
Several months ago while on a family vacation in the Colorado Rocky Mountains, I had the chance to visit Old Barrel Tea Company's Durango, Colorado store. And what an awesome tea shop it is. You can see for yourself in this post. While their one-of-a-kind shops are only located in the states of Colorado, New Mexico and South Carolina, you can buy this tea blend or any of their other tasty loose teas, online here.
It's been said we eat (or drink) with our eyes first, and that's absolutely the case with this particular tea. I mean, just look at it. Not to mention, when you open the tin a wonderful maple-syrup aroma fills the air. It's quite literally mouth-watering.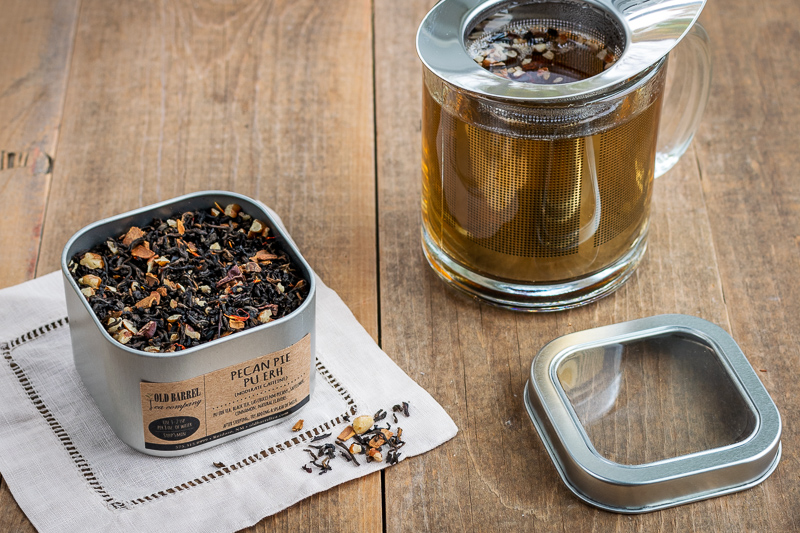 Needless to say, I was hopeful its taste would match these other senses. And guess what? Old Barrel's Pecan Pie Pu-erh did not disappoint. What a delicious cup of tea.
The best way I can describe this blend of pu-erh and black tea leaves, pecans, safflower, and natural pecan and maple flavors, is smooth, nutty and slightly sweet. Indeed, it is quite reminiscent of a slice of pecan pie minus the excessive sugar. In fact, this pecan pie pu-ehr would be an excellent dessert tea served alongside a slice of Thanksgiving pie or on its own.
New Mexico Pecans
Old Barrel Tea Company hails from New Mexico so I love the fact that they use locally sourced pecans from Las Cruces, New Mexico. Old Barrel says, "Las Cruces is known for having the best pecans in the nation and this blend proudly flaunts the flavor of our New Mexican pecans."
According to the New Mexico tourism board, pecans are the state's number one commercial crop. Second only to the state of Georgia, in fact, New Mexico produces around 67 million pounds of pecans a year. I had no idea!
Pu-ehr as a Probiotic
If you're not familiar with pu-ehr tea, it comes from the same plant as most other teas: Camellia sinensis. However, pu-ehr is processed in a way to encourage fermentation. This is why some people believe this tea has probiotic effects similar to yogurt. Others argue, that boiling water destroys these microbes. Perhaps the truth is somewhere in the middle. Nonetheless, the way pu-ehr is prrocessed gives it its unique flavor: sweet and earthy.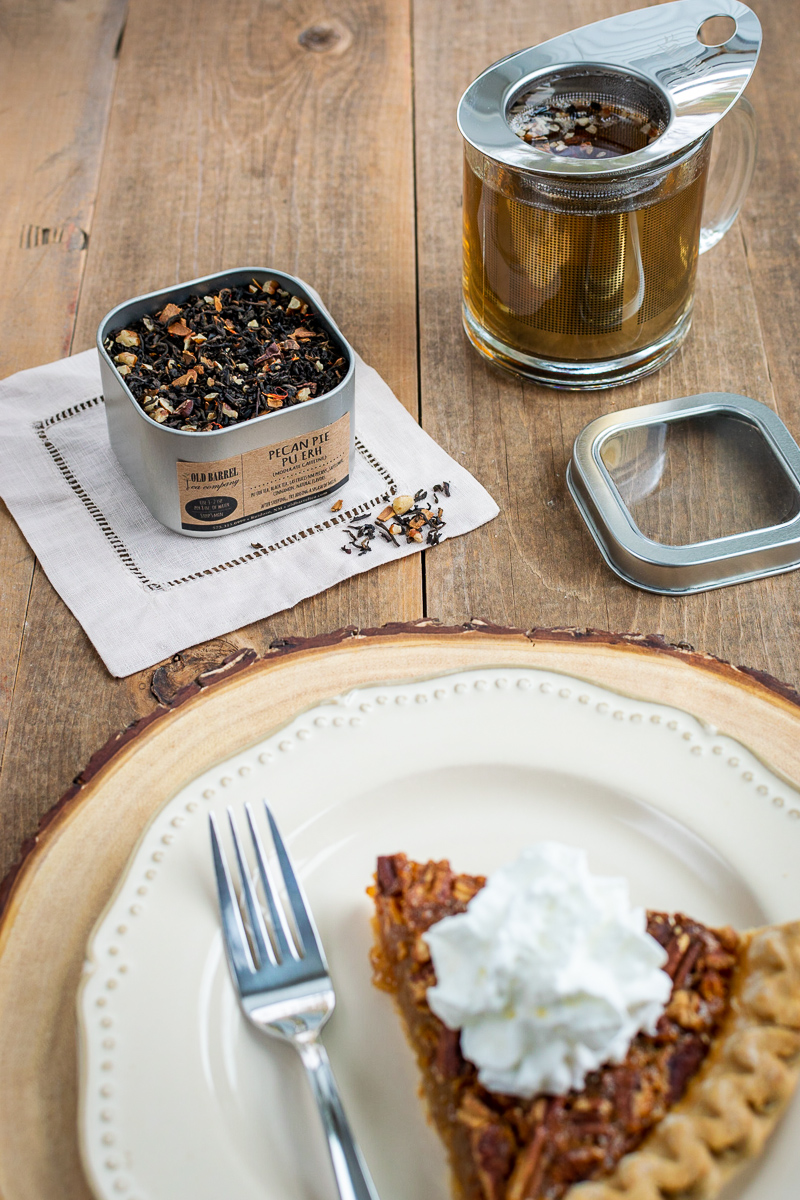 Brewing Pecan Pie Pu-ehr
I've never met a cup of black tea that I didn't add a splash of milk to, but this pu-ehr/black blend had no bitterness. It was smooth and sweet on its own. In fact, I couldn't stop sipping it. That being said, adding a little steamed milk would be another way to enjoy this drink.
We love this blend with a dash of creamer and our Desert Wildflower honey!
​

Old Barrel Tea Company
Brewing: 1-2 tsp at 212F for 5 minutes using 8oz of water
Liquor: Golden amber
Aroma: Maple syrup
Texture & Flavor: Medium-bodied, smooth with a pleasant nutty flavor Caffeine: 30 to 40 milligrams of caffeine
In addition to Pecan Pie Pu-erh, Old Barrel has other unique blends. How does Banana Bread Coffee Pu-Erh sound? Or Pumpkin Pie Chai? I don't know about you, but they all make me want to wrap up in a cozy blanket and hold a warm cup of tea.
Note: This post is NOT sponsored.