See how to make iced tea fast using one of my favorite tea gadgets, a Davids Tea iced tea press. Now it's possible to make cool, refreshing iced tea in minutes!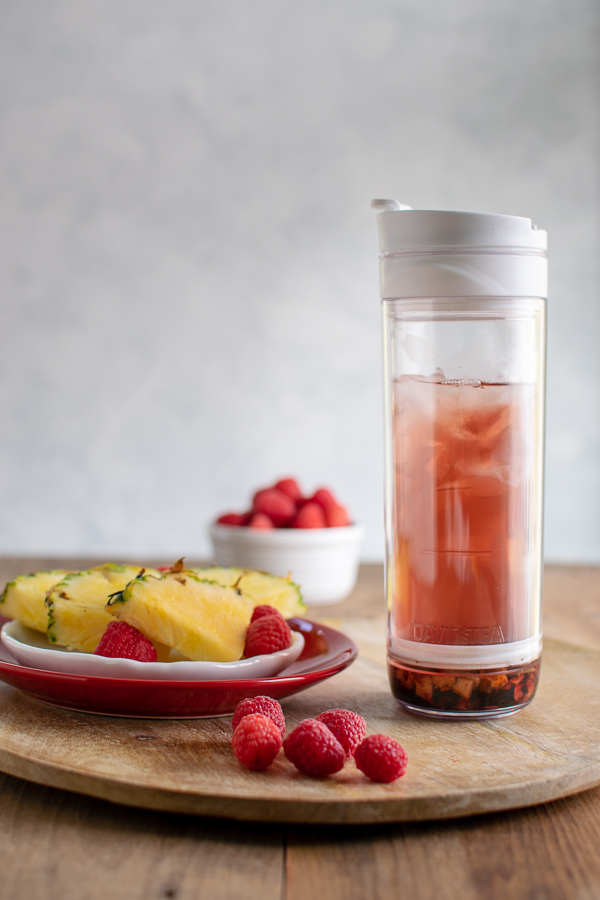 How to Make Iced Tea Fast
On hot summer days, nothing hits the spot like a refreshing glass of cold iced tea. And it's a real bummer when I don't have any brewed up in the fridge. That's why I am thrilled to be the proud owner of a Davids Tea iced tea press! Now that I know how to make iced tea fast, I can make it at home or on the go!
By the way, before I gush on about how much I love this iced tea press, you should know that this is not a sponsored post for Davids Tea. It's just when I stumble across something great, I sort of like to shout it from the rooftops.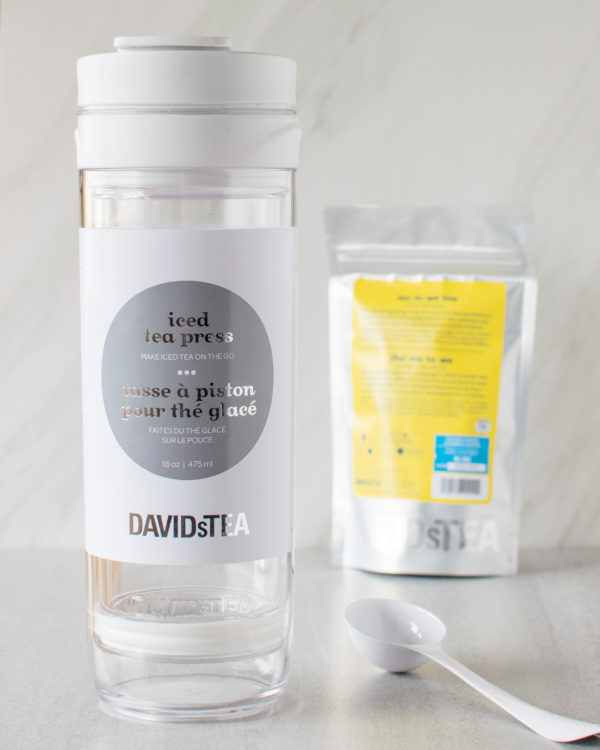 A Fun Way to Make Iced Tea Fast!
Besides being the next best thing to sliced bread, the DavidsTea iced tea press is also a travel mug. What's really cool, is that you can infuse tea, mix it with ice and drink the iced tea all from this one clever device. Think of it as an iced tea infuser bottle / travel tea press.
[A]n all-in-one gadget to steep, ice AND sip your tea, at home or on the go.

DavidsTea

I'll be honest; I thought it might be difficult to use. Or perhaps a hassle to clean up, but it wasn't either. In fact, not only is it easy, but it's fun. I love pushing the press down, watching some ice melt, as the tea rises. Plus, and most importantly, you'll have a delicious iced tea in your hands within minutes.
Another thing that I really like about this gadget, is that it only makes an individual serving. This means I can steep up a different tea blend every day. Since cold brewing iced tea takes hours or even overnight, I make a pitcher-full of the same blend. But now I can make whatever flavor I'm in the mood for. It's great to be able to make iced tea fast!
In addition, this tea press comes in a several colors: white, teal and grey. My only regret is that I didn't get a teal one, as well. Besides solid colors, David's also sells a few fun, summery designs like flamingos and fish.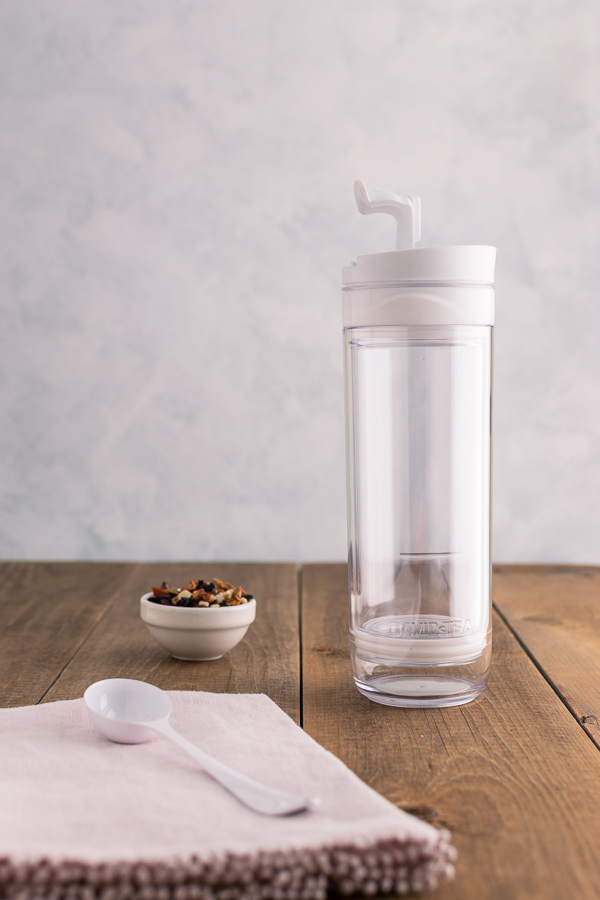 Davids Tea Iced Tea Press Instructions
If the iced tea press is so simple to use you might be wondering why you need instructions for it. If you're like me, when you first get one you may find yourself staring at it blankly. However, once you see how to take it apart and where to put the tea and ice, you'll agree that's it's a snap.
This tea press has three parts:
A screw on/off lid with drinking spout
An inner compartment with a fine mesh strainer on the bottom
And an outer compartment
In order to make iced tea you must separate the three pieces of the press.
Steps to make iced tea fast:
Open the drinking spout and pull the inner compartment out of the outer shell.
Remove the lid and fill the inner compartment (with the mesh strainer on the bottom) with ice.
Add loose tea to the outer shell and hot water up to the fill line.
Put the inner compartment back inside the outer shell but only push it down to the fill line.
Screw the lid back on and let the tea steep.
After the tea has steeped the appropriate amount of time, press the ice-filled section down as far as it will go.
Give it a swirl to mix and enjoy.
Davids Tea Iced Tea Press Review
Separating the two compartments
I've read other online reviews for this exact tea press where some people say it's difficult to separate the pieces. However, while I agree that the inner compartment doesn't slide out like butter, I wouldn't expect it to.
Take a look at the photo below. Do you see the white rubber gasket near the bottom of the press? Since it's rubber, it does make a little bit of resistance when you separate the compartments, but once you get it started, it's simple to finish. Not to mention, you want a tight seal so there's no leaking when it's put back together.
But don't make the same mistake I did the first time I tried to pull the pieces apart. I tugged between the two upper white pieces, the lid and the part it screws into. (Insert emoji of me hitting hand to my forehead.) So be sure to grab the lid as well as the part it's screwed into and pull all of that away from the clear outer shell. In other words, if you pull in the right place, it's easy.
Straining the tea
Since the strainer is a very fine mesh, it does an excellent job of stopping the infusion process. This is good for two reasons. First, it prevents the tea from over-steeping. And second, it keeps the loose leaf tea and other bits and pieces out of the tea.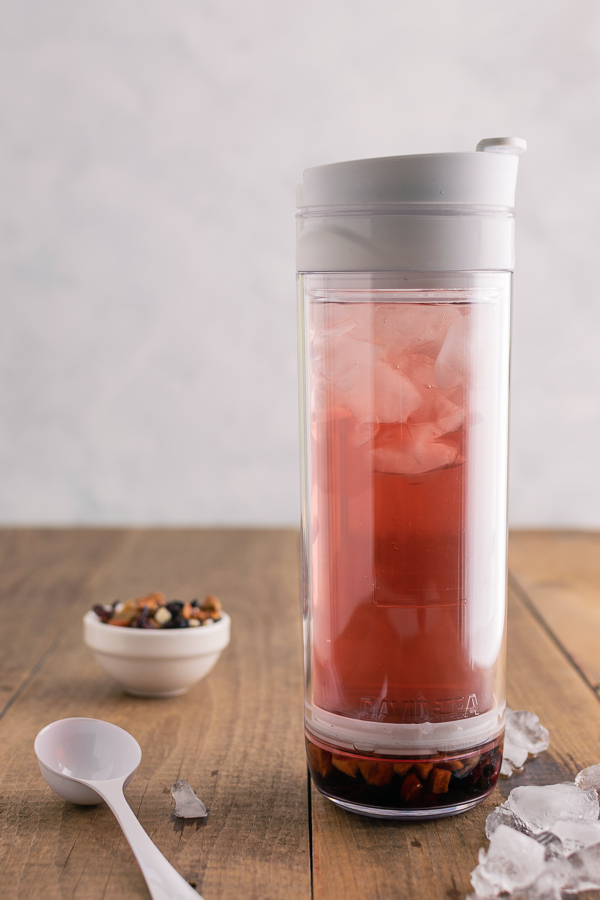 Fruit Infusion Iced Tea
Have you been licking your lips wondering what the icy pink drink is in some of the pictures? If so, it's a fruit infusion loose leaf tea (also from DavidsTea). Not only is each sip a ridiculously tasty explosion of fruitiness and sweetness, but it's a special Me to We Tea.
Me to We is a DavidsTea initiative that helps tea drinkers make an impact on the world. Every 2 oz. of Me to We tea purchased provides 2 weeks of clean water to a person in a developing community in countries like Kenya and Ecuador. They say that everyday choices can make a ripple into a wave and personally I love that DavidsTea gives us the opportunity to be part of something bigger.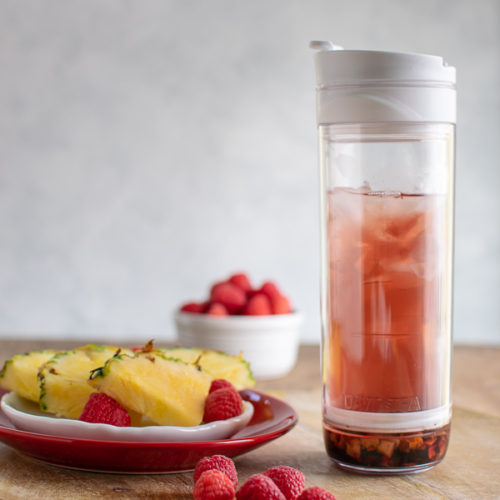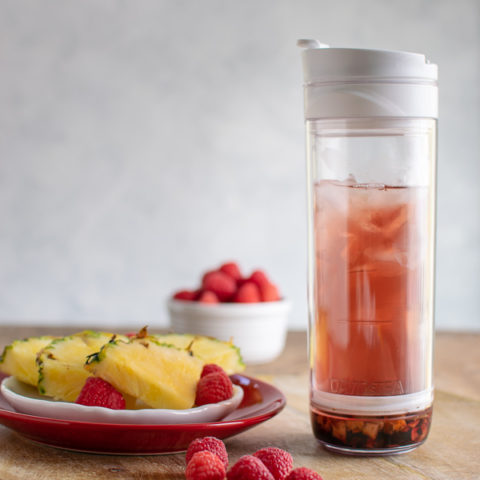 How to Make Iced Tea with an Iced Tea Press
Additional Time:
5 minutes
If you want to make iced tea fast, all you need is an iced tea press, loose leaf tea, water and ice!
Ingredients
3-5 teaspoons loose leaf tea
1 cup boiling or near-boiling water
2 cups ice cubes
Instructions
Put loose tea into the iced tea press.
Add water to fill line (about 8 ounces). The temperature of the water depends on the type of tea you use. Check the package for recommended temperature.
Fill the inner compartment of the iced tea press with ice cubes (about 2 cups).
Slide the compartment with ice back into the outer container and stop at the fill line.
Let the tea steep for 4-7 minutes (depending on the type of tea).
After the tea has finished steeping, press the inner container down and enjoy your iced tea.