This creamy ginger milk tea recipe is spicy, sweet, delicious and easy to make. Also called, Adrak wali Chai, you're sure to love ginger tea with milk made from fresh ginger root.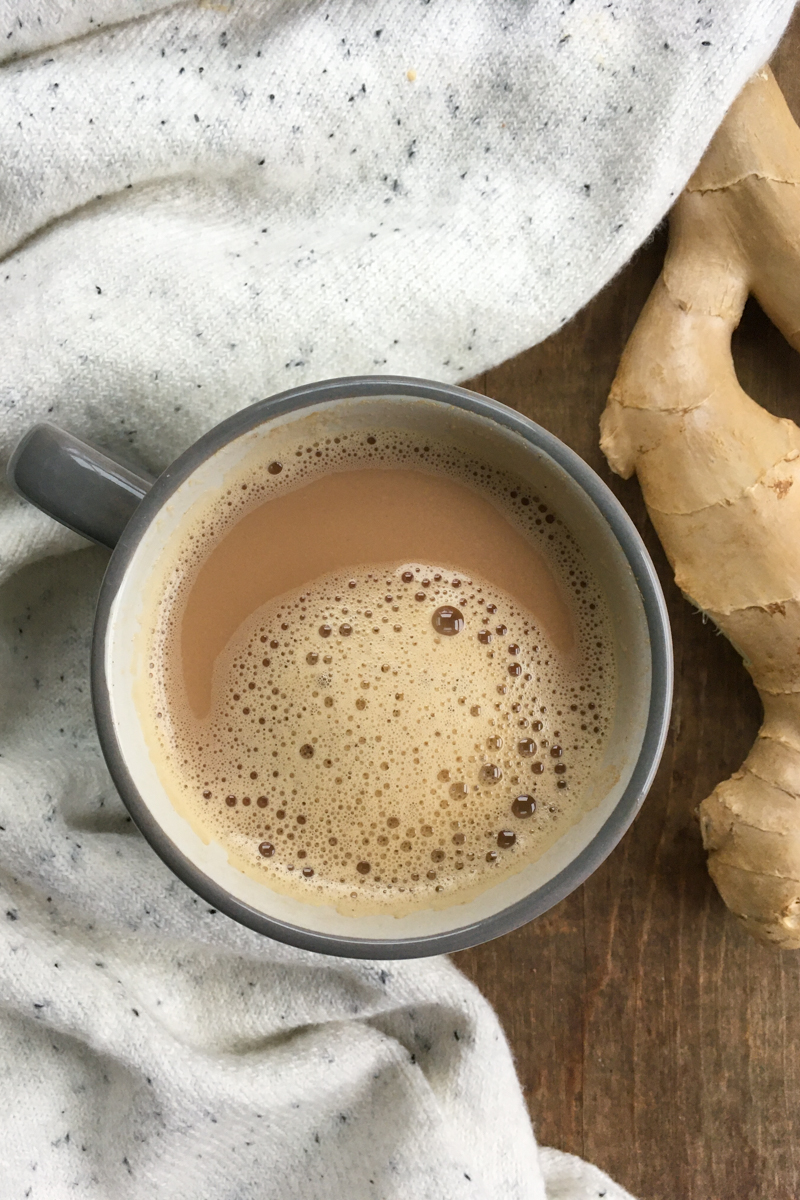 Ginger Milk Tea from Scratch
Have you ever heard of Adrak wali Chai or ginger milk tea?
This sweet and spicy ginger milk tea is commonplace throughout India, often sold by chai wallahs from their roadside stands.
And it's delicious.
But I never doubted that since tea is India's most popular drink.
In fact, as a country, did you know India consumes more than 800,000 tons of tea per year? So, I'd say they know a thing or two about this staple of Indian culture.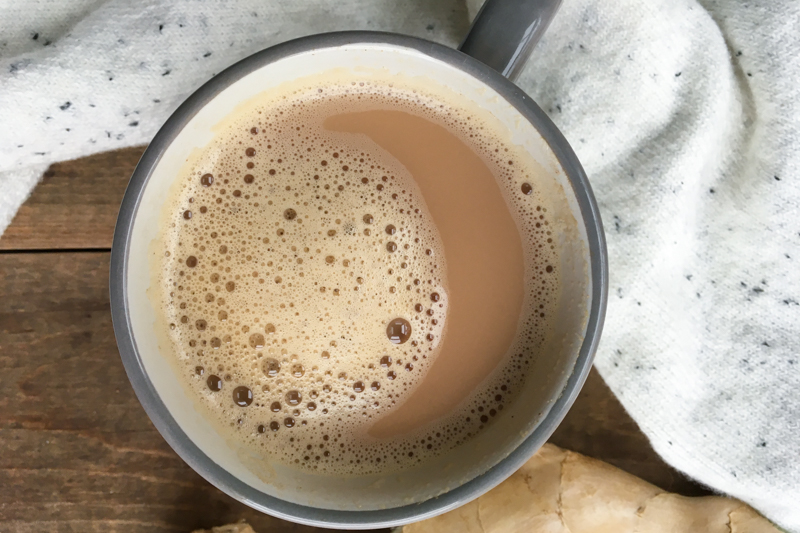 What is Ginger Milk Tea?
Made from fresh ginger root, black tea, milk and sugar, my decadent adrak chai recipe is a must-try.
In case you're wondering, adrak simply means ginger in Hindi and chai means tea.
However, no matter what you call it, this sweet, spicy and caffeinated tea drink is certainly quick and easy to make. And it packs a lot of punch.
Adrak wali Chai vs. Masala Chai
In America, we seem to be more familiar with India's other popular roadside hot tea drink: Masala Chai.
Similar to adrak wali chai, masala chai is an infusion of sweet black tea and creamy milk with ginger.
However, masala chai includes additional spices such as cinnamon, green cardamom, cloves, and black peppercorns.
In fact, take a look at my authentic masala chai recipe to see how easy it is to make at home.
On a side note, I guess Starbucks deserves credit for popularizing the flavor of masala chai in the United States. Afterall, Starbucks chai drinks are based on typical masala chai ingredients.
So it makes me wonder (or perhaps I should say, hope), is ginger milk tea or a ginger milk tea latte up next? (Starbucks, are you listening?)
Afterall, the warm spiciness of ginger milk tea makes it the perfect hot tea for cool mornings. Plus, the caffeine from the black tea offers a nice pick-me-up.
Not to mention, Starbucks tea latte menu surely could benefit from a new flavor. Am I right, tea drinkers?
Ginger Milk Tea Ingredients
Have you ever made a cup of ginger tea using fresh ginger root?
It's simply an infusion of water and ginger. Honey and lemon are often added, as well.
Here's my ginger tea recipe for all the details. But suffice it to say, this tea is commonly consumed to relieve a sore throat.
Likewise, Starbucks customers order a honey and lemon-filled Starbucks Medicine Ball for similar reasons.
Anyway, ginger tea ingredients include ginger root, water and optionally sweetener.
Whereas, ginger milk tea recipes call for ginger root, water, black tea, milk and sugar.
In other words, one is a water-based tea and the other is milk tea. One is caffeine-free and the other with black tea contains caffeine.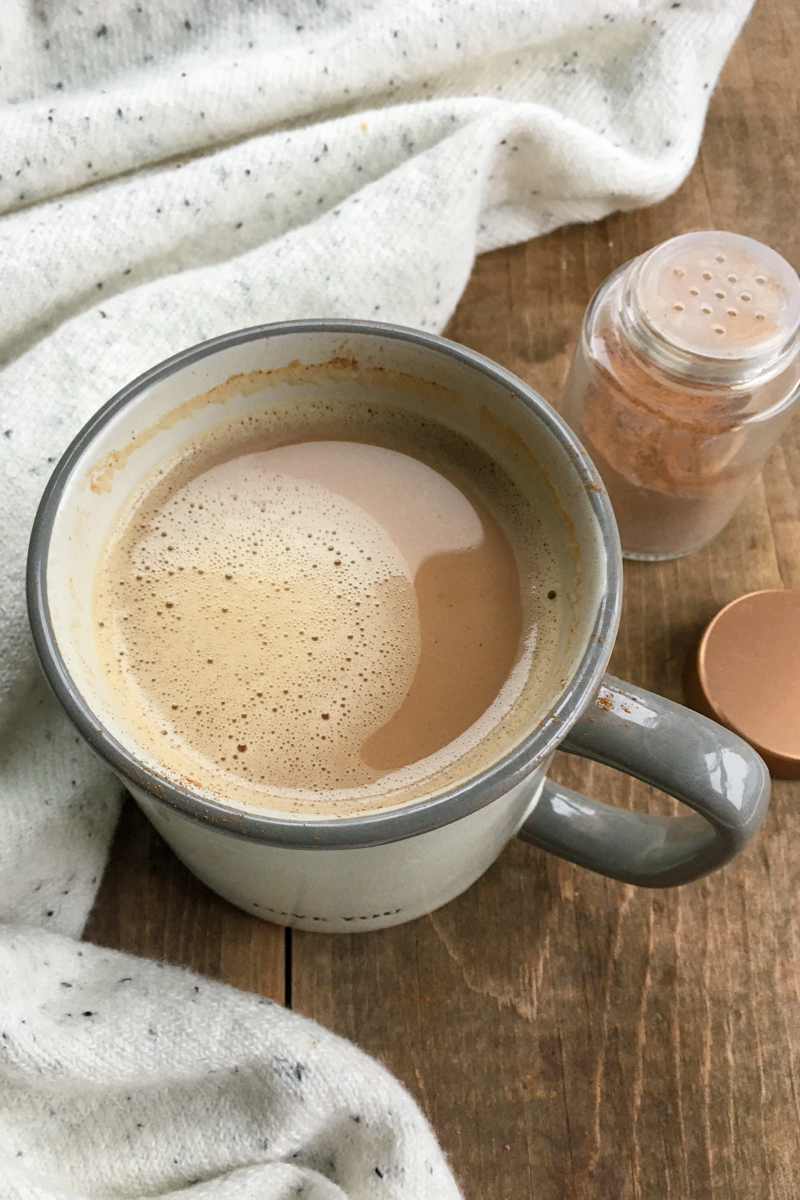 How to Make Ginger Milk Tea
What's nice is it only takes a few ingredients to make this tea, many of which you may already have on-hand.
Ingredients
Feel free to substitute the type of milk according to your preference. Just keep in mind that the less fat the milk has, the less creamy the adrak chai will be.
Regarding the black tea, be sure and use a strong black tea such as Assam. This way the tea flavor isn't lost in all the milk.
In the past, I've made milk teas like masala chai or my homemade chai concentrate for tea lattes with high-quality loose tea.
But I have to say, I find that the more expensive, larger tea leaves absorb a lot of the water and milk during infusion.
Furthermore, since these types of drinks have a lot of milk and spices, the tea isn't necessarily the star of the show.
Therefore, my tea preference for spicy milk tea recipes is a much cheaper loose tea like Tea India's CTC Assam Black Tea. It's actually more of a granule than a leaf.
Step 1: Heat filtered water.
In a saucepan bring water to a near boil. I prefer to use filtered water since tap water can ruin the tea's taste.
A Brita water filter pitcher is an easy way to always have filtered water on-hand for tea and coffee.
Step 2: Add the ginger
After washing and drying a piece of ginger root, slice or grate it and add it to the boiling water.
Allow the mixture to boil for a minute so the water becomes infused with fresh ginger flavor.
Step 3: Mix in the tea
Next, stir in the loose black tea. Put a lid on the saucepan and turn off the heat.
Allow the tea to steep for a few minutes.
Step 4: Pour in milk
While the tea is brewing, warm up the cold milk using a microwave. Then, pour the warm milk into the tea.
Allow the milk tea to return to a boil, lifting the pan off the stove as the tea bubbles up close to the edge.
Step 5: Pour into cup
Next up, stir in sugar to desired taste. And finally, pour the ginger milk tea through a small, fine mesh strainer directly into your cup.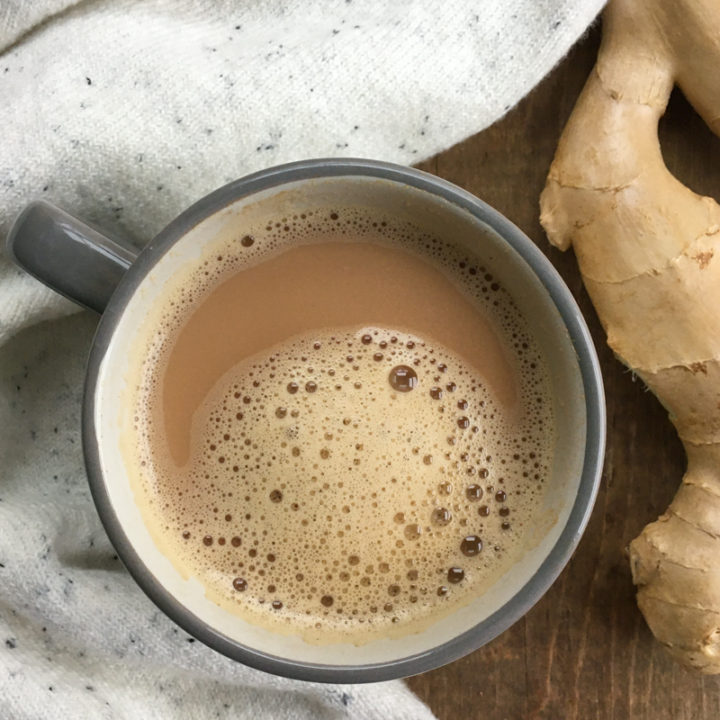 Ginger Milk Tea
Absolutely delicious ginger milk tea recipe (adrak wali chai). Made with fresh ginger root, milk, black tea and sweetener, this hot ginger tea latte is perfect for cool mornings.
Ingredients
2 cups filtered water
1 tablespoon grated ginger
3 teaspoons sugar
3 teaspoons black tea
3/4 cup 2% milk
Instructions
Bring water to a boil in a saucepan.
Add freshly grated ginger to boiling water (grate a 1" piece of ginger root, roughly 1 tablespoon). Cover and simmer for 7 minutes.
Mix in sugar and simmer an additional minute.
Return mixture to a near-boil and stir in black tea. Reduce to a simmer and let tea brew for 2 minutes.
Meanwhile, warm up milk in the microwave. Then pour milk into ginger tea. Again, bring the tea back up to a boil to heat the milk through and let simmer for 1 minute.. Lift the saucepan off the stove periodically to prevent boiling over.
Pour ginger milk tea through a small fine mesh strainer into a mug. Optionally, sprinkle ground cinnamon or ground cardamom on top.
Notes
I find black tea granules like Tea India's CTC Assam work best for milk teas like masala chai and ginger tea with milk.
Recommended Products
As an Amazon Associate and member of other affiliate programs, I earn from qualifying purchases.
Nutrition Information
Yield

1
Serving Size

16 ounces
Amount Per Serving
Calories

156
Total Fat

3.7g
Cholesterol

15mg
Sodium

89mg
Carbohydrates

25g
Sugar

21.4g
Protein

6.4g