Wondering how to make fresh ginger tea at home. This ginger tea recipe is so easy, you'll be kicking yourself for not making it sooner.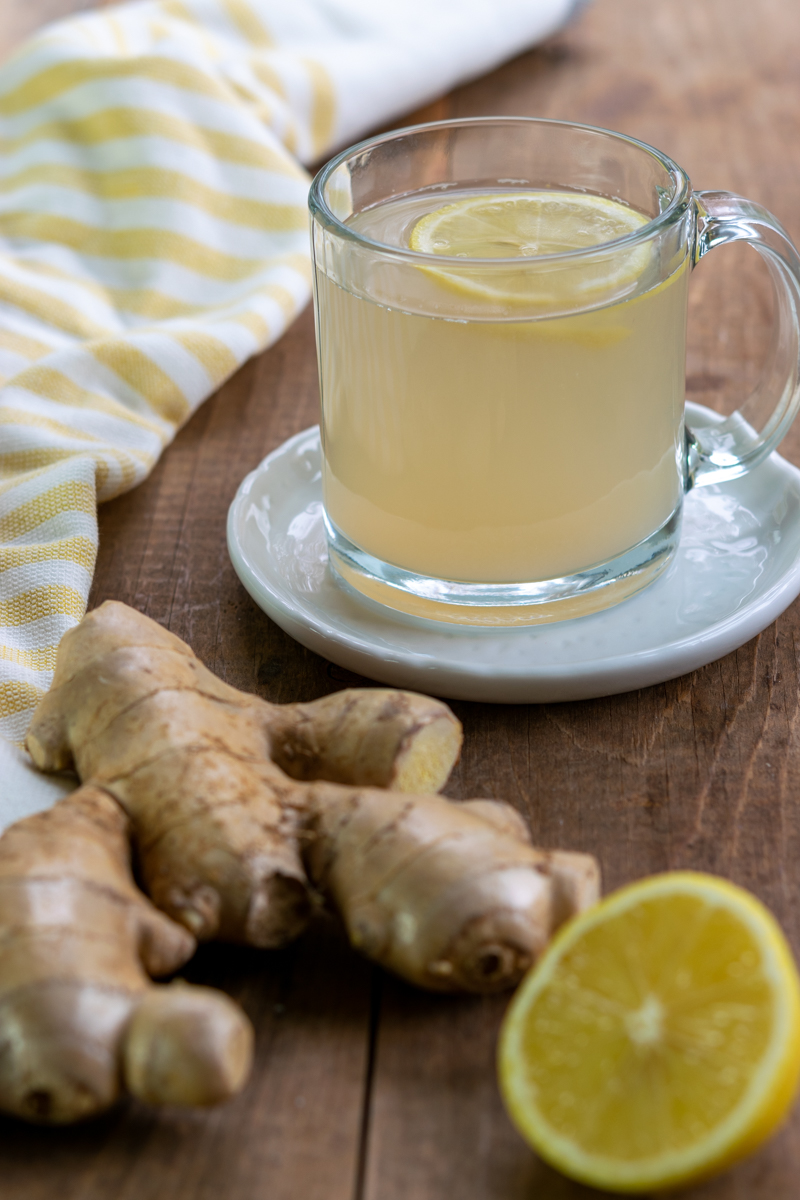 Have you ever made ginger tea from scratch? If not, I can't wait to show you my quick and easy ginger tea recipe that only has two ingredients: fresh ginger root and water.
Of course, you can add extras like lemon or lime for some bright citrus notes.
And honey ginger tea is a favorite for its sweetness, as well as throat-soothing qualities.
But the bottom line is, this ginger root tea recipe is incredibly simple to make and far more fresh and delicious than making it with a tea bag.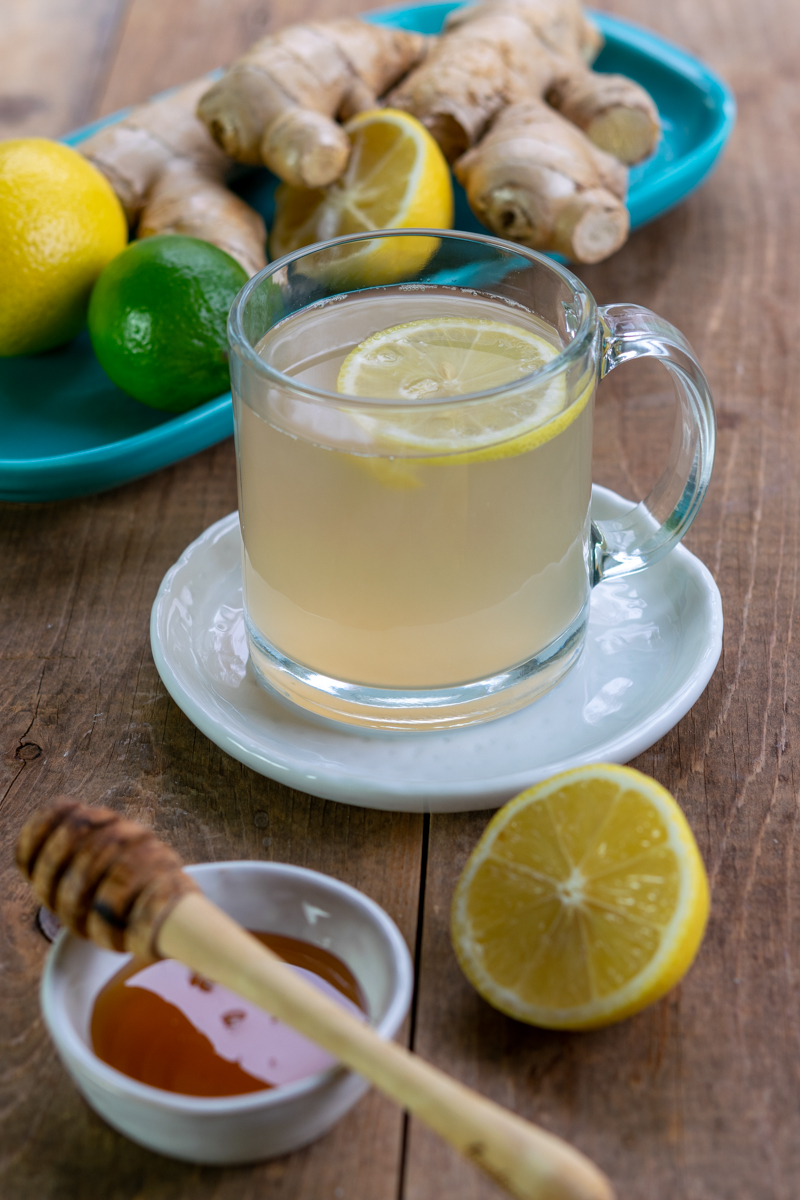 Why Drink Ginger Tea
I drink ginger tea simply because I enjoy the taste.
However, there are a lot of health benefits associated with ginger and tea is an easy and ideal way to consume it.
A Few Benefits of Ginger
eases indigestion
calms stomach upset & nausea
relieves menstrual cramps
effective against oral bacteria which cause gingivitis & periodontal disease
may improve brain function
may influence weight loss
may reduce pain associated with arthritis
Keep in mind, most ginger research pointing towards these benefits is mostly from small, inconclusive studies that often use high doses of ginger extract.
Nonetheless, the use of ginger in cooking and as a home remedy has a long history and plenty of anecdotal evidence.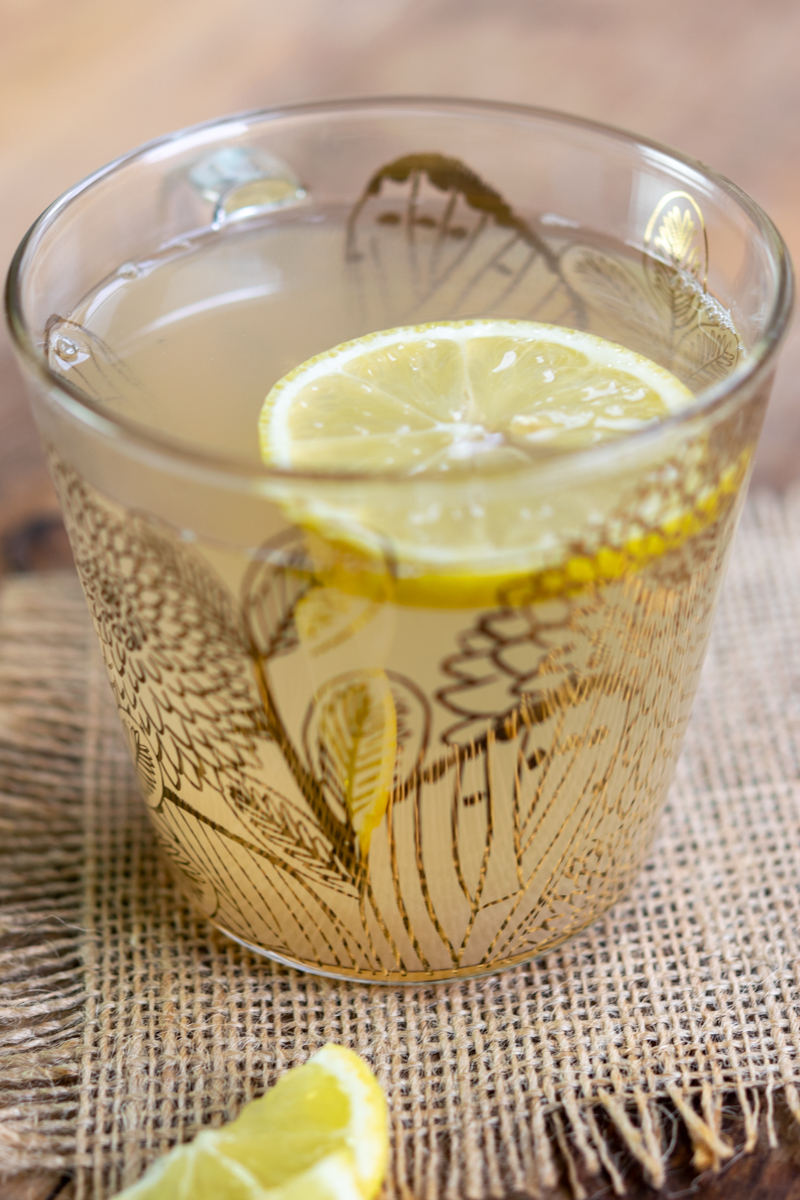 Best Time to Drink Ginger Tea
Since ginger root tea with honey is commonly consumed to ease cold and flu symptoms, many consider this a seasonal drink.
However, it's perfect any time of year, and served over ice, makes an excellent iced tea, as well.
Additionally, since it's an herbal tea it contains no caffeine.
Therefore, a hot cup of caffeine-free ginger tea makes the perfect night time drink.
Furthermore, ginger root contains virtually no calories,. As such, this tea works well with most, if not all, diets. Just keep in mind, this isn't the case if honey, agave sugar or other sweeteners are mixed in.
How to Make Ginger Tea
Basically, there are two methods to make tea using fresh ginger root. You can either thinly slice the ginger or grate it.
Personally, I prefer to slice the ginger since it's the easiest way. I mean, why get another kitchen tool dirty if you don't have to!
Of course, some think the grated ginger produces a stronger flavor as it's juices are released, but brewing thin slices with a lot of surface area definitely makes a strong cup of tea.
Step 1: Heat up tea water.
First, bring fresh, filtered water to a near-boil if heating it up on the stove.
Otherwise, if you have a temperature controlled tea kettle like my electric PerfecTemp Cuisinart kettle, heat the water to 208 F degrees.
A note about water:
The water used to make tea clearly has a huge impact on the drink's flavor. That's why I highly recommend making tea and coffee with filtered water.
Did you know that in fact Starbucks makes all its drinks with triple-filtered water?
While my refrigerator has a water filter on it, you can also easily filter water with a Brita filter pitcher.
But I've got to say, making tea and coffee at home with filtered water is a real game-changer. Here are a few of my other tips to make a better-tasting cup of tea, as well.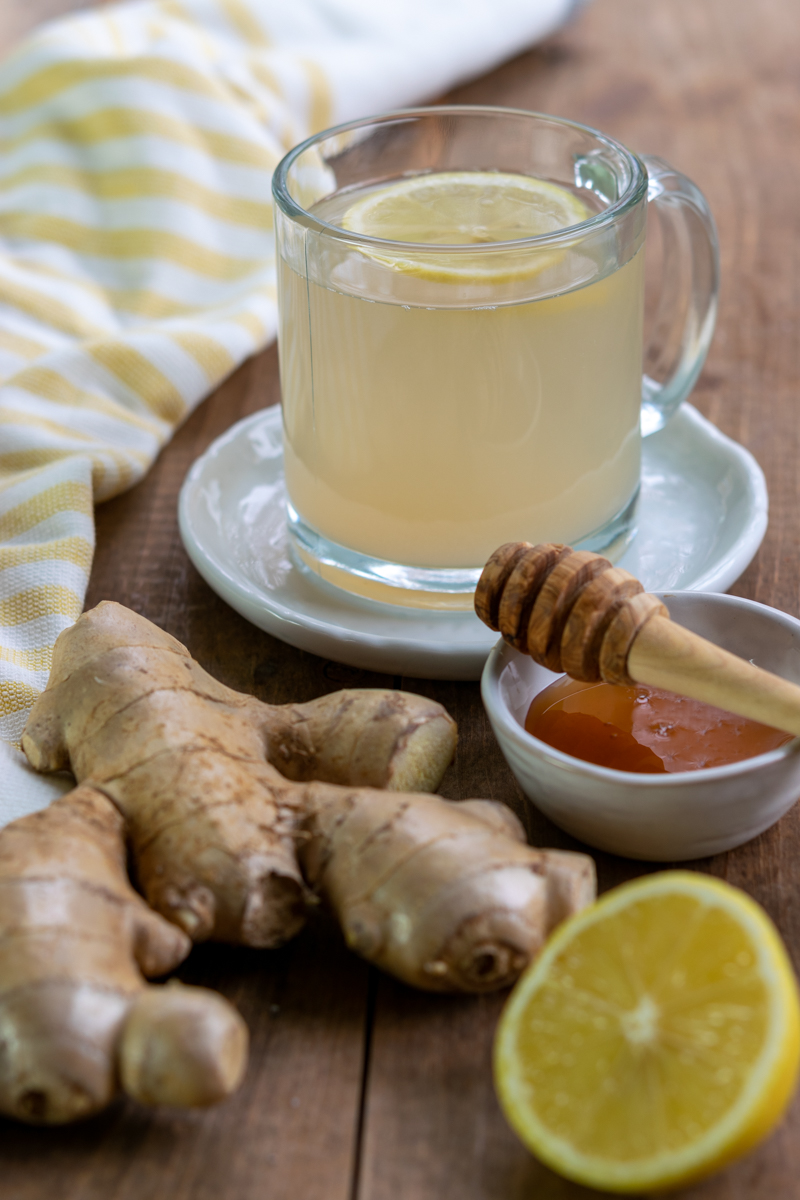 Step 2: Clean and slice the ginger root.
While the water is heating, cut a one inch section of ginger root off the hand. Then, wash it and slice it into thin pieces.
If you didn't purchase organic ginger root you may want to peel the ginger section before slicing it, but peeling is not necessary.
Step 3: Brew the ginger.
If you heated the water in a saucepan, drop the slices of ginger directly into the hot water, cover the pan, and reduce heat to a simmer.
Infuse the hot water with ginger for a minimum of four minutes.
On the other hand, if you heated the water up in a kettle, put the ginger slices into a something like a teapot with a strainer lid, a tea infuser basket, or a french press.
A glass measuring cup with a spout works perfectly well, too.
Next, pour the water over the ginger.
Ideally, brew the tea for at least four minutes. However, increase the brew time if you desire a stronger flavor.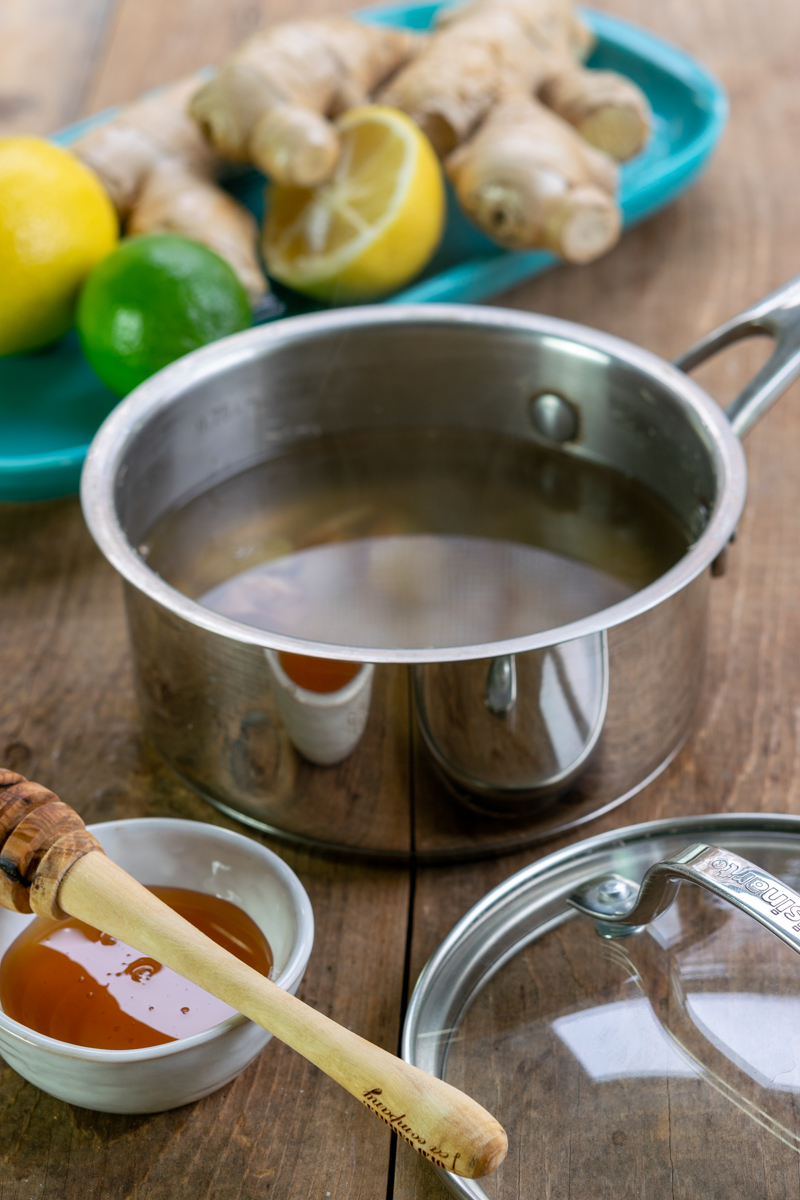 Step 4: Strain the ginger from the tea.
Finally, remove the ginger slices from the tea.
All you have to do is pour the tea into a cup through a fine mesh strainer to catch the ginger pieces.
If you steeped it in a kettle with a strainer lid, simply pour the tea into a cup.
Or if you used a french press or tea press, press it and pour the tea into a mug.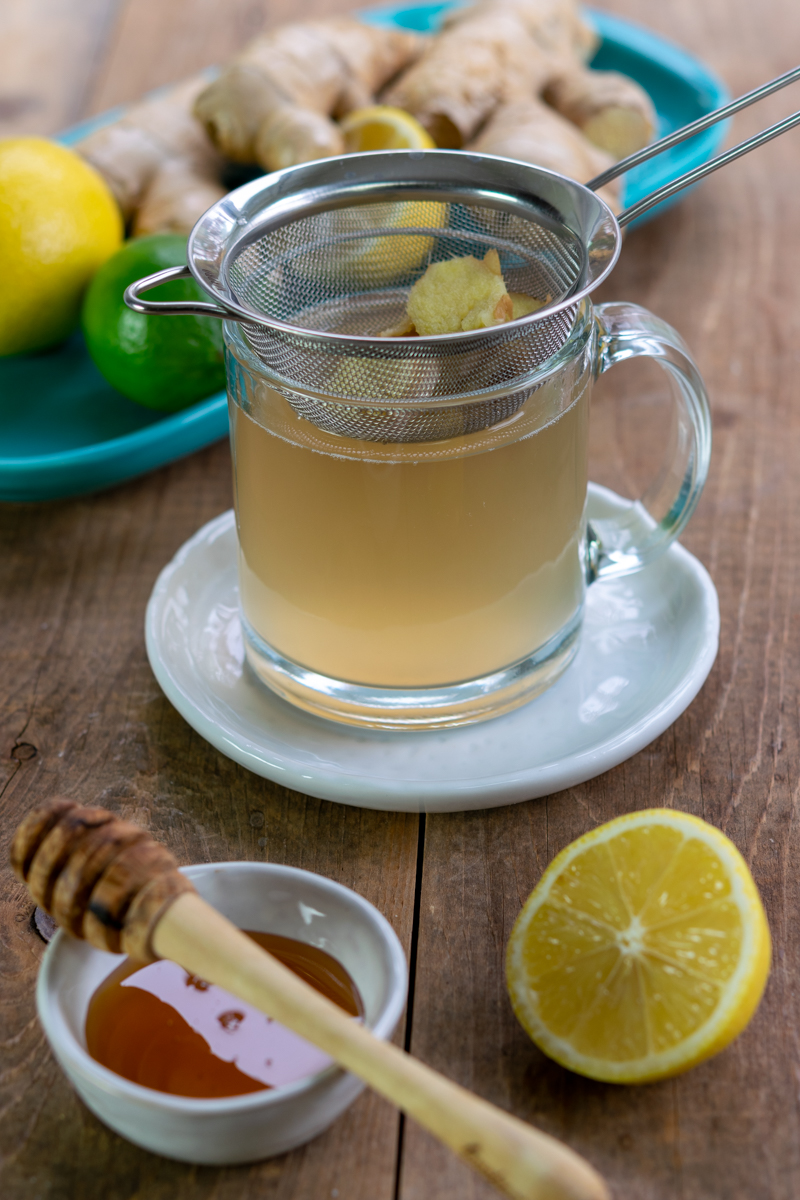 Step 5: Mix in additives.
Now that you see how to make this basic ginger tea recipe, you can change it up a little.
For instance, if you like ginger and honey tea or another sweetener of your choice, now's the time to mix it in.
To make ginger and lemon tea, go ahead and squeeze in a little bit of fresh lemon to taste. Or, you can drop in a thinly sliced lemon round.
A spoonful of homemade, lemon-infused sugar is yet another option.
It's worth noting, you can also infuse the hot water with a few slices of fresh lemon along with the ginger to achieve a lemon-ginger flavor.
Of course, you can do this with other spices and herbs such as cinnamon or fresh mint, too.
Kitchen Tools to Make Tea
What I love about this tea recipe (actually, most tea recipes) is that you do not need any fancy or expensive kitchen tools to make it whatsoever!
However, if you make loose tea a lot here are a few of my favorite tea-making kitchen gadgets.
Quick Tips for Making Ginger Tea
Use freshly sliced, organic ginger root.
Make the tea with filtered water.
Infuse the water with other spices & herbs to make a variety of tea flavors like lemon-ginger, cinnamon-ginger, turmeric-ginger and so forth.
Grate the fresh ginger or brew the sliced ginger longer for stronger flavor.
Brew on stovetop at a simmer for stronger tea.
Ginger Tea Recipe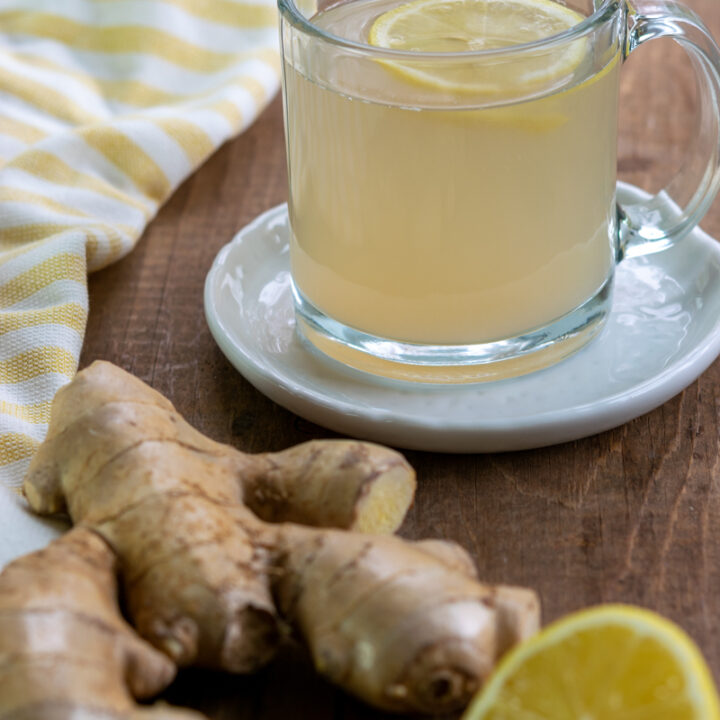 Fresh Ginger Tea
Quick and easy ginger tea recipe. See how to make a tasty cup of ginger tea using fresh ginger root instead of tea bags.
Ingredients
8 ounces filtered water
1 inch ginger root sliced thinly
1 slice of lemon (optional)
1-2 teaspoons honey (optional)
Instructions
Bring 1 cup of freshly drawn, filtered water to a near-boil.
Meanwhile, cut a 1 inch piece of ginger root and wash it. Peeling is not necessary, though suggested if the ginger is not organically grown.
Once the water reaches temperature, add the ginger to the water. To make lemon ginger tea you can also drop in a thinly sliced lemon round along with the ginger.
Simmer for a minimum of 4 minutes.
Pour the tea into a cup through a strainer to catch the ginger.
Stir in honey or sweetener if desired.
Notes
To make a variety of ginger tea flavors, infuse the water with ginger along with other spices or herbs like cinnamon, turmeric or mint.
Nutrition Information
Yield

1
Serving Size

8 ounces
Amount Per Serving
Calories

18
Total Fat

.2g
Sodium

2mg
Carbohydrates

4g
Sugar

.4g
Protein

.4g