A look at Starbucks Wellness Tea collection: Defense Wellness, Comfort Wellness and Rev Up, as well as the brewed teas Starbucks makes using these blends.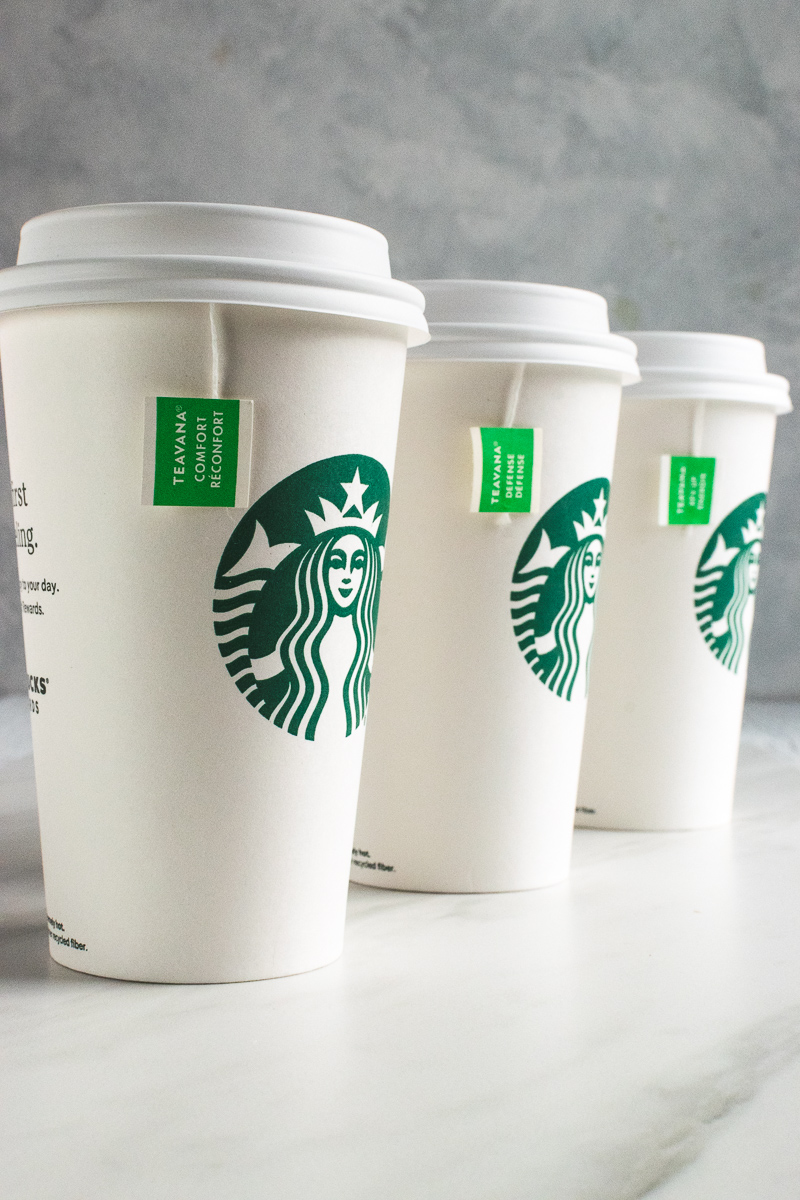 Starbucks Wellness Tea
If you love hot tea like me and strive for a life of good health and overall wellness, you'll be glad to know that Starbucks offers five Teavana Wellness teas. The Wellness lineup includes three all-natural brewed teas: Defense Wellness, Comfort Wellness and Rev Up Wellness. Additionally, there are two handcrafted Wellness tea beverages available at Starbucks: Teavana Citrus Defender and Honey Citrus Mint Tea.
Tea & Wellness
Personally, I think the name Wellness is fitting for these tea blends since often people trying to achieve a healthy lifestyle include tea in their daily routine. But what does wellness actually mean and what does tea have to do with it? According to Roger Williams University, there are five dimensions to personal health and wellness:
Physical
Emotional
Social
Spiritual
Intellectual
And if you think about it, the practice of making and enjoying tea may touch all these dimensions of health and wellness. We all know that there are many physical properties of tea and tea blends that are beneficial to our physical well-being, but wellness goes beyond the physical and so can tea.
For example, enjoying a cup of tea with a friend nurtures our emotional and social well-being. I wonder how many of life's struggles have been comforted while sharing tea with a neighbor. Or how many of life's joys have been celebrated or friendships born, all while sipping a cup of tea.
Furthermore, participating in communities with people that have a shared interest nurtures our social wellness. Tea tastings, courses, seminars and the like with like-minded people, enhances this social aspect of wellness.
For some, tea preparation is a time for spiritual reflection. Steeping time is ideal for meditation, prayer, adding to your gratitude journal, or counting your blessings. Spending this 3 to 5 minutes in contemplative quiet and stillness can certainly foster spiritual wellness.
In some respects, an interest in tea may even improve one's intellectual wellness. Lifelong learning and the pursuit of knowledge is like exercise for the mind. For me, the Sweet Steep blog gives my brain a daily workout. Not only am I learning all sorts of new and fascinating things about tea, but my technical blogging and photography knowledge has expanded, as well. Learning is key to most creative pursuits and that's what Sweet Steep is for me.
Teavana Wellness Teas at Starbucks
So now that you know why I think the Teavana tea name, Wellness, is so fitting, let's take a look at each of the Starbucks Wellness teas. Keep in mind, that these teas are all natural, meaning they contain no artificial ingredients.
Defense Wellness
Teavana Defense Wellness tea is the only white tea in the Starbucks/Teavana lineup. Mixed in this beautiful blend are blackberry leaves, accompanied by notes of lime, pineapple and orange. Besides tasting delicious, Defense Wellness is said to contain 50% of the day's needed vitamin C. Since this may give the immune system a boost, Defense is an ideal tea to drink if you're feeling a little under-the-weather.
Comfort Wellness
Teavana Comfort Wellness is an herbal infusion. Described by Starbucks as bringing balance to your being, this tea contains lemon, ginger, fennel, licorice root and soothing mint. Specifically, a cup of Comfort Wellness hot tea is an infusion of water, ginger, orange peel, chamomile, lemon verbena, spearmint, rooibos, licorice root, fennel, natural flavor, peppermint, orange oil, and lemon essence oil.
Rev Up Wellness
Teavana Rev Up Wellness is a blend of black, oolong, and green teas. If you need an energy boost, a cup of Rev Up may do the trick. Starbucks describes it like this:
"A lively blend of black, oolong and green teas are brightened with tropical notes of mango, apricot, and peach, creating a blend that helps support and maintain a healthy metabolism." ~starbucks.com
Teavana Wellness Handcrafted Tea Beverages at Starbucks
In addition to the three Teavana Wellness brewed teas, Starbucks makes two Wellness tea beverages; both are delicious and both are citrus-based. This means, they provide a lot of vitamin C.
Also referred to by Starbucks customers as, Cold Buster, Medicine Bomb, and Medicine Ball Tea, the theory is that these drinks help prevent a cold or at least help a cold go away. While there is certainly no proof that either is the case, these tea drinks may provide temporary relief. The Teavana Citrus Defender and Honey Citrus Mint Tea are, at the very least, warm and soothing for a sore throat. Here's what you need to know about each of these popular tea beverages:
Teavana Citrus Defender
Citrus Defender, also known by the secret menu name of Medicine Ball Tea, has citrus forward flavoring. This tea beverage is made using a Defense Wellness tea bag as well as steamed lemonade, hot water, and honey.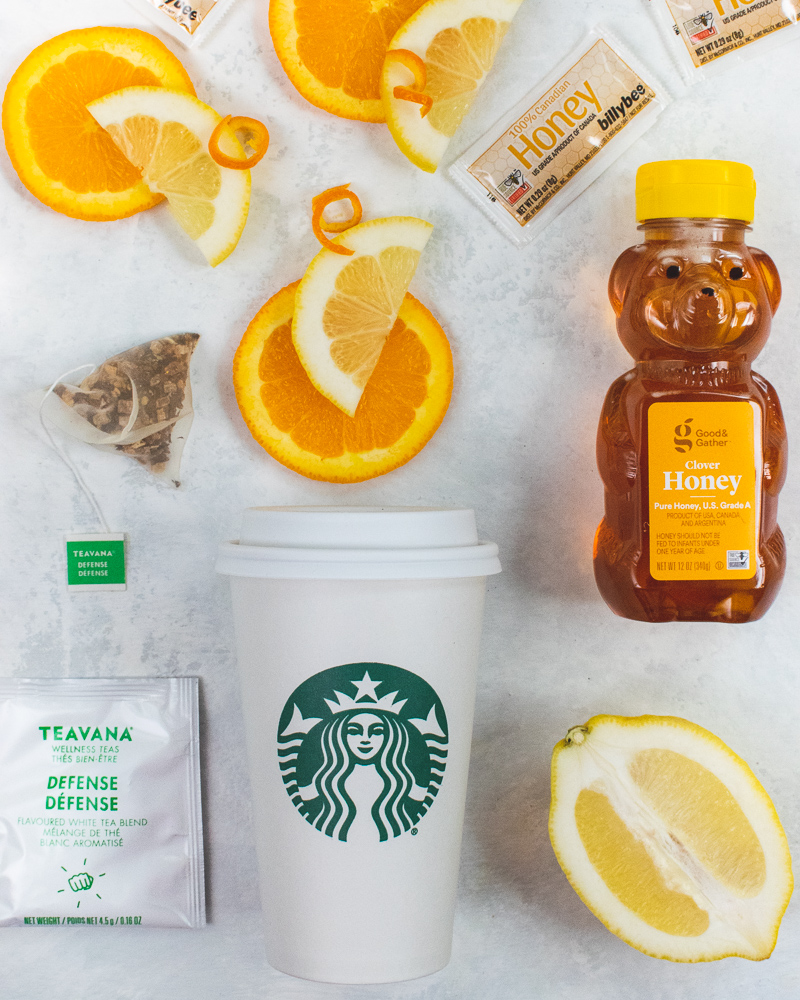 Honey Citrus Mint Tea (Medicine Ball Tea)
The Honey Citrus Mint Tea is a delicious drink made with one Teavana Citrus Jade Mint tea bag and one Teavana Peach Tranquility tea bag. This makes it a blend of green and herbal teas. Additionally, this handcrafted tea beverage is blended with steamed lemonade, hot water and honey. Optionally some customers add a pump of peppermint syrup.
Interestingly, the Honey Citrus Mint tea was developed by customers and Starbucks partners. For a long time this popular beverage was on the "Starbucks hot tea secret menu." Its names included Lemon Bomb, Sick Tea, Cold Buster, and probably the most popular, Medicine Ball Tea. In fact, Starbucks recognized the popularity of this hot tea secret menu concoction and added it to their official menu. Now, anyone can order this drink, even those who have no idea what theStarbucks secret menu is all about.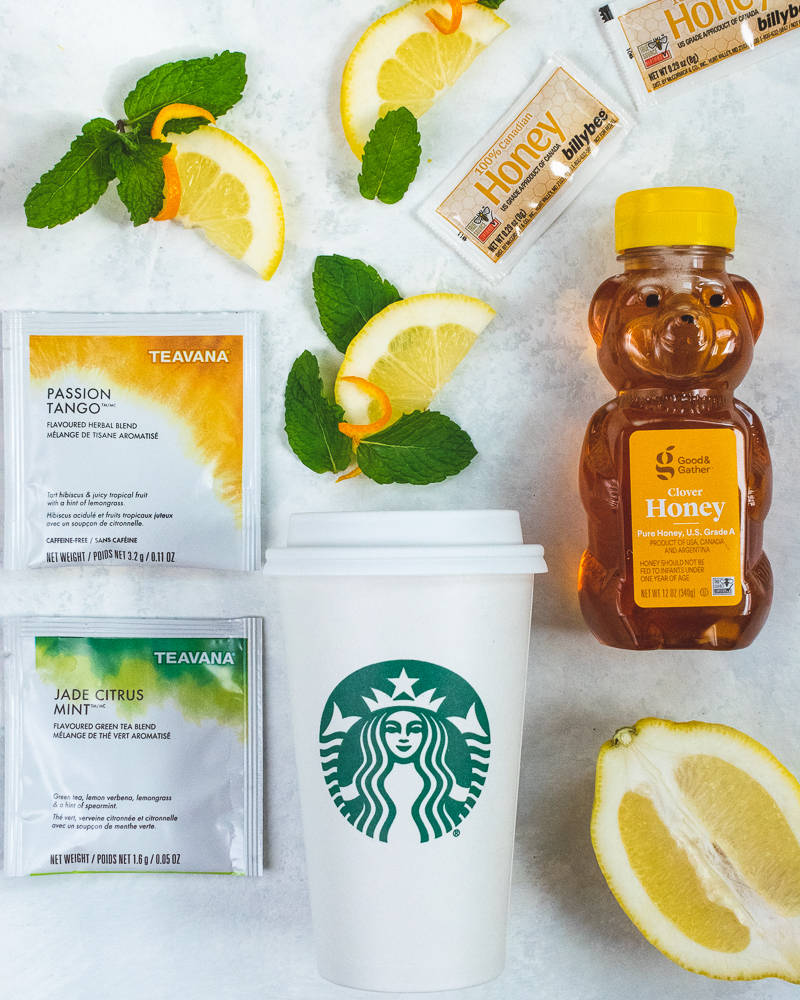 Like a lot of Starbucks craft beverages, this drink can be made at home using a Starbucks copycat recipe. Here's my secret recipe for Medicine Ball Tea. And I've got to say, I love making this particular drink at home. I mean, if you're not feeling well, you probably don't want to jump in the car and go to your local Starbucks. Luckily, with a couple tea bag flavors on hand and a few more ingredients, it's easy to whip up this Starbucks Medicine Ball tea recipe at home.
Starbucks has other teas in addition to Wellness blends
Of course, Starbucks has a lot of other hot tea flavors. Additionally, they have quite a few tasty iced tea blends and other drinks like iced chai latte and passion tea lemonade.
But I wanted to point out these Wellness teas for those who have never noticed them before. Now that fall is in full swing and winter is approaching the Wellness lineup of teas may just be what the doctor ordered!