Quick and easy sweet lemon iced tea recipe made with homemade lemon simple syrup and brewed tea.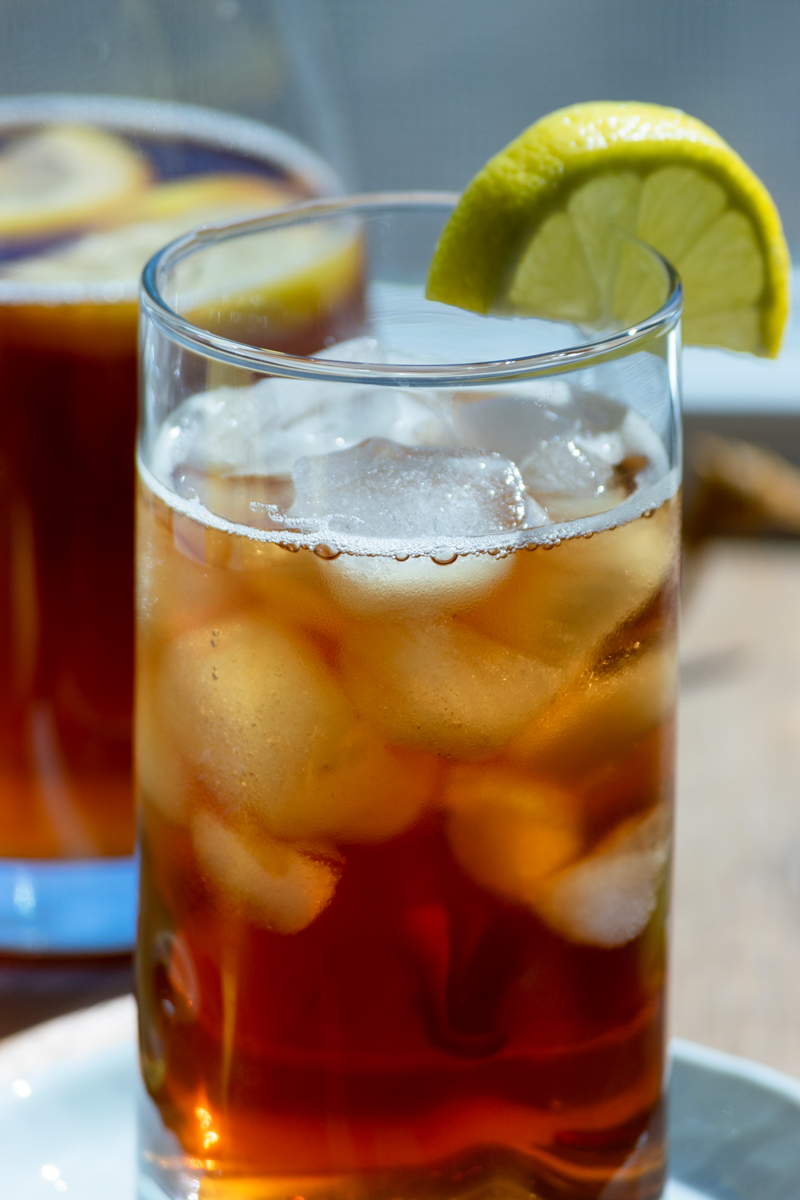 Lemon Iced Tea
Do you know the single thing you can do to make the perfect pitcher of iced tea every time? Iced tea can be smooth and delicious or bitter and overly sweet. In this post, not only will I show you how to make a beautiful pitcher of lemon iced tea, but show you how to brew it properly every time.
Iced tea is a summertime classic. Some parts of the United States refer to it simply as iced tea, while southern states are known for calling it sweet tea.
This got me thinking. How did sweet tea come about? And why is lemon such a common additive?
As a child growing up in Connecticut, iced tea was a summertime drink made every now and then. Either made with Lipton tea bags steeped in boiling water in a Pyrex cup or outdoors in a big Sun Tea jar, we usually drank iced tea with a spoonful of sugar and squeezed lemon wedge.
Along came my college years in Texas and with it a little culture shock (actually a lot). One of those cultural differences centered around iced tea (who would've guessed?) Apparently, iced tea in Texas is served year-round and is more akin to drinking a glass of water—all day, every day. Except for the sweetness! Oh my, the sweetness.
Southern Sweet Tea
Iced tea in Texas and all the other southern states I traveled through is sweet tea. Now, this was many years ago, perhaps things have changed with more dietary awareness. Nonetheless, at least back then, when you ordered a glass of iced tea, it's already made with lots of sugar.
I recall once asking a waitress in Alabama for iced tea, no sugar please, and she looked at me like I was from another planet.
So how did adding so much sugar and perhaps lots of lemon to iced tea come about? My guess is, to cover up the bitterness.
It stands to reason, however, if the bitterness can be avoided, then sweetener and lemon can be added to enhance the flavor of this favorite summertime drink, as opposed to being used in excess to cover-up too-bitter tea.
So, since you've stuck with me this far, you're probably wondering what the single thing is you can do to make the perfect cup of iced tea every time. It's simple, brew it properly.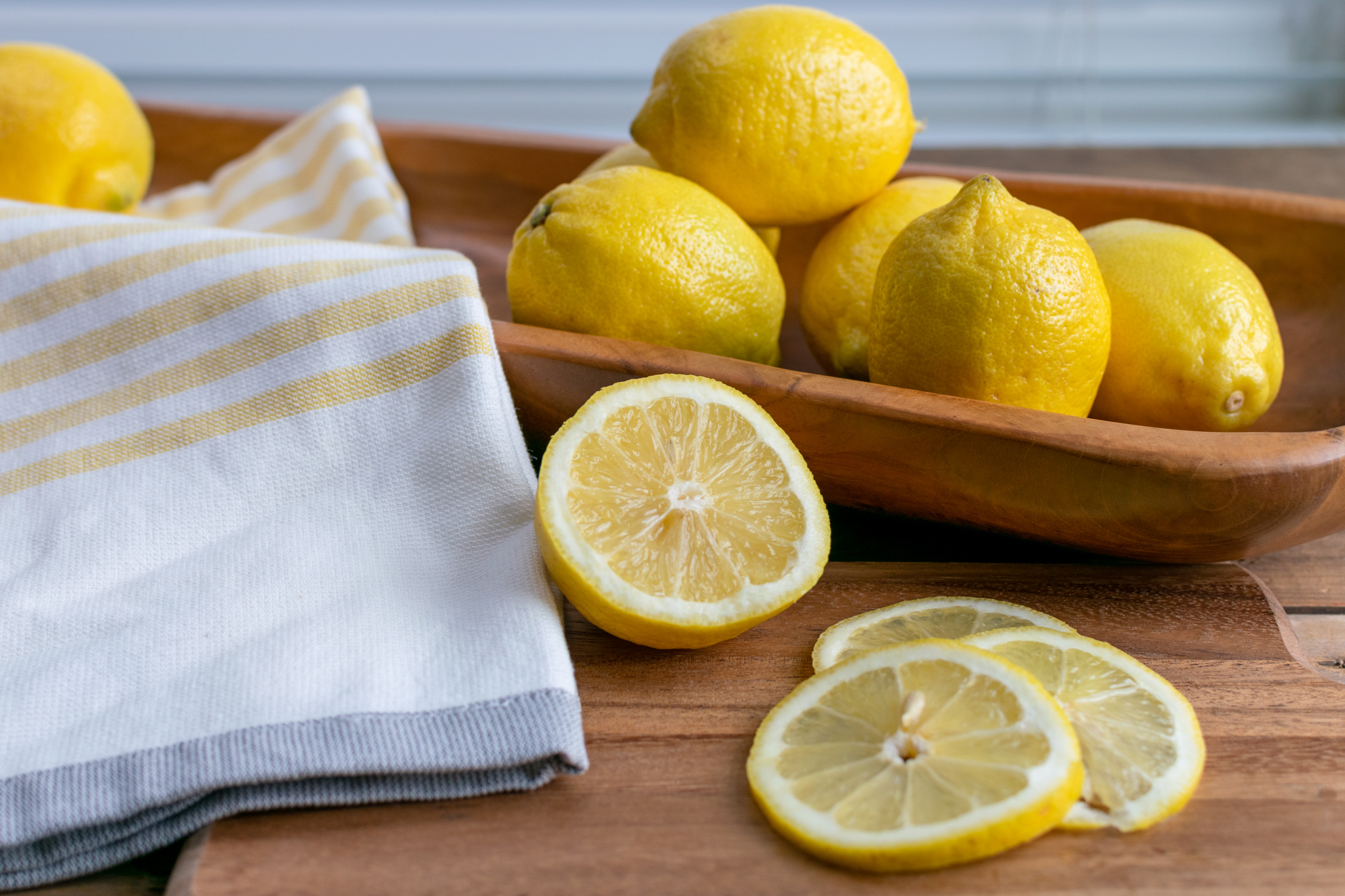 How to brew iced tea properly to avoid excessive bitterness
There are two ways to brew tea: cold brew and hot brew. Cold brew is an excellent way to brew tea, but it takes many hours so you have to plan ahead.
In this post, we'll discuss how to hot brew iced tea and say good-bye to the nasty astringent notes that creep in. This way, if you get a hankering for iced tea without any already prepared in the fridge, you can make it relatively quickly.
Above all, you'll also see my favorite way to add a burst of lemon-y sweetness to taste. Lemon iced tea is a delightful treat when prepared properly.
The Science of Tea
To understand how to avoid overly bitter iced tea, you first need to know what causes it.
Let's start with tannins; all tea—black, green, pu-erh, white—contains tannins. And it's these tannins (polyphenols) that give tea its flavor and taste. Generally speaking, the darker the tea, the more tannins, the more bitter the taste.
But let's not give tannins a bad rap, and astringency either. Afterall, tannins are responsible for tea's wonderful antioxidative properties and some of tea's desired bitterness. So, bitter isn't necessarily a bad thing.
The key is to avoid excessive bitterness and excessive tannin release during brewing. After all, this is what ruins a perfectly good cuppa tea.
Watch the Water Temperature
Since brewing tea really is a chemistry process, you can imagine that water temperature matters. If you'd like to go into the weeds a little more on the science of tea, How Long to Steep Your Tea, According to Science provides an excellent primer.
But we've got to get to preparing a yummy pitcher of lemon iced tea, so suffice it to say brewing temperature matters. In the case of black tea, boiling or near-boiling water is necessary to release the flavonoids from the leaves.
On the other hand, boiling water and green tea don't play well together. The Fragrant Leaf explains that brewing temperatures between 140°-176°F ensure that the green tea's sweet and complex flavors are not overpowered by bitter-tasting flavors.
In order to achieve the ideal water temperature for tea brewing every single time, I do two things.
Firstly, I use a Cuisinart PerfecTemp Electric Kettle. I absolutely love it, and cannot recommend it highly enough. It is pre-programmed with common water temperatures for each type of tea. All you have to do is press the right button! (Please know that if you use any of my links to make a purchase, I earn a small commission as an Amazon Affiliate, but it in no way changes the price you pay.)
Secondly, I always pre-heat my brewing container. This avoids a sudden and big drop in water temperature when I start the brewing process. Simply, pre-heat the container with boiling water then pour it out when it's time to brew.
Photo Credit: www.amazon.com
Heat water to the perfect temperature for each type of tea with the touch of a button!
Set a Timer
Brew time also has a big impact on tea's flavor. And I think this the thing where many recipes go awry. For instance, time-and-time-again I see iced tea recipes that say to steep the tea for fifteen minutes. In my opinion, this is way too long! Let me explain.
While water temperature is what starts the brewing process, the release of certain chemical properties from the leaves occurs at different times. Lighter molecules transfer into the water first, followed by heavier.
Therefore, aroma and flavenols are first. Next comes anti-oxidants and caffeine. Finally, tannins, a heavier polyphenol, are released.
Consequently, brewing tea too long allows more tannins to diffuse into the tea and become too bitter.
So, what amount of time is the sweet spot for brewing black iced tea? The answer is 3-5 minutes—at least 3 minutes for flavor and caffeine, but no more than 5 to avoid excessive tannins and resulting astringency.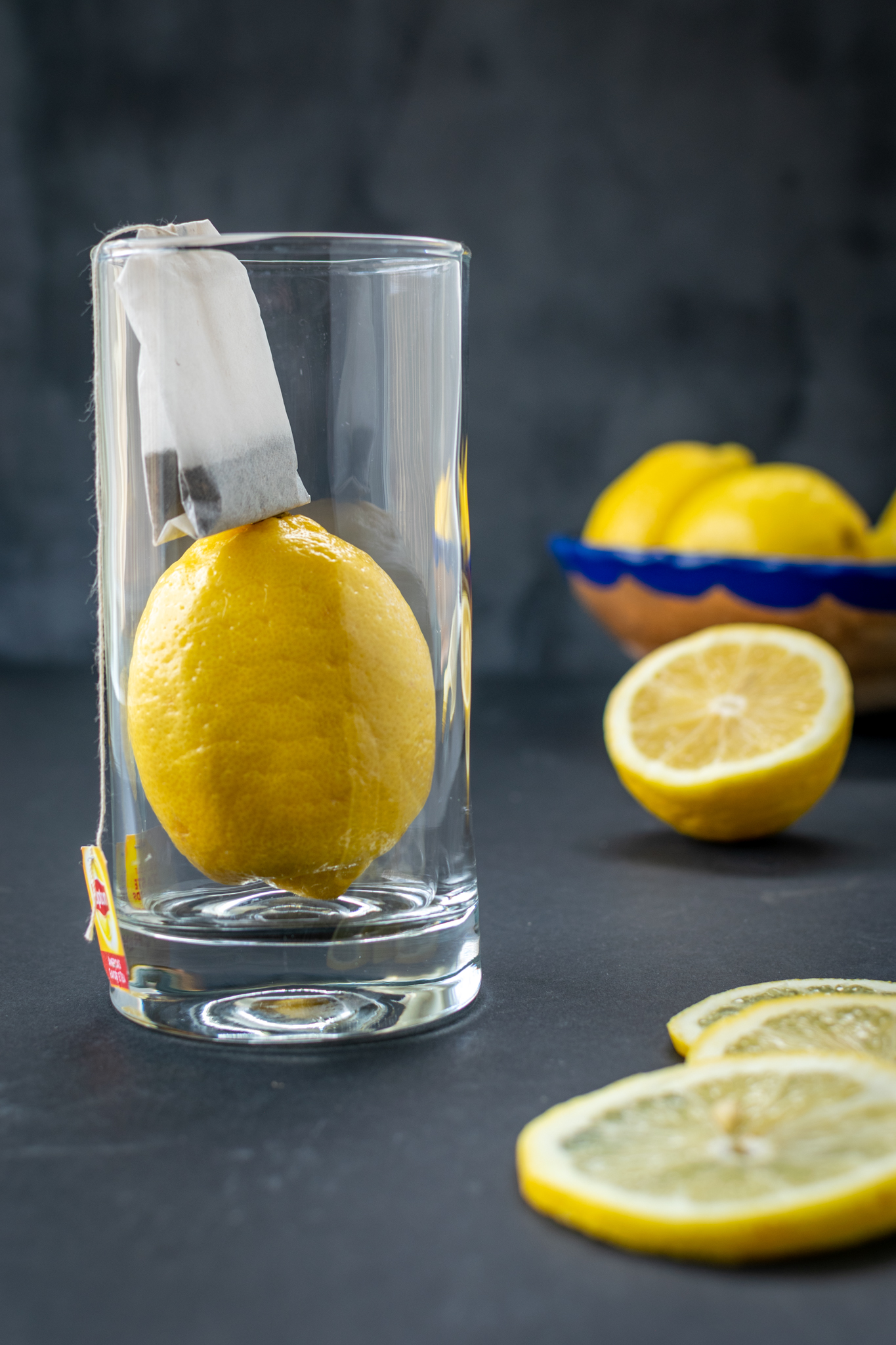 How to Brew Strong Iced Tea
Armed with an understanding that steeping tea too long is a no-no, you may be wondering how to make stronger iced tea if that's your thing. Really, it's pretty simple.
Here are three ways to make stronger iced tea.
Use more tea per cup of water.
Use less water.
Try loose tea instead of tea bags.
Whether you choose to use more tea or less water, you accomplish the same objective, making a more concentrated tea. As a matter of fact, I prefer to make iced tea as a concentrate and add more water into my cup to taste.
Ordinarily, I make an iced tea concentrate. Then when I want a glass of iced tea, I pour concentrate over a glass full of ice, followed by additional cold, filtered water. This way I can make a cup of iced tea as strong or weak as I desire.
Loose tea is another way to make stronger tea. Have you ever cut open a Lipton or Luzianne tea bag? The tiny black tea bits inside are called fannings. As you can imagine, bigger loose tea leaves have the potential for bigger flavor compared to fannings.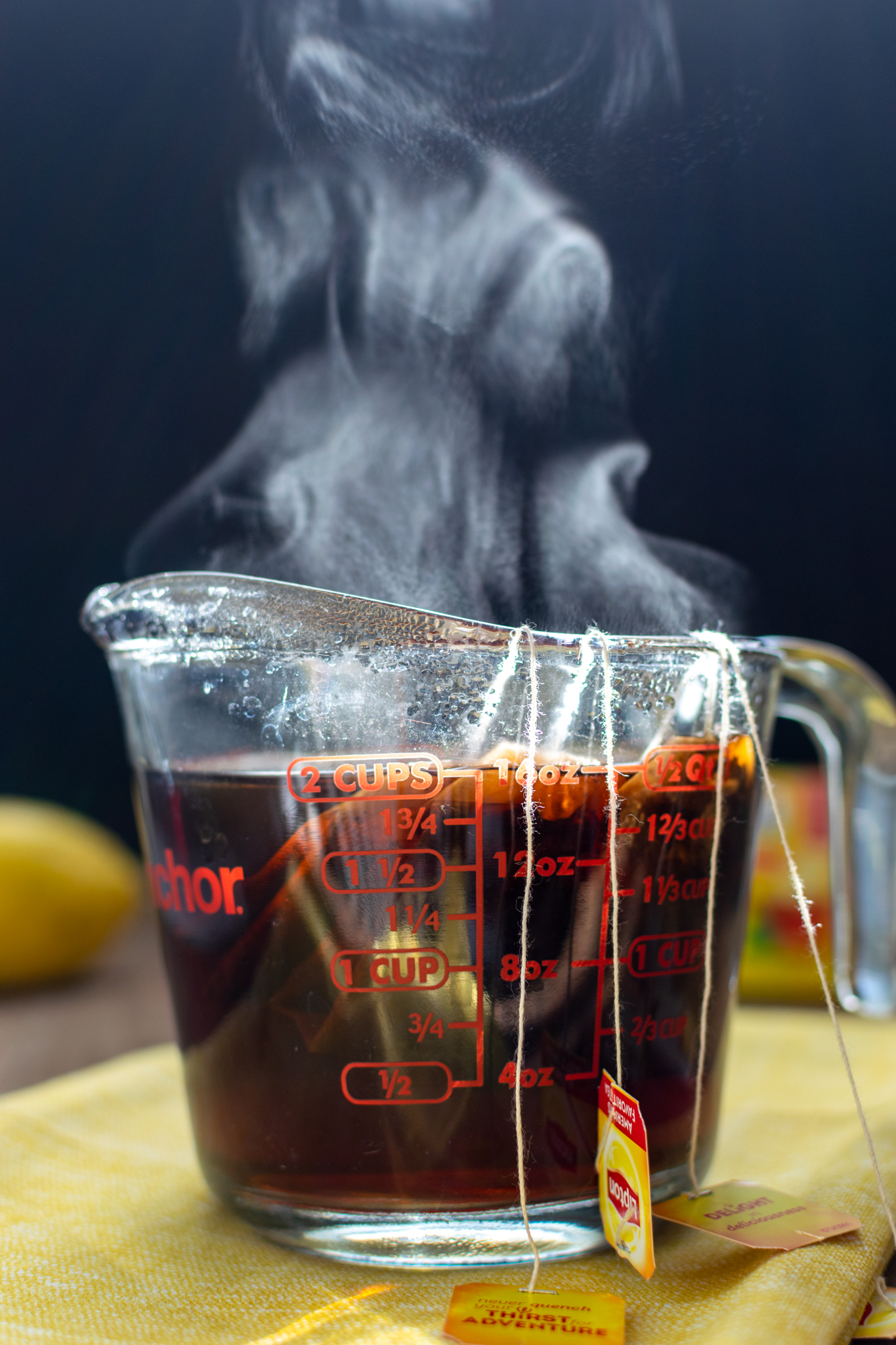 How to Make Lemon Iced Tea
Now for the fun part, making lemon iced tea.
Lemon iced tea is simple to make. It's a real crowd pleaser for backyard barbecues and cost effective to make for larger summer gatherings. Or you can do what I do. Keep some tea concentrate in the fridge and make an ice cold cup whenever you want.
Like all things, there are many ways to make lemon iced tea. Some prefer to combine tea, fresh-squeezed lemon juice and sugar altogether in a pitcher with ice.
Others, prefer to make a pitcher of only tea and allow guests to squeeze in lemon and add sweetener to their liking. Or there's lemon simple syrup, the lemon iced tea camp I fall into.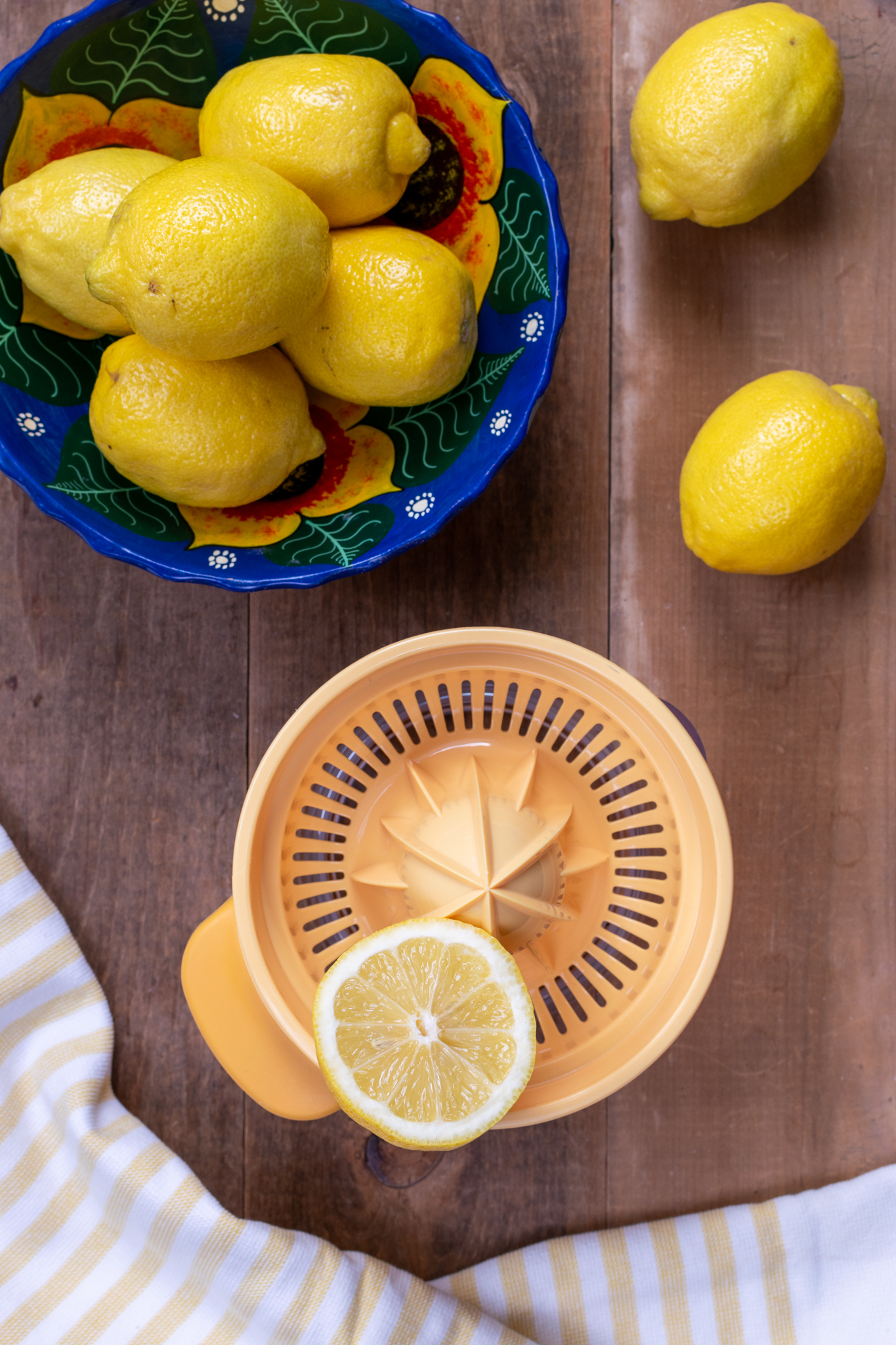 Photo Credit: www.amazon.com
A citrus juicer or squeezer takes the mess out of juicing lemons, limes or oranges.
Photo Credit: www.amazon.com
This juicer is nice for bigger jobs since the bowl with pouring spout holds up to 32 ounces.
Photo Credit: www.amazon.com
I love that this juicer is small in size and comes with a built in strainer and measuring cup.
Lemon Simple Syrup
Drink-making aficionados know that simple syrup is the ideal method for adding sugar or other kinds of sweeteners to iced tea and other drinks, especially cold drinks.
The idea of making syrup may sound scary, but trust me, it's probably the easiest thing you can whip up in the kitchen. In fact, I make vanilla syrup for London Fog tea lattes and honey syrup, as well.
Simple syrup is nothing more than pre-dissolved sugar. At its most basic, it only takes two ingredients: sugar and water. Furthermore, it only takes a couple minutes to dissolve the sugar.
Then it's time to get creative. Add different flavors to simple syrup to make new and exciting flavors. I love to add freshly squeezed lemon juice to make lemon simple syrup.
Combine lemon simple syrup and a perfectly brewed black iced tea and you've got the most delicious, thirst-quenching lemon iced tea.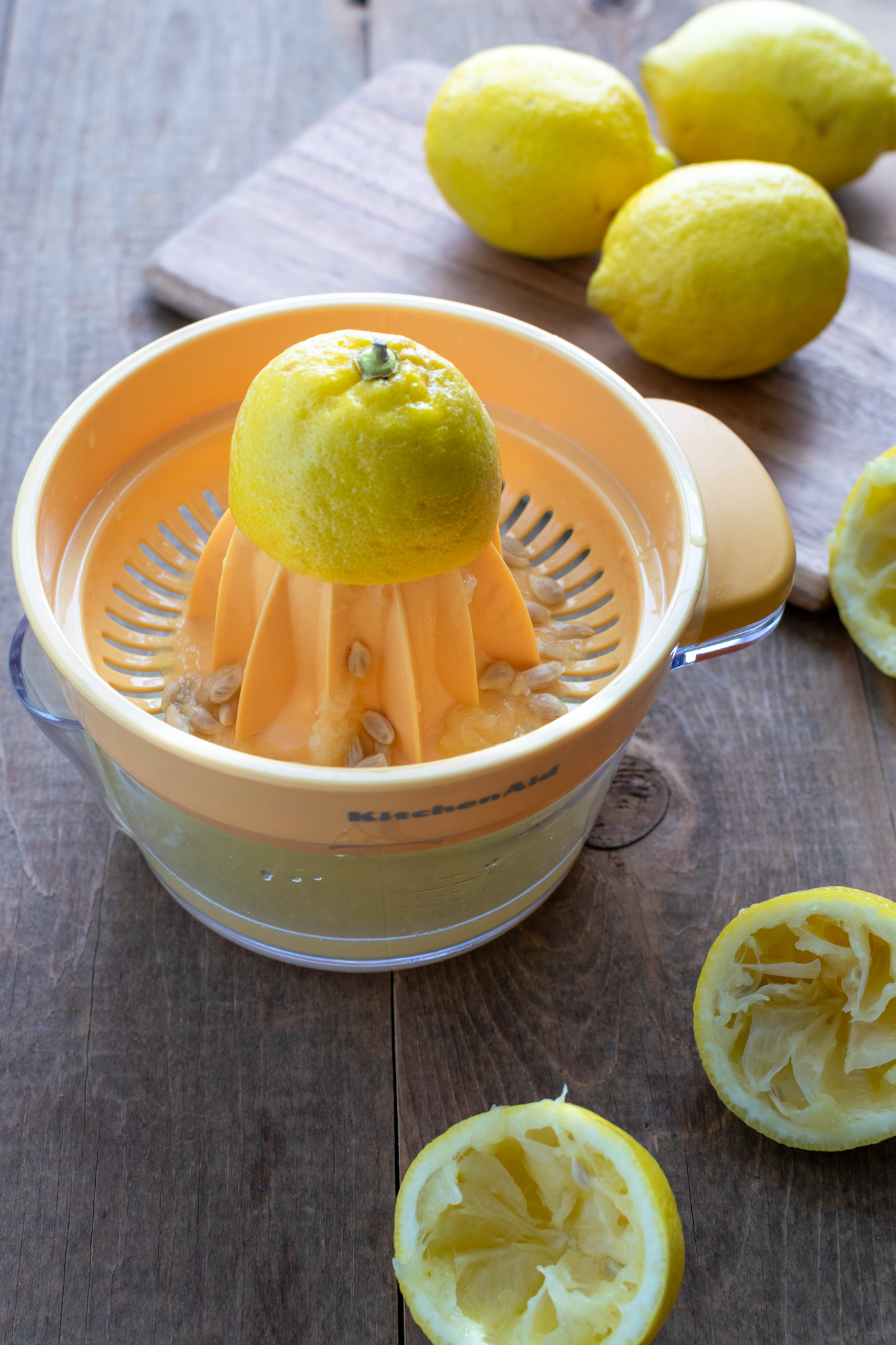 How to Garnish Lemon Iced Tea
A pitcher of lemon iced with ice cubes dancing around certainly looks enticing. Unfortunately, if not served at once those ice cubes, or should I say, melting ice cubes, will dilute the tea.
Therefore, iced tea is best served over ice placed in individual glasses.
To garnish the pitcher of tea so it looks pretty, add frozen lemon wheels or wedges. Not only will the lemons keep the tea ice cold but they won't dilute it as they thaw.
To make frozen lemons, simply slice a lemon in even circles and place on a tray line with parchment paper or plastic wrap. Place in the freezer until frozen. If you don't use them right away, store the lemons in a plastic freezer bag in the freezer.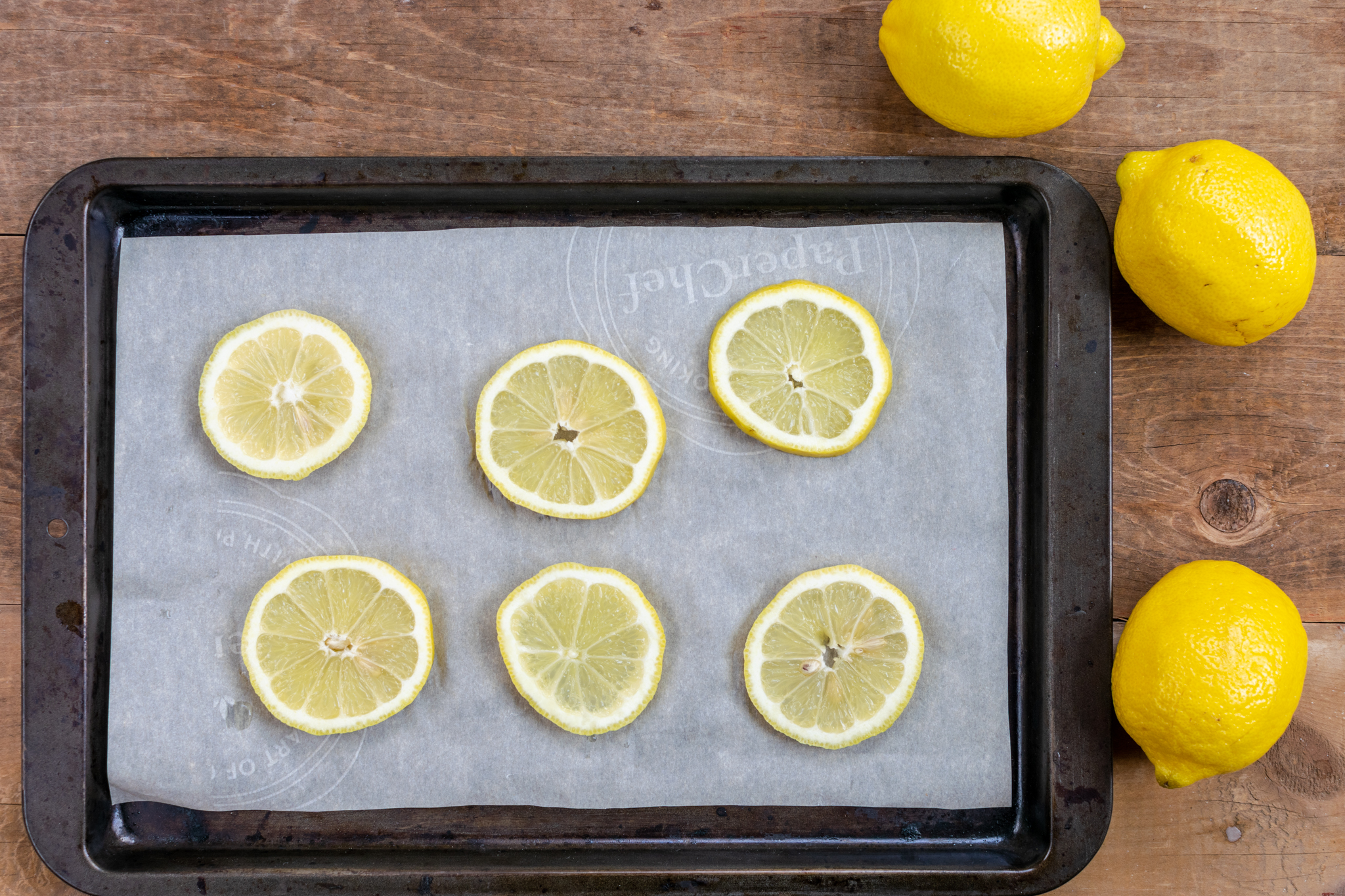 Lemon Iced Tea Recipe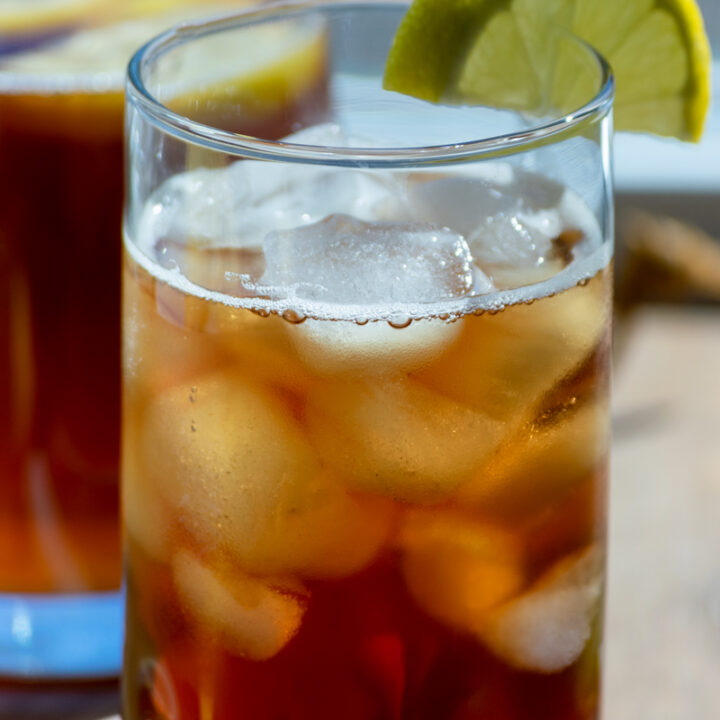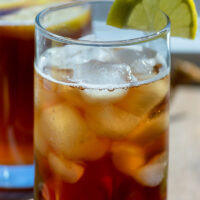 Sweet Lemon Iced Tea
Lemon Iced Tea is a summertime's favorite drink. Perfectly brewed tea flavored with freshly squeezed lemon syrup and sugar makes this lemon iced tea both delightfully sweet and zesty.
Ingredients
Lemon Simple Syrup
1 cup sugar
1/2 cup water
Juice of one lemon (about 1/2 cup)
Lemon Iced Tea
4 cups water (preferably filtered)
1 family-size tea bag or 4 cup-size bags (such as Lipton or Luzianne) or 4 teaspoons loose tea
Instructions
To make the lemonade simple syrup:
On a stovetop, combine sugar, water and lemon juice in a pan over medium heat.
Stir until sugar is completely dissolved, being careful to not let syrup come to a boil.
Let the syrup cool and then store in refrigerator.
To make the lemon iced tea:
Bring 2 cups of the water to a boil. Once boiled, pour over tea bag(s).
Let steep for 5 minutes, then remove tea bags.
Add 2 cups water to the iced tea concentrate.
To make a pitcher of lemon iced tea, add 1/4 cup lemonade simple syrup to tea. Otherwise, pour tea over ice in individual glasses and stir in lemonade simple syrup to individual preferences.



Recommended Products
As an Amazon Associate and member of other affiliate programs, I earn from qualifying purchases.